Zyxel GS-105S 5-Port Desktop Gigabit Ethernet Media Switch

Prioritize Multimedia Streams for Optimized Video and Online Gaming Enjoyments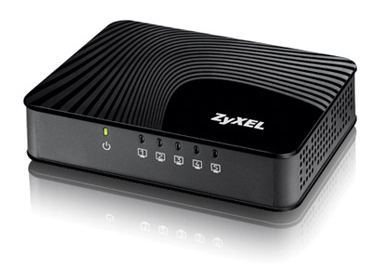 Zyxel Products
Zyxel GS105S
Zyxel 5-Port 10/100/1000 Desktop Plastic Switch
#GS105SV2
List Price:
$19.99
Our Price: $15.49
Click here to jump to more pricing!
Overview:
Prioritize Multimedia Streams for Optimized Video and Online Gaming Enjoyments
The Zyxel GS-105S 5-Port Desktop Gigabit Ethernet Media Switch can easily connect multiple media devices to home networks at blazing-fast Gigabit speed simultaneously. Moreover, the newly designed QoS ports of GS-105S allow smooth video streaming and online gaming as well.
Plug-and-play, stylish design
With easy plug-and-play, you can connect the GS-105S to media players, game consoles and smart TVs to your home network without any configuration effort. With its stylish modern look and streamlined design, the GS-105S fits nicely into any home décor.
Smooth multimedia streaming and gaming
The Zyxel GS-105S features QoS ports for you to assign high, medium or low priorities for your preferred network applications. For instance, if you are a movie enthusiast, you can connect media players or smart TVs to the high-priority ports for smooth video streaming and the best home 3D streaming experience. If you prefer lag-free online gaming, simply connect the game console through the high-priority QoS port and assign media players, PC and other network devices to the medium- or low-priority QoS ports according to your need.
Blazing-fast Gigabit speed
The GS-105S 10/100/1000 Mbps switch is designed for reliable high-performance media networks 10 times faster than Fast Ethernet connections. It perfectly fulfills the demands for multimedia streaming and online gaming.
Adjust power usage
Smartly adjusts power consumption by detecting the link status and the length of connected Ethernet cables. When the GS-105S detects no active data transmission, the device automatically enters the power-saving mode to avoid energy waste.
Detect cable length
The GS-105S can detect the length of connected Ethernet cables and adjust power usage accordingly. The shorter the Ethernet cable length is, the less power it consumes.
Green switch saves energy
Compliant with the IEEE 802.3az Energy Efficient Ethernet standard, the GS-105S/GS-108S provides power-saving benefits without compromising performance. Moreover, the GS-105S/GS-108S automatically adjusts power consumption according to the number of active, connected network devices and cable length. That is, fewer active connected network devices or shorter Ethernet cable length allows the switch to consume less power.
Plug-and-play, stylish design that fits home environments
Enjoy smooth multimedia streaming and gaming through QoS ports with 3-level prioritization
Stream multimedia with blazing-fast Gigabit speed
Green switch design for energy saving
---
Pricing Notes:
Pricing and product availability subject to change without notice.
Zyxel Products
Zyxel GS105S
Zyxel 5-Port 10/100/1000 Desktop Plastic Switch
#GS105SV2
List Price:
$19.99
Our Price: $15.49