Zyxel GS1200-5

Fanless 5 Port GbE L2 Web Managed Switch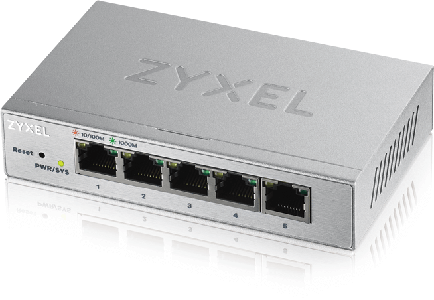 Zyxel Products
Zyxel GS1200-5
GS1200-5 - Fanless 5 Port GbE L2 Web Managed Switch
#GS1200-5
Our Price: $39.99
Click here to jump to more pricing!
Overview:
The Zyxel GS1200-5/GS1200-8 Web Managed Gigabit Switch provides simple control for better management. Unlike other advanced but complex managed switches, the GS1200 series switch is suitable for most users and provides an affordable solution with essential features including VLAN, QoS, IGMP snooping v1/v2 and v3 compatible, link aggregation, and port mirroring.
The Zyxel GS1200-5/GS1200-8 does not require any additional software. It is easy, friendly, and more intuitive with its Web GUI which helps configuration tasks be completed in just a few simple clicks. Simplified for small office users' network.
Easy web management
Multicast IGMP snooping v1/v2 and v3 compatible for streaming applications
Virtual LAN for enhanced network security
Quality of Service for better traffic control
Link aggregation increases bandwidth between 2
Ethernet ports
Advanced energy-savings at work
Fanless, noiseless design
Benefits:
Easy web management
This switch comes with a user-friendly web-based set-up interface that walks you through setup, configuration and management—including configuration backups and firmware upgrades—quickly and easily. With a few simple clicks, your network will be humming along, so you can get back to business.
IGMP Snooping
Optimized multicast performance, useful for bandwidthintensive IP multicast applications such as online media streaming and time sensitive applications.
VLAN
Separating traffic within a business such as isolating resources between network administrators, general users, or between employees and public guest users.
Quality of Service
Provide different priorities to different applications or users to guarantee a certain level of performance for maximum data efficiency of your network.
Link Aggregation
Combine two physical ports' performance to make a single high-bandwidth data path, for faster file transfer and enhanced connection reliability.
Application Diagram:

Specifications:
Model
GS1200-5
GS1200-8
Product name
5-Port GbE Web Managed Switch
8-Port GbE Web Managed Switch
Port Density
Total port count
5
8
1000BASE-T
5
8
Performance
Switching capacity
10 Gbps
16 Gbps
Packet buffer
128 KB
192 KB
MAC address
2K
4K
Jumbo frame
9 KB
9 KB
LED
Power
Yes
Yes
Per port
Yes
Yes
Power
Input voltage
5 V DC / 1 A
5 V DC / 1 A
Power supply
External
External
Maximum power consumption (watt)
2.03
3.31
Physical Specifications
Item Dimensions (WxDxH)(mm/in.)
Item Weight (g/lb.)
121 x 75 x 26/4.8 x 3.0 x 1.0
155 x 85 x 26/6.1 x 3.3 x 1.0
233/0.51
325/0.72
Package Dimensions (WxDxH)(mm/in.)
Weight (g/lb.)
127 x 82 x 95/5.0 x 3.2 x 3.7
161 x 90 x 95/6.3 x 3.5 x 3.7
388/0.86
497/1.10
Environmental Specifications
Operating Temperature
Operating Humidity
0°C to 40°C/32°F to 104°F
10% to 90% (non-condensing)
Storage Temperature
Storage Humidity
-40°C to 70°C/-40°F to 158°F
10% to 90% (non-condensing)
Pricing Notes:
Pricing and product availability subject to change without notice.
Zyxel Products
Zyxel GS1200-5
GS1200-5 - Fanless 5 Port GbE L2 Web Managed Switch
#GS1200-5
Our Price: $39.99