Zyxel MGS3700-12C

12-Port GbE Combo (Fiber/Copper) Layer 2 Managed Switch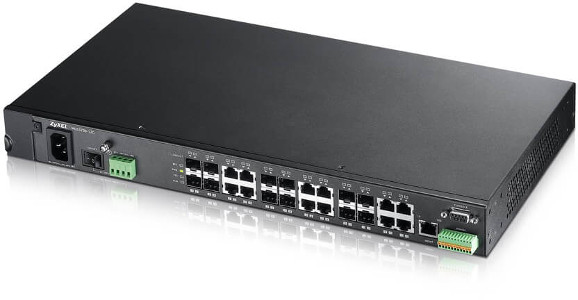 Zyxel Products
Zyxel Switches
MGS3700-12C - 12-Port GbE Combo (Fiber/Copper) Layer 2 Managed Switch (AC and DC) Temp Hardened
#MGS3700-12C
List Price:
$775.00
Our Price: $550.00
Click here to jump to more pricing!
Overview:
The MGS3700-12C 12-port Combo GbE L2 Managed Switch is specially designed for service providers to deliver profitable Ethernet services. With the high-performance hardware platform, service providers can easily extend network topologies while enabling robust security, QoS and management functions to help customers fulfilling differentiated needs for Metro Ethernet services.
Advanced QoS for significant services
Consistent service quality and reliable connecting ability in a converged network is the key for service providers to win customers and build loyalty; therefore the ability to control traffic flow and set traffic policy becomes more critical than ever. The MGS3700-12C offers wire-speed flow control that classifies and prioritizes the incoming packets according to the predefine QoS policies that meet requirements of service providers.
In terms of classification, the Differentiated Services Code Point (DSCP) field and the 802.1p class of service (CoS) field are identified to assess the priority of incoming packets. Classification and reclassification can be based on criteria as specific as rules based on IP, MAC addresses, VLAN ID or TCP/UDP port number. For bandwidth management, the MGS3700-12C provides 8 priority queues per port for different types of traffics, allowing service providers to set rule-based rate limitations that take full advantage of constrained network resources and guarantee the best performance.
Enhanced security for protection among customers
Avoiding subscribers affecting each other on a shared network or shared device is a major concern for service providers. The MGS3700-12C offers a complete set of security features to protect user data while administrating the traffics. The intrusion lock function detects the "plugged" and "unplugged" status change of Ethernet cables, and the switch would deactivate a specific port automatically if needed, and the 802.1X authentication can secure the network from unauthorized users. Port security provides the ability to deny unauthorized users from accessing the network. Moreover, the 802.1X feature cooperating with RADIUS is useful to prevent unauthorized access based on username and password (or other credentials) and acts as powerful access control for converged networks with mixed wired and wireless access.
The MGS3700-12C provides a multilayer (L2/L3/L4) ACL suite of sophisticated policy-based control mechanisms that enables service providers to deploy easily based on actual network environment needs via a Web GUI or command line interface to prevent abnormal or illegal access. The policies can be defined to deny packets based on source and destination MAC addresses, IP addresses or TCP/UDP ports.
Resilient and redundant design
A quick recovery and round-the-clock network is vital for service providers to establish a robust network. The MGS3700-12C provides comprehensive features to make sure network is well operated. The IEEE 802.3ad Link Aggregation feature reduces network downtime by providing redundant paths and bandwidth aggregation to critical connections, while IEEE 802.1w Rapid Spanning Tree Protocol (RSTP) and IEEE 802.1s Multiple Spanning Tree Protocol (MSTP) allow immediate recovery from failed connections by sending packets via the backup link. Furthermore, since the MGS3700-12C supports backup power system, the power is supplied to the switch in case of an unexpected outage.
Removable fan modules
Removable fan modules provide flexibility and high availability, and they solve the noise problem when the modules are approaching the end of their life cycle. When necessary, customers can replace the fans with new ones by their own to save cost.
Intelligent fan control algorithm for power saving
Fans play an important role in energy consumption since it's the key to heat dissipation. The MGS3700-12C features auto temperature detection and appropriate fan speeds with the Intelligent Fan Control algorithm based on complex mathematics and physics formulas. When the ambient temperature is low, the switch would decrease fan speed to prevent unnecessary power waste from excessive cooling.
Optimized design for Metropolitan Area Network (MAN)
The MGS3700-12C offers high operating temperature tolerance, flexible AC/DC dual-input power source as well as protection against humidity and dust for service providers to extend their networks. The MGS3700-12C adopts the "front access" design for technicians to easily wire and maintain outdoor cabinets.The external alarm input/output block connects mechanical cabinet parts to the management network and offers better protection to the equipment.
Carrier switches supports Digital Diagnostics Monitoring Interface (DDMI) SFP
The enhanced digital interface allows real-time access to device operating parameters, and includes optional digital features such as soft control and monitoring of SFP I/O signals. In addition, it fully incorporates the functionality needed to implement digital alarms and warnings.
The digital diagnostic monitoring interface enables users to have the capability of performing component monitoring, fault isolation and failure prediction tasks on their transceiver-based applications.
DDMI Monitors:
Temperature
Supply voltage
Transmitted bias current
Transmitted power
Received power
Features:
Standard Compliance
IEEE 802.3 10BASE-T Ethernet
IEEE 802.3u 100BASE-Tx Ethernet
IEEE 802.ab 1000BASE-T Ethernet
IEEE 802.3z 1000BASE-X
IEEE 802.3x flow control
IEEE 802.1d spanning tree protocol
IEEE 802.1w rapid spanning tree protocol
IEEE 802.1s multiple spanning tree protocol
IEEE 802.1p class of service, priority protocols
IEEE 802.1Q VLAN tagging
IEEE 802.1X port authentication
IEEE 802.3ad LACP aggregation
IEEE 802.1ad VLAN stacking
IEEE 802.3az Energy Efficient Ethernet (EEE)
Traffic Management and QoS
Broadcast storm control
IEEE 802.1p with 8 hardware priority queues per port for different types of traffic
IEEE 802.1ad QinQ/selected QinQ
IEEE 802.1Q tag-based and port-based VLAN
Weighted Fair Queuing (WFQ)/WRR/SPQ scheduling algorithm
Policy based rate limiting
Policy based bandwidth control
Port based traffic shaping/rate limiting
Rule-based traffic mirroring
IGMP snooping (v1, v2, v3)
IGMP filtering
Jumbo frame support (9 K Bytes) for high performance data backup or recovery services
Support GVRP, automatic VLAN member registration
Multicast VLAN Registration (MVR)
BPDU transparency
Link Aggregation
IEEE 802.3ad LACP link aggregation compliant
Support static manually port trunking
Up to 6 aggregation groups, 8 ports/per group randomly selected
VLAN trunking
Redundancy for Fault Backup
IEEE 802.1w Rapid Spanning Tree Protocol (RSTP) provides rapid convergence of spanning tree independent of spanning-tree timer
IEEE 802.1s multiple spanning tree provides link availability in multiple VLAN environments by allowing multiple spanning trees
MRSTP—Multiple RSTP
User Security and Authentication
IEEE 802.1X authentication
IP source guard (static IP/MAC binding, DHCP snooping, ARP inspection)
IP subnet VLAN & VLAN isolation
Limiting MAC number per port
Loop guard prevents a switch from being affected by another switch which is already in a looping status
MAC filtering per port secures access to each port
MAC freeze
Port security, port isolation, port mirroring, intrusion lock
RADIUS MAC authentication
Static MAC forwarding per port: only specified MAC addresses can access the network (port security)
Wire speed filtering per MAC/IP/TCP/UDP
Wire speed mirroring per MAC/IP/TCP/UDP
Wire speed rate limiting per MAC/IP/TCP/UDP
GVRP, automatic VLAN member registration
Guest VLAN
CPU protection
RSPAN
IP-MAC-Port binding
Network Administration Security
SSH v1/v2
SSL
RADIUS accounting
TACACS+ authentication, accounting
NTP, daylight saving
Network Management
Supports Zyxel iStacking™, up to 24 switches can be managed by one IP address
Intuitive Web-based management with all features configurable
Text-based configuration profile for massive deployment
Telnet CLI (Cisco like)
SNMP v1, v2c, v3
SNMP trap group
RMON four RMON groups 1, 2, 3, 9 (history, statistics, alarms, and events) for enhanced traffic management, monitoring, and analysis
Out-of-Band management: RS-232c local console
Firmware upgrade, configuration backup/restore via ftp
Alarm led indicator for early warning of hardware troubles
Send system trap to trap server
DHCP relay, DHCP relay per VLAN, DHCP relay option 82, DHCP client
Port mirroring: supports source/destination/both port mirroring
IEEE 802.3ah Ethernet Operations,Administration and Management (OAM)
IEEE 802.1ag CFM
CO-LPR (Dying gasp)
sflow
Intelligent ACL (L2/L3/L4 Access List Control)
Based on port
Based on MAC + VLAN ID
Based on IP address (source/destination)
Based on protocol type
Based on TCP/UDP port number
MIB Information
RFC1213 MIB II
RFC1493 bridge MIB
RFC1643 Ethernet MIB
RFC1757 RMON group 1, 2, 3, 9
RFC2011 IP MIB
RFC2012 TCP MIB
RFC2013 UDP MIB
RFC2233 ifVHC packet group
RFC2674 VLAN MIB
RFC2925 PING-MIB and TRACEROUTE-MIB
Zyxel private MIB
Safety Agency Certification
BSMI
LVD/EN 60950-1
CE
FCC
WEEE/RoHS 2/REACH compliant
Specifications:
Model
MGS3700-12C
MGS-3712F
Product name
12-port Combo GbE L2 Managed Switch
8-port GbE L2 Switch with Four GbE Uplink Ports
Port Density
Dual personality ports (Fixed RJ-45 1000BASE-T or SFP open slots)
12
4
Open SFP slot (GbE)
0
8
Performance
Switching fabric speed (Gbps)
24
24
Forwarding rate (Mpps)
17.8
17.8
Packet buffer (Bytes)
1 M
1 M
MAC address table
16 K
16 K
Power Requirement—Input Power
AC, DC dual power supply
Yes
Yes
AC power
100 - 240 V AC, 50/60 Hz
100 - 240 V AC, 50/60 Hz
DC power
-36 to -72 V DC
-36 to -72 V DC
Physical Specifications
Dimensions (WxDxH)(mm/in.)
438 x 225 x 44.5/17.24 x 8.86 x 1.75
438 x 225 x 44.5/17.24 x 8.86 x 1.75
Weight, fully loaded (kg/lb.)
3.4/7.5
3.4/7.5
Environmental Specifications
Operating temperature
0°C to 65°C/32°F to 149°F
0°C to 65°C/32°F to 149°F
Storage temperature
-25°C to 70°C/-13°F to 158°F
-25°C to 70°C/-13°F to 158°F
Operating humidity
-10% to 99% (non-condensing)
-10% to 99% (non-condensing)
Software Specifications
IPv6
Yes
No
RSPAN
Yes
No
Carrier enhancement features
Yes
No
Pricing Notes:
Pricing and product availability subject to change without notice.
Zyxel Products
Zyxel Switches
MGS3700-12C - 12-Port GbE Combo (Fiber/Copper) Layer 2 Managed Switch (AC and DC) Temp Hardened
#MGS3700-12C
List Price:
$775.00
Our Price: $550.00