Zyxel NWA1100-NH

802.11 b/g/n Long Range PoE Access Point
Zyxel Products
Zyxel NWA1100-NH
EMG6726-B10A Dual-Band Wireless AC2400 Gigabit Ethernet Gateway
#EMG6726-B10A
List Price:
$244.99
Our Price: $184.99
Overview:
Long-range, Powerful and Optimal Wi-Fi Connectivity for Businesses
In the so-called BYOD trend, more than 80% of employees use at least one personally owned mobile device such as smart phones or tablets for business; however data transmission with these mobile devices is sometimes unstable because of their weak output power. To be the best accommodate mobile devices in the network, the new Zyxel NWA1100-NH 802.11 b/g/n Long Range PoE Access Point features high output power and antenna gain to optimize wireless coverage and signal quality.
that are four times better for improved device connectivity. In addition, advanced management features also relieve tiresome configuration tasks for more than a few access points (APs). The NWA1100-NH is the best solution for businesses to streamline Wi-Fi connections.
High output power of up to 28 dBm delivers extended coverage
2 external antennas with high 5 dBi gain optimized for mobile devices
Fast 802.11n Wi-Fi with speed up to 300 Mbps improves transmission of large files or videos
Easy deployment via client mode or repeater AP and IEEE 802.3af PoE support
ZON Utility and ZAC minimize repetitive configuration processes and efforts
Certified WPA2 Enterprise, access control management and user traffic control for strict network protection
Benefits:

Boost Wi-Fi coverage for more than 30%
Today, speed is no longer an issue for Wi-Fi, but coverage still is. That is, longer distance causes serious drop in throughput. The boosted output power of Zyxel NWA1100-NH improves throughput in the same distance and thus extends the coverage comparing other APs with regular output strength. With even the same number of AP deployed, users can still enjoy better performance within the coverage.
Adaptive to the existing wiring infrastructure
Compliant with the 802.3af standard consuming power of less than 15 Watts, the NWA1100-NH not only saves energy but also adopts latency switches; as such there's no need to change the wired infrastructure and it helps businesses to minimize extra cost on new equipment setup.
Zyxel ONE Network experience
Aiming for relieving our customers from repetitive operations of deploying andmanaging a network, Zyxel ONE Network is designed to simplify the configuration, management, and troubleshooting, allowing our customers to focus on the business priorities. Zyxel ONE Network presents an easy-to-use tool, Zyxel ONE Network Utility (ZON Utility), to realize speed network setup. Zyxel Smart Connect* allows Zyxel networking equipment to be aware and recognize each other and further facilitating the network maintenance via one-click remote functions such as factory reset or power cycling. Zyxel ONE Network redefines the network integration across multiple networking products from switch to Wi-Fi AP and to Gateway.
Secured Wi-Fi access control
The devices requiring Wi-Fi connectivity are mostly mobile units and are mostly not corporate assets, so management to access privileges of such Wi-Fi clients is definitely required to secure the business network. The Zyxel NWA1100-NH offers various ways to verify Wi-Fi clients in order to keep unauthorized users from connecting to the network or taking network resources.
* Zyxel Smart Connect is supported on selected models. Please refer to specifications for more detail.
Features:
Long range coverage

With the boosted 28 dBm output power and 5 dBi high antenna gain, the Zyxel NWA1100-NH can amplify signal transmitted and received for mobile devices with weak output power to connect to the Wi-Fi networks with ease. Thanks to this feature, the NWA1100-NH is able to provide WLAN connectivity to serve most client devices.

Powered device

The Zyxel NWA1100-NH is designed to be flexible in various deployment scenarios. As a standard powered device (PD), the NWA1100-NH can work with 802.3af and 802.3at PoE switches to eliminate inconvenience caused by, for example, insufficient power outlets.

Zyxel ONE Network utility

To streamline the management process, the Zyxel NWA1100-NH comes with ZON utility for administrators to assign IP addresses of multiple APs through just one platform. Administrators can save the hassle logging into each AP to change the default IP addresses before physical installation.

Zyxel AP Configurator

After deploying a number of APs, repetitive configuration for the units takes time and effort. The Zyxel AP Configurator (ZAC) allows batch AP configuration, backup and firmware upgrade in three easy steps to significantly reduce configuration time and effort.

Wireless layer-2 isolatio

The layer-2 isolation can protect the private network among client users and allow users to access the shared devices without entering the rest of private networks for enhanced security. Also, the intra-BSS blocking prevents peeping from Wi-Fi clients associated with same AP.

WPA2 enterprise certified

Zyxel NWA1100-NH has been certified with industrialstrength WPA2 Enterprise protection and has wide range support of EAP (Extensible Authentication Protocol) types. It can be seamlessly integrated with corporate RADIUS servers.

Access control list

For company without existing RADIUS server, administrators can utilize the Access Control List (ACL) to grant or block Wi-Fi access by entering MAC addresses of the client devices.
Application Diagram:
Assign IP address of multiple APs through ZON utility
Batch AP configuration, backup and firmware upgrade through ZAC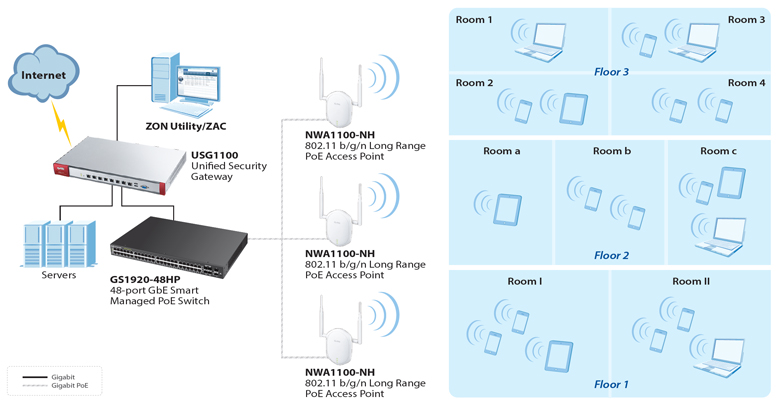 Specifications:
| | |
| --- | --- |
| | |
NWA1100-NH Specifications
Main Design
Wireless frequency
2.4 GHz
Radio
1
RF Specifications
Number of antenna
2T2R MIMO
Antenna gain
5 dBi
Frequency band
2.4 GHz (IEEE 802.11 b/g/n)

USA (FCC): 2.412 to 2.462 GHz
Europe (ETSI): 2.412 to 2.472 GHz
Taiwan (TW): 2.412 to 2.462 GHz

802.11n premium features

2x2 multiple-input multiple-output (MIMO) with two spatial streams
Maximal Ratio Combining (MRC)
20- and 40-MHz channels
PHY data rates up to 300 Mbps
Packet aggregation: A-MPDU (Tx/Rx), A-MSDU (Tx/Rx)
Cyclic Delay diversity (CSD) support
Maximum Likelihood Demodulation (MLD) support
Low Density Parity Check (LDPC) support

Max. transmit power*
US (FCC) 2.4 G
28 dBm, 2 antennas
EU (ETSI) 2.4 GH
18 dBm, 2 antennas
Received sensitivity
2.4 GHz


802.11b/g, min. up to -92 dBm
802.11n/20 MHz, min. up to -91 dBm
802.11n/40 MHz, min. up to -87 dBm

LAN
Number of 10/100/1000M LAN
1
PoE
Yes
PoE power draw
6 W
WLAN Security
WLAN maximum net throughput
Up to 110 Mbps
WMM (Wi-Fi certified)
Yes
WEP
Yes
WPA/WPA2-PSK
Yes
WPA/WPA2-Enterprise
Yes
EAP types
PEAP, EAP-TLS, -TTLS, -SIM, -FAST, -AKA, -MD5 and -GTC
Number of multiple SSID
8
IEEE 802.1x
Yes
MAC filtering
Yes
Layer-2 isolation
Yes
WLAN access control list
Yes
RADIUS authentication
Yes
Network
IPv6 support
Yes
VLANs
Yes
DHCP client
Yes
Management
ZAC

Batch AP configuration
Batch AP firmware upgrade
Batch AP profile backup

ZON Utility

Discover Zyxel switches, APs and gateways**
Centralized and batch configuration

IP configuration
IP renew
Device reboot
Device locating
Web GUI access
Firmware upgrade
Password configuration
ZAC access

Standalone AP mode
Yes
CLI
Yes
SNMP
v1, v2c, v3
Others
Power supply
Input: AC 100 - 240 V -50/60 Hz 0.3 A; Output: DC +12 V 1 A
MTBF (hr)
1,018,459.6
Standard Compliance
Ethernet
IEEE 802.3, IEEE 802.3u, IEEE 802.3az, IEEE 802.3af
PoE
IEEE 802.3af
WLAN
802.11b: DBPSK, DQPSK, CCK
802.11g: BPSK, QPSK, 16-QAM, 64-QAM
802.11n: BPSK, QPSK, 16-QAM, 64-QAM
Certifications
Radio
FCC Part 15C
ETSI EN 300 328, EN60601-1-2
DGT LP00
EMC
FCC Part 15B
EN 301 489-1, EN 301 489-17, EN 55022,
EN 55024, EN 61000-3-2/-3/EN60601-1-2
BSMI CNS13438
Safety
EN 60950-1
IEC 60950-1
BSMI CNS14336-1
Physical Specifications
Item
Dimensions (mm/in.)
153 x 110 x 38 / 6.02 x 4.33 x 1.5
Weight (kg/lb.)
240 / 0.529
Packing
Dimensions (WxDxH)
285 x 210 x 72 / 11.22 x 8.26 x 2.83
Weight (kg/lb.)
602 / 1.327
Included accessories

Power adapter
Mounting screws

Environmental Specifications
Operating
Temperature
0ºC to 60ºC (32ºF to 140ºF)
Humidity
10% to 95% (non-condensing)
Storage
Temperature
-30ºC to 70ºC (-22ºF to 158ºF) 
Humidity
10% to 95% (non-condensing)
* Max. total channel
** Gateway supports of the ZON utility will be available on the second half 2014.
Zyxel Products
Zyxel NWA1100-NH
EMG6726-B10A Dual-Band Wireless AC2400 Gigabit Ethernet Gateway
#EMG6726-B10A
List Price:
$244.99
Our Price: $184.99