Zyxel NWA1123ACv3

802.11ac Wave 2 Dual-Radio Ceiling Mount PoE Access Point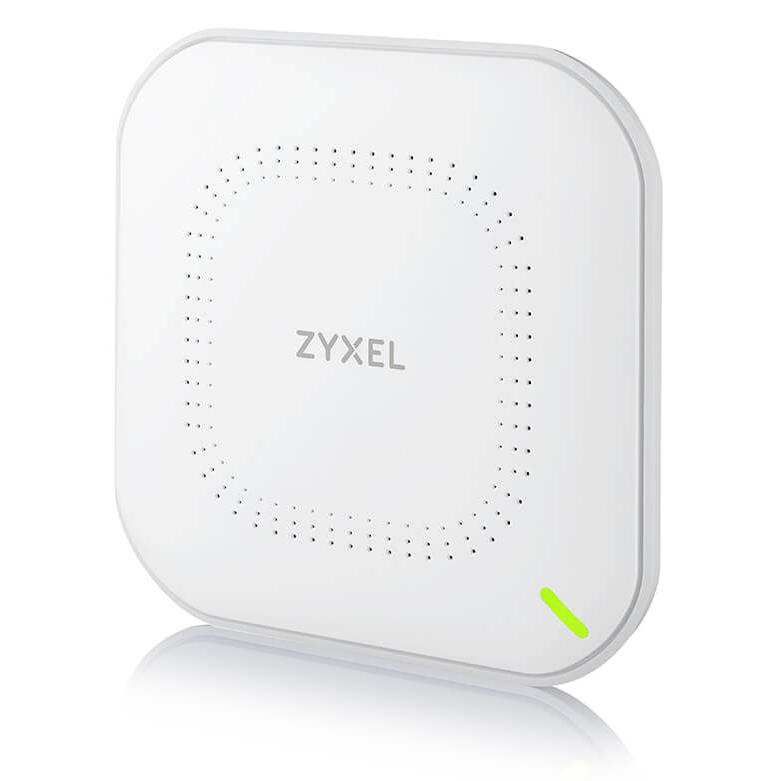 See how Zyxel can help with the Remote Workforce
Zyxel Products
Zyxel Wireless
Zyxel 2x2 802.11ac Wave 2 AP w/AC Adapter - NebulaFlex
#NWA1123ACV3
Our Price: $139.99
Click here to jump to more pricing!
Overview:
Introducing the new hybrid access point
The Zyxel NWA1123ACv3 802.11ac Wave 2 Dual-Radio PoE Access Point supports a combined data rate of up to 1.2Gbps. With Zyxel's innovative design and commitment to "RF First" for high performance and reliable connections through design, the NWA1123ACv3 delivers increased coverage and improved connection speeds for every client.
The NWA1123ACv3 supports NebulaFlex, giving you the ability to easily switch between standalone and our license free Nebula cloud management, anytime, with a few simple clicks.
NebulaFlex gives you the flexibility to switch between standalone and our License Free Nebula cloud management
Next generation beamforming technology delivers maximum coverage
802.11ac 2x2 Wave 2 — supporting combined data rate of up to 1.2 Gbps
Advanced Cellular Coexistence minimizes interferences from 4G/5G cellular networks
Robust build quality including solid-state capacitors to ensure long life and operational reliability
Not ready for the cloud… Just yet?
For those of you who are not ready for the cloud, the NWA1123ACv3 offers a standalone mode, allowing you to setup each AP via its local user-friendly web interface and setup wizard. The wizard will quickly guide you through the initial setup and have your AP up and running in minutes. Additionally you can manage and monitor the AP via traditional SNMP methods that you may have already in place. The NWA1123ACv3 is also part of the Zyxel One Network. This means that you can use the complimentary Zyxel One Network Utility to help with repetitive operations during deployment.
What to benefit from Cloud central management?
When you're ready to join our Nebula cloud management solution, simply register your NWA1123ACv3 via Nebula Control Center and the device will automatically join, auto provision and begin to give real-time information. The intuitive platform allows you to group your access points together, control centrally, gain access to diagnostics tools and additional features like captive portal all under a single platform.
The Nebula platform has no limits to how many access points can be added, giving you an easy to use, scalable platform that you can access anytime, anywhere.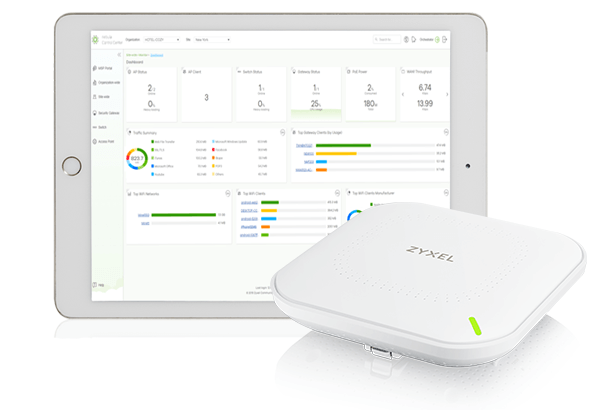 Benefits:
RF First – high performance and reliable connections through design
With Zyxel's innovative design and commitment to "RF First" for high performance and reliable connections through design, the NWA1123ACv3 delivers increased coverage and improved connection speeds for every client.
When designing an access point, every hardware design element including the layout and the antenna are all taken into account to ensure that we lead with user experience and gain not only in coverage but also in performance that maximizes the experience in the real world.
Wireless built for user experience
The NWA1123ACv3 ensures an optimized wireless experience for users by combining wireless technologies like Dynamic Channel Selection (DCS), Load Balancing, beanforming technology. DCS minimizes the interference of co-channel and overlapping channels, while Load Balancing enables administrators to easily set limits on the number of clients associated with each AP. The second generation transmit beamforming technology incorporating Low End Sensitivity Improvements and Time Domain Channel Smoothing allowing data rates to increase for not only MU-MIMO clients, but for all existing ones as well. These advanced functions ensure that users can enjoy a smooth, consistent and uninterrupted wireless experience.
Flexible operating modes
The NWA1123ACv3 not only offers two different styles of management via NebulaFlex (cloud or standalone), but also offers the ability of smart mesh in cloud and WDS in standalone to extend wireless connectivity in challenging locations by wirelessly bridging the devices together without the need to use cables.
Optimize for what you need
To create a thoroughly enhanced WiFi experience, NWA1123ACv3 made a big move on MU-MIMO and RF First design via fine-tuned software and innovative hardware. Featuring with DCS and load-balance, NWA1123ACv3 delivers smooth and superior WiFi experience in workplaces.
WPA3 WiFi security for Safer Networks
Supporting the latest WPA3 standard, the NWA1123ACv3 is designed to bring stronger encryption and authentication to protect your wireless network.
Manage it your way!
As it comes with the support of NebulaFlex, Zyxel's scalable, cloud-based management system, the NWA1123ACv3 can be managed via NCC (Nebula Control Center), or simply operates alone (controller-less). You can choose the way that is best suited to your needs.
Application Diagram: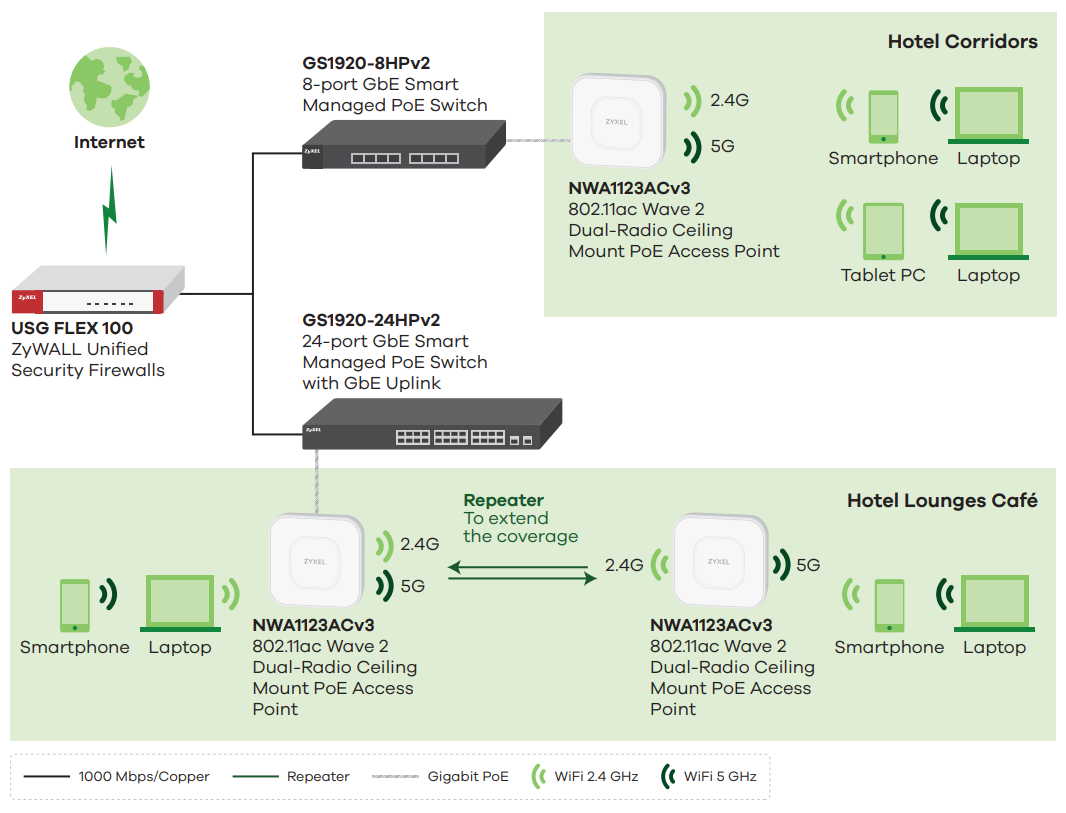 Specifications: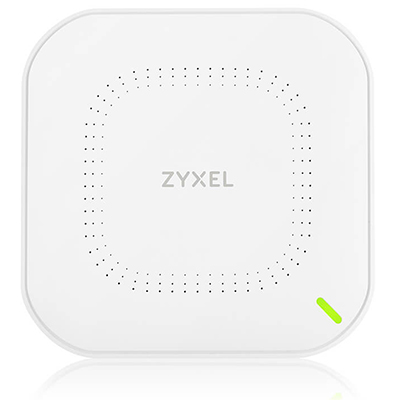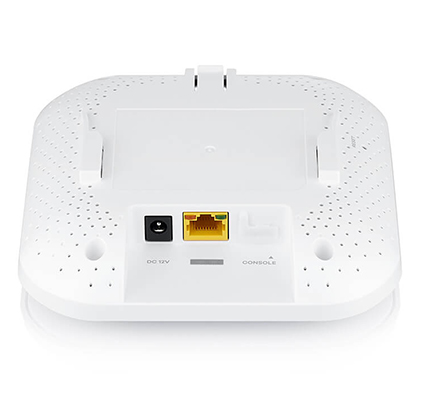 Model
NWA1123ACv3
Product name
802.11ac Wave 2 Dual-Radio Ceiling Mount PoE Access Point
Wireless
Standard
IEEE802.11 ac/n/g/b/a
MIMO
MU-MIMO
Wireless speed
2.4 GHz
300Mbps
5 GHz
866Mbps
Frequency band
2.4 GHz

USA (FCC): 2.412 to 2.462 GHz
Europe (ETSI): 2.412 to 2.472 GHz

5 GHz

USA (FCC): 5.15 to 5.25 GHz; 5.725 to 5.850 GHz
European (ETSI): 5.15 to 5.35 GHz; 5.470 to 5.725 GHz

Bandwidth
20-, 40- and 80-MHz
Conducted typical transmit output power
US (2.4GHz/5GHz)
23/23dBm
EU (2.4GHz/5GHz)
19/23dBm
RF Design
Antenna type
2x2 MIMO Embedded Antenna
Antenna gain
2.4 GHz
3 dBi
5 GHz
4 dBi
Minimum receive sensitivity
up to -99 dBm
WLAN Features
Band Steering
Yes
WDS/ Mesh
Yes
Fast roaming
Pre-authentication, PMK caching and 802.11r/k/v
DCS
Yes
Load balancing
Yes
Security
Encryption
WEP/ WPA/WPA2-PSK/WPA3
Authentication
WPA/WPA2-Enterprise/ EAP/ IEEE 802.1X/ RADIUS authentication
Access management
L2-isolation/ MAC filtering
Network
IPv6 support
Yes
VLANs
Yes
WMM
Yes
U-APSD
Yes
DiffServ marking
Yes
Management
Operating mode
Cloud managed / standalone
ZON Utility

Discovery of Zyxel switches, APs and gateways
Centralized and batch configurations

IP configuration
IP renew
Device reboot
Device locating
Web GUI access
Firmware upgrade
Password configuration

Zyxel Wireless Optimizer

WiFi AP planning
WiFi coverage detection
Wireless health management

Web UI/ CLI
Yes
SNMP
Yes
Physical Specifications
Item
Dimensions(WxDxH)(mm/in.)
140 x 140 x 37.5 /5.51 x 5.51 x 1.48
Weight (g/lb.)
249 / 0.55
Packing
Dimensions(WxDxH)(mm/in.)
240 x 155 x 60 / 9.45 x 6.10 x 2.36
Weight (g/lb.)
560 / 1.23
Included accessories

Power adapter
Ceiling-mount plate

MTBF (hr)
630,794
Ethernet port
1x 10/100/1000M LAN
Power

Input: AC 100 - 240V - 50/60 Hz 0.3A; Output: DC +12V 1A
PoE (802.3af): power draw 11 W

Environmental Specifications
Operating environment
Temperature
0°C to 50°C/32°F to 122°F
Humidity
10% to 90% (non-condensing)
Storage environment
Temperature
-40°C to 70°C/-40°F to 158°F
Humidity
10% to 90% (non-condensing)
Certifications
Radio
FCC Part 15C, FCC Part 15E; ETSI EN 300 328, EN 301 893; LP0002, EN 60601-1-2
EMC
FCC Part 15B, EN 301 489-1; EN 301 489-17, EN55022, EN55024, EN61000-3-2/-3, BSMI CNS13438
Safety
EN 60950-1, IEC 60950-1; BSMI CNS14336-1
Pricing Notes:
Pricing and product availability subject to change without notice.
Zyxel Products
Zyxel Wireless
Zyxel 2x2 802.11ac Wave 2 AP w/AC Adapter - NebulaFlex
#NWA1123ACV3
Our Price: $139.99
Zyxel MSP License
1 Year Nebula MSP License
#LICNCCMSP1YR
List Price:
$699.99
Our Price: $499.99
1 Month Nebula MSP License
#LICNCCMSP1MO
List Price:
$72.99
Our Price: $49.99
2 Year Nebula MSP License
#LICNCCMSP2YR
List Price:
$1,299.99
Our Price: $949.99
Zyxel Plus License
1 Month Nebula Plus Pack for 1 Device
#LICNCCPLUS1MO
List Price:
$4.99
Our Price: $1.49
1 Year Nebula Plus Pack for 1 Device
#LICNCCPLUS1YR
List Price:
$19.99
Our Price: $11.99
2 Year Nebula Plus Pack for 1 Device
#LICNCCPLUS2YR
List Price:
$34.99
Our Price: $22.99
Zyxel Pro License
1 Month Nebula Pro Pack for 1 Device
#LICNCCPRO1MO
List Price:
$7.99
Our Price: $2.99
1 Year Nebula Pro Pack for 1 Device
#LICNCCPRO1YR
List Price:
$44.99
Our Price: $29.99
2 Year Nebula Pro Pack for 1 Device
#LICNCCPRO2YR
List Price:
$79.99
Our Price: $56.99