Zyxel NWA5301-NJ

802.11 b/g/n Wall-Plate Unified Access Point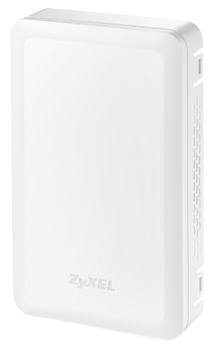 Sorry, this product is no longer available, please contact us for a replacement.
Overview:
Superior, Integrated Modern In-room Services for Higher Customer Satisfaction
Typical Wi-Fi deployments in a hotel usually place access points in hallways and hidden plenum spaces; the main purposes are to prevent theft and to avoid design disagreement between the high-tech AP and tasteful hotel interior design. However, this commonly seen deployment method and the hotel building structure usually disrupt Wi-Fi service to cause unnecessary complaints from customers. The NWA5301-NJ with innovative wall-plate design has been conceived to provide Wi-Fi services from one room to another. To provide modern services for hotel guests, the NWA5301-NJ integrates PoE and phone connectivity in a box to extend services with minimized investment. Zyxel's unified AP design enables NWA5301-NJ to perform as a stand-alone access point or a controller managed AP to provide deployment and management alternatives.
Unique back panel design that fits the majority of outlet boxes in the world
Punch-down Ethernet interface for significantly reduced installation efforts
2.4 GHz 802.11n technology providing data rates of up to 300 Mbps
High-gain antenna that optimizes Wi-Fi services for mobile devices
Extending phone and IPTV services with integrated interfaces
LED suppress mode for comfortable room services
Layer-2 isolation to secure personal data from leaking
Benefits:

Rapid universal wall-plate deployments
The Zyxel NWA5301-NJ has the best-of-breed deployment feasibility. Compliant with the most commonly used outlet box standards, the Zyxel NWA5301-NJ can be mounted with the majority of outlet boxes to provide high-quality in-room Wi-Fi coverage. An exquisite mounting plate is attached to the NWA5301-NJ for fast installation while the strong mechanism also prevents easy theft. The NWA5301-NJ also comes with Ethernet punch-down interfaces that facilitate speedy device fitting to minimize business downtime.
Zyxel ONE Network experience
Aiming for relieving our customers from repetitive operations of deploying and managing a network, Zyxel ONE Network is designed to simplify the configuration, management, and troubleshooting, allowing our customers to focus on the business priorities. Zyxel ONE Network presents an easy-to-use tool, Zyxel ONE Network Utility (ZON Utility), to realize speed network setup. Zyxel Smart Connect allows Zyxel networking equipment to be aware and recognize each other and further facilitating the network maintenance via one-click remote functions such as factory reset or power cycling. Zyxel ONE Network redefines the network integration across multiple networking products from switch to Wi-Fi AP and to Gateway.
Superb mobile-optimized RF performance
The NWA5301-NJ adopts 802.11n technology to provide bandwidths of up to 300 Mbps. The implemented premium 11n features, including maximum likelihood, allows the NWA5301-NJ to eliminate dead spots in its coverage for the best network efficiency. In hotel environments today, most users use mobile devices to access the network. As the devices have lower signal power by nature to sustain longer battery life, APs are less likely to pick up data sent from the devices comparing to which from laptops. The NWA5301-NJ comes equipped with well-placed high-gain antenna to maximize the RF pattern for optimized performance communicating with mobile devices. With all the advanced RF design, the NWA5301-NJ can significantly reduce complaints and increase satisfaction from customers.
Extending modern in-room services with a box
Nowadays, hotel owners provide guests with a range of services including phone, IPTV and network for home-like comfort. For this purpose, each room would require several cables or a switch; both could not only need more investment but also a longer construction period that inevitably affects the hotel business. More than just a Wi-Fi AP serving high-speed networks, the NWA5301-NJ has additional RJ-45, PoE and RJ-48 phone pass through ports to connect different kinds of devices such as PCs, fax machines, printers, set-top boxes, and phones with ease. The PoE port enables deployment of Power Devices (PD) like VoIP phones without electric outlets and power cables. The NWA5301-NJ fulfills all kind of connectivity requirements to provide great in-room services.
Comfortable and considerate network services
With experience and expertise in the hospitality industry for years, Zyxel implemented several thoughtful designs in NWA5301-NJ. The LED of NWA5301-NJ features a so-called "suppress mode" which stops blinking after system initialization is done; this gives the room guest a comfortable space with peace-of-mind. Moreover, the AP status can be checked with this LED indicator with a simple click of a button. To prevent leaking of personal data, layer-2 isolation can be enabled in NWA5301-NJ so the users can only access shared services and peripherals such as hotel fax machines and are blocked from reaching other guest devices in the hotel. All these superior designs of Zyxel NWA5301-NJ help hotel businesses to provide integrated in-room services with quick, best-in-class installation and to facilitate deployment and management.
Application Diagram: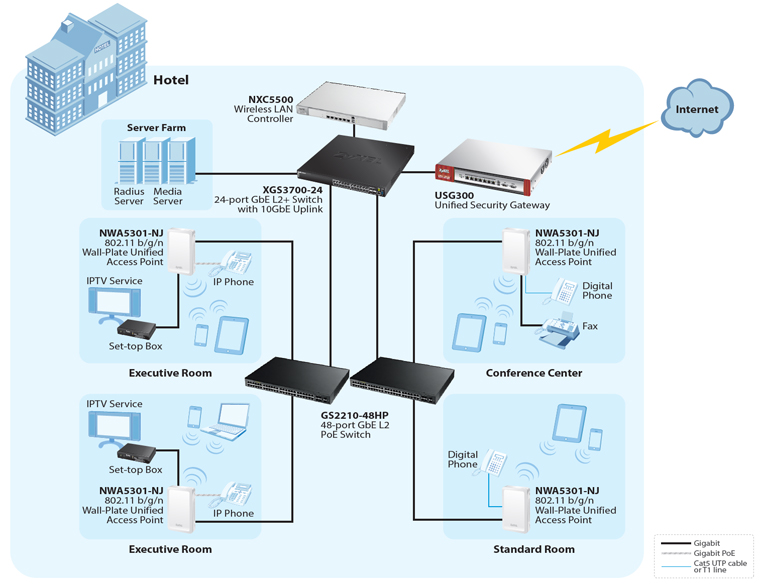 Specifications: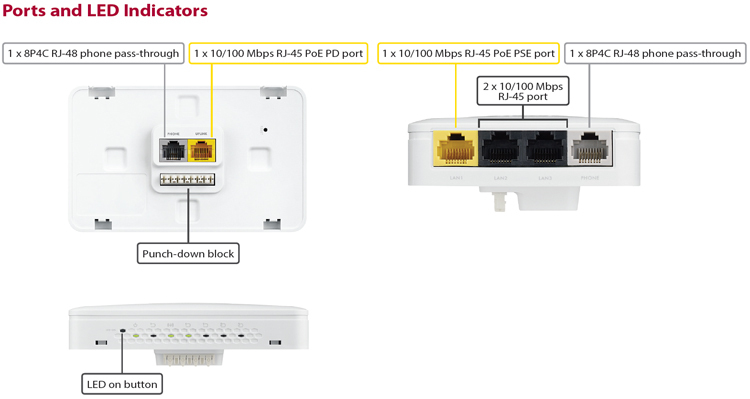 NWA5301-NJ Specifications
Main Design
Wireless frequency
2.4 GHz
Radio
1
Antenna
Embedded 2x2
RF Specifications
Frequency band
2.4 GHz (IEEE 802.11 b/g/n); USA (FCC): 2.412 to 2.462 GHz; Europe (ETSI): 2.412 to 2.472 GHz
802.11n premium features

2x2 multiple-input multiple-output (MIMO) with two spatial streams
Maximal Ratio Combining (MRC)
20- and 40-MHz channels
PHY data rates up to 300 Mbps
Packet aggregation: A-MPDU (Tx/Rx), A-MSDU (Tx/Rx)
Cyclic Delay diversity (CSD) support

Maximum transmit power (Max. total channel)
US (FCC) 2.4 GHz
23 dBm, 2 antennas
EU (ETSI) 2.4 GHz
17 dBm, 2 antennas
Antenna gain
5 dBi
Support data rate

802.11g: 1, 2, 5.5, 6, 9, 11, 12, 18, 24, 36, 48, and 54 Mbps
802.11n: up to 300 Mbps in MCS15 (40 MHz; GI = 400 ns)

Receive sensitivity
2.4 GHz:

802.11b/g, min. up to -95 dBm
802.11n/20 MHz, min. up to -93 dBm
802.11n/40 MHz, min. up to -92 dBm

LAN
Number of 10/100 Mbps LAN ports
Uplink
1 x 10/100 Mbps POE port (PD)
Downlink
3 x 10/100 Mbps RJ-45 ports (including one PoE PSE)
PoE
Yes
PoE power draw
13 W (Include 7 W for PoE PSE)
WLAN Security
WMM (Wi-Fi certified)
Yes
WEP
Yes
WPA/WPA2-PSK
Yes
WPA2 (Wi-Fi certified)
Yes
WPA/WPA2-Enterprise
Yes
EAP types
TLS, TTLS, PEAP, FAST, AKA and SIM
Number of multiple SSID
8
IEEE 802.1x
Yes
MAC filtering
Yes
Layer-2 isolation
Yes, multiple profiles
WLAN access control list
Yes
RADIUS authentication
Yes
Network
VLANs
Yes
DHCP client
Yes
QoS
WMM
Yes
WMM power saving
Yes
Zyxel ONE Network
ZON Utility

Discovery of Zyxel switches, APs and gateways*
Centralized and batch configurations

IP configuration
IP renew
Device reboot
Device locating
Web GUI access
Firmware upgrade
Password configuration
One-click quick association with Zyxel AP Configurator (ZAC)

Smart Connect

Discover neighboring devices
One-click remote management access to the neighboring Zyxel devices

Management
ZAC

Batch AP configuration
Batch AP firmware upgrade
Batch AP profile backup

Standalone AP mode

Discover Zyxel switches, APs and gateways**
Centralized and batch configuration

IP configuration
IP renew
Device reboot
Device locating
Web GUI access
Firmware upgrade
Password configuration
ZAC access

Managed AP mode**
Yes
CLI
Yes
Web GUI
Yes
SNMP
v1, v2c, v3
Certifications
Radio
ETSI EN 300 328, FCC Part 15C, LP0002, EN 60601-1-2
EMC
EN 301 489-1, EN 301 489-17, EN55022, EN55024, EN61000-3-2/-3, FCC Part B, BSMI CNS13438
Safety
EN 60950-1, IEC 60950-1, BSMI CNS14336-1
Physical Specifications
Item
Dimensions (mm/in.)
85 x 138 x 37.4 / 3.35 x 5.43 x 1.47
Weight (kg/lb.)
172 / 0.38
Packing
Dimensions (WxDxH)
200 x 141 x 64 / 7.87 x 5.55 x 2.52
Weight (kg/lb.)
440 / 0.96
Environmental Specifications
Operating temperature
0ºC to 60ºC (32ºF to 140ºF)
Storage temperature
-30ºC to 70ºC (-22ºF to 158ºF) 
Operating humidity
10% to 90% (non-condensing)
MTBF (hr)
531,785
*   Gateway supporting ZON utility is scheduled for future release.
**  Managed AP mode works with Zyxel Controller with firmware version V4.10 or above.