Zyxel NXC2500

Wireless LAN Controller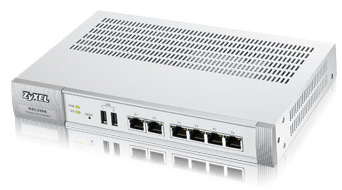 Final Buy, once this product is no long in stock it will no longer be sold, it is replaced by ATP/USG Firewalls.
Zyxel Products
Zyxel NXC2500
WLAN Controller w/8 AP Support (Max 64)
#NXC2500
List Price:
$424.99
Our Price: $299.99
Click here to jump to more pricing!
Overview:
The All-in-One, Intelligent NXC Controller
Delivering a good wireless LAN service that stands up to the demands of connecting users to the latest high bandwidth applications is not easy. The latest BYOD (Bring Your Own Device), mobility and 3G Wi-Fi tablet and smart phone technology all present scalability, manageability and functionality challenges to business Wi-Fi installations. To enable businesses to addressing these challenges Zyxel has developed the NXC2500, an all-in-one, intelligent Wireless LAN Controller. The Zyxel NXC2500 is designed to provide resellers and businesses with a solution that works as an AP planning, deployment, monitoring and maintenance solution while offering management, authentication and guest access within an all-in-one device.
The Zyxel NXC2500 Wireless LAN Controller supports the management of the Zyxel Unified, Unified Pro and NWA5000 Managed Series of Access Points to provide complete wireless LAN functions for the business. As standard the Zyxel NXC2500 supports the initial management of 8 APs and provides scalability with a maximum supported total up to 24 APs, the "pay-as-you-grow" principle provides reassurance and future proofing for small and medium-sized businesses, hotels and educational institutes to implement secured, centralized wireless LAN networks.
Centralized management for up to 64* APs
ZyMESH mitigates complex,inconvenient cabling Wi-Fi deployments
Client steering enhances efficiency of wireless spectrum utilization
Auto healing maximizes Wi-Fi service availability
Seamless integration with external AD, LDAP, RADIUS authentication
Best investment protection with built-in RADIUS server
*Management of 64 APs is supported with firmware version V4.10 or above
Benefits:

Adaptive and resilient Wi-Fi deployments with ZyMESH technology
Surpassing the mesh networking technology, ZyMESH creates wireless mesh links with easy configuration, better management and enhanced reliability. ZyMESH eases extending Wi-Fi coverage to places where cabling is difficult. In addition, each repeater APs can have multiple route selections to provide high resilience achieving non-stop Wi-Fi service. In the past, administrators had to assign channel and MAC addresses in each AP while setting up a WDS link to extend Wi-Fi service; now they can make initial provision and centralized management with ZyMESH and Zyxel NXC2500 controller to manage and deploy networks easily.
Enhanced RF management and WLAN optimization
All wireless networks face a major challenge: ensuring Wi-Fi clients get service levels they'd need. The difficulty to resolve is that different kinds of Wi-Fi clients exist on the network, and these users tend to make their own connectivity and roaming decision.
The Zyxel NXC2500 features with advanced WLAN optimization technologies that help administrators monitoring and maintaining health of the wireless network easily. Client steering utilizes functions of band steering and client signal threshold to match every Wi-Fi client to the best radio of the best AP. Band steering sets 5 GHz as the first priority to optimize network connectivity for dual-band clients. Client signal threshold ensures all clients connect to the APs with stronger signal. Auto healing is another WLAN optimization function that deployed APs detect status of nearby APs and adjust power automatically while failure occurred in neighboring AP. Auto healing provides reliable and always-on wireless coverage. The Zyxel NXC2500 also features dynamic channel selection to optimize Wi-Fi quality and performance while minimizing administration efforts by auto, instant channel selection.
Authentication with simplified management
The Zyxel NXC2500 uses comprehensive authentication methods to manage Wi-Fi accessibility for devices with AD, LDAP or RADIUS authentication servers. The NXC2500 also provides a built-in RADIUS server, a captive portal server and a DHCP server to facilitate small and medium businesses deploying secured employee and guest access services without any additional server. The user-friendly guest account generator can dynamically create user accounts for guests at reception or equally easy by office administrators. The NXC2500 also supports applying external customized portal pages which largely benefit the access authentication in hospitality venues like hotels. Also, with IETF standard-based CAPWAP, secured communication can be established between the NXC controller and access points without changing the existing LAN infrastructure. The NXC2500 can offer a secured Wi-Fi network with easy installation for your business.
Application Diagram: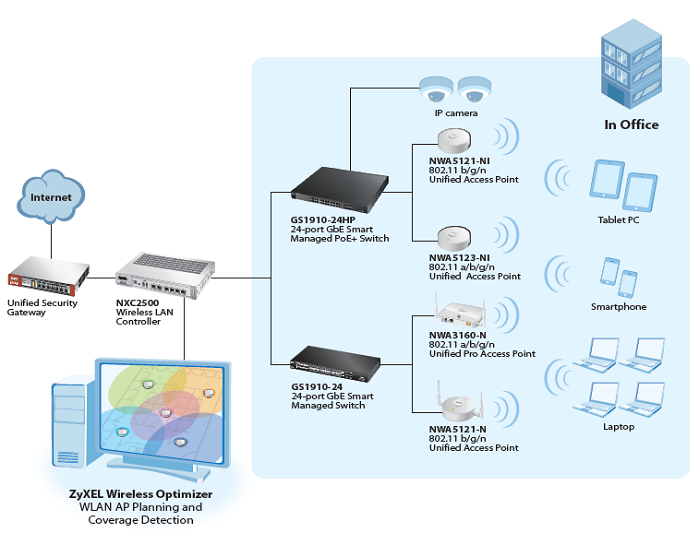 Specifications:
Model
NXC2500
Port Density
10/100/1000 Mbps LAN ports
6
USB Port
2
Performance
Throughput (Gbps)
1
Managed AP number (default/max.)
8/24
Fanless
Yes
WLAN Features
Wireless security (WPA/WPA2-PSK, Enterprise)
Yes
Dynamic channel selection
Yes
Client RSSI threshold
Yes
Wireless multicast setting
Yes
Rogue AP detection
Yes
AP load balancing
Yes
Security Features
IEEE 802.1X
Yes
Web authentication
Yes
MAC filtering
Yes
RADIUS authentication
Yes
Microsoft AD authentication
Yes
LDAP authentication
Yes
Embedded RADIUS server
Yes (256 user)
Rogue AP detection
Yes
Identity-based user security management
Yes
Wireless intrusion detection
Rouge AP detection
Control and Provisioning
Managed AP discovery
Broadcast/DHCP Option/DNS/Manual
CAPWAP
Yes
AP data forwarding mode support
Distributed (local bridge)
Management interface
HTTP/HTTPS/Telnet/SSH/SNMP
Output power control
Yes
Dynamic channel assignment
Yes
AP planning and site-survey
Yes (AP planning and coverage detection)
Wire/wireless packet capture
Wired
Network
VLANs
Yes
DHCP client
Yes
DHCP relay, server
Yes
NAT
Yes
Static routing
Yes
Policy routing
Yes
Access Control
MAC filter list
Yes
MAC authentication
Yes
Customizable web login portal
Yes
QoS
WMM/power save
Yes
DiffServ marking
Yes
AP load balancing
Yes
Management Features
CLI with SSH
Yes
Web UI with SSL
Yes
SNMP
Yes
Multi-level administration roles
Admin, guest operator
User/Application Management
Authentication
RADIUS/Microsoft AD/LDAP/Local
Local user database
Yes (256)
MAC authentication
Yes (Internal/External RADIUS)
User/group policy
Yes
Captive portal
Yes
External portal page
Yes
Page upload
Yes
Other
Dynamic channel selection
Yes
System diagnostic tool
Yes
Certification
EMC
FCC Part 15B
CE EN55022, EN55024: 2010
ERP Lot 6
C-tick AS/NZSCISPR22: 2009
BSMI CNS13438: 2006
Safety
LVD EN60950-1: A12: 2011 BSMI CNS14336: 2010
Power Requirements
Power supply
12 VDC, 100 - 240 VAC
Physical Specifications
Item
Dimensions (WxDxH)(mm/in.)
242.0 x 175.39 x 35.5/9.53 x 6.9 x 1.4
Weight (kg/lb.)
1.254/2.76
Packing
Dimensions (WxDxH)(mm/in.)
395 x 238 x 101/15.55 x 9.37 x 3.98
Weight (kg/lb.)
2.49/5.49
Environmental Specifications
Operating
Temperature
0°C to 40°C/32°F to 104°F
Humidity
5% to 95% (non-condensing)
Storage
Temperature
-20°C to 70°C/-4°F to 158°F
Humidity
5% to 95%
MTBF (hr)
815,464
Access Point Compatibility List
Series
NWA3000-N Series
NWA5000 Series
NWA5120 Series
Unified Pro Access Point
Managed Access Point
Unified Access Point
Model
NWA3160-N
NWA3560-N
NWA3550-N
NWA5160N
NWA5560-N
NWA5550-N
NWA5121-NI
NWA5121-N
NWA5123-NI
Functions
Auto provisioning over WAN & LAN
Yes
Yes
Yes
CAPWAP
Yes
Yes
Yes
Auto channel selection
Yes
Yes
Yes
AP load-balancing
Yes
Yes
Yes
Monitoring mode
Yes
Yes
Yes
Rogue AP
Detection
Detection
Detection (Standalone mode)
Packet capture
Yes
Yes
Yes
Data forwarding
Local bridge
Local bridge
Local bridge
Other Information
License
Item
Description
Managed AP scalability
The NXC2500 Managed AP License increases the number of APs that can be managed by the NXC2500 WLAN controller by increments of 8 APs at a time. The maximum number of APs supported is 24.
System Requirement
Zyxel Wireless Optimizer
Description
Easy for AP planning, coverage detection and monitoring
Operating system
Microsoft®
Windows XP Professional SP2+
Windows Vista (32-bit)
Windows 7 (32-bit, 64-bit)
Windows 8 (32-bit, 64-bit)
Processor
Intel® Pentium® 4 1.4 GHz or higher recommended
RAM
2 GB recommended
Hard disk
100 MB of free disk space
Map import
A site map in the following supported formats: .bmp, .gif, .jpg, .png
Pricing Notes:
Pricing and product availability subject to change without notice.
Zyxel Products
Zyxel NXC2500
WLAN Controller w/8 AP Support (Max 64)
#NXC2500
List Price:
$424.99
Our Price: $299.99
Zyxel iCard AP License Upgrade
8 AP License for NXC2500
#ICAP8NXC2500
List Price:
$372.99
Our Price: $264.99
Zyxel Mesh Licenses
Mesh license for NXC2500
#ICAPMXC2500
List Price:
$372.99
Our Price: $264.99