Zyxel USG2200

Uncompromising Security and Performance for Next Generation Business Needs
Sorry, this product is no longer available
Please contact us to explore replacement options or consider visiting our Legacy Products Licensing page, where you can purchase licenses for our discontinued products.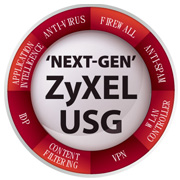 Overview:
Powerful, robust and always-online
ZyWALL USG Series delivers high-access quality to help businesses satisfy the demand for always-online communications. For internal deployments, the ZyWALL USG Series provides active-passive High-Availability (HA) service to support device or connection failover. With Device HA Pro service, ZyWALL USG Series also supports instant failover, so connections are always maintained when a failover event occurs.
For external deployments, the ZyWALL USG Series features multi-WAN load balancing/failover and a comprehensive mobile broadband USB modem support list for WAN backup operations. The ZyWALL USG Series also supports IPSec load balancing and failover, providing additional resilience for mission-critical VPN failover with VTI Interface deployments.
High-performance, high-value Next Generation Firewall (NGFW) for medium and large-sized businesses and campuses
Anti-malware protection with firewall, anti-virus, antispam, content filtering, IDP, next-generation application intelligence and SSL inspection
Robust SSL, IPSec and L2TP over IPSec VPN connectivity and VPN High Availability (HA)
Unified security policy streamlines the configuration and management efforts
Built-in WLAN controller for centralized AP management and effortless WLAN scalability of up to 18 APs
Engineered Express Mode. Uncompromising Performance.
ZyWALL USG series supports Express Mode with advanced Cloud Query technology which has 30 billion of file ID in Zyxel security cloud's database and constantly adapts new malware data every minute via Threat Intelligence Machine Learning. This innovative design improves the anti-malware detection efficiency, enables it to verify the file ID within seconds to get the most optimal threat detection, so that the ZyWALL USG series can gain higher throughput performance.
Impregnable protection and optimization
ZyWALL USG Series thoroughly protects networks with industry-leading firewall, Anti-Malware/ Virus, Anti-Spam, Content Filtering, IDP, and Application Patrol functionality. Regulate unauthorized use of Web applications over your network, such as Facebook, Google apps, and Netflix, among others. Zyxel security measures are enhanced with SSL Inspection, blocking threats hidden in SSL-encrypted connections while facilitating deeper policy enforcement. Furthermore, newly improved Content Filtering 2.0 enhances HTTPS Domain Filter, Browser SafeSearch, and Geo IP Blocking for an array of security enhancements to ensure clean Web connections.
Best TCO for Access Expansion
People expect network access regardless of time or location. As a result, hotspots are in demand in an ever-expanding assortment of locations. The ZyWALL USG1100/1900/2200 integrated with Zyxel AP Controller technology enables users to manage APs from a centralized user interface. In addition, Zyxel Hotspot Management delivers a unified solution for business networks with user-friendly tools like Billing System, Walled Garden, Multiple Authentication, 3rd Party Social Login and User Agreement. With ZyWALL USG Series, businesses can now deploy or expand a managed WiFi network with minimal effort.
Swift and secure firmware upgrades
Locating firmware updates — not to mention identifying correct versions for your device and managing their installation — can be a complex and confusing ordeal.
The ZyWALL USG Series solves this with its new Cloud Helper service. Cloud Helper provides a simple step to look for up-to-date firmware information. New firmware is immediately made available upon release from our official database to ensure its authenticity and reliability.
---
Sorry, this product is no longer available
Please contact us to explore replacement options or consider visiting our Legacy Products Licensing page, where you can purchase licenses for our discontinued products.