Zyxel WAC6103D-I

Ultra-fast, Ultra-slim 802.11ac Wi-Fi Access Point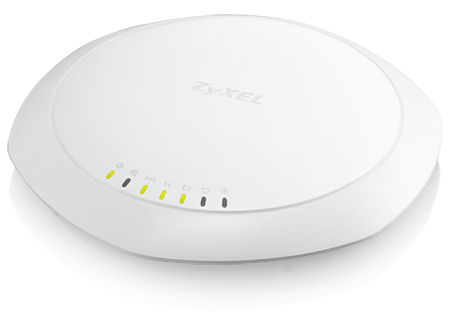 Zyxel Products
Zyxel Wireless
Zyxel 802.11ac Wi-Fi Access Point with Dual Optimized Antenna
#WAC6103D-I
List Price:
$179.99
Our Price: $129.99
Click here to jump to more pricing!
Overview:
To Wi-Fi users, it is not uncommon to have bad experience on Wi-Fi performance, and antenna design plays an important role while evaluating wireless performance. Today, most access points on the market are designed with single static radiation pattern, typically for ceiling-mount. When an AP with ceiling-mount pattern is installed in wall-mount scenario, its signal coverage does not fit for wall-mount deployment. Adapting an AP with external antenna may be the alternative option, however, external antenna installation requires know-how for antenna selection, and would look awkward for interior decoration. A flexibly installed Wi-Fi AP with optimal performance and stylish outlook is a prerequisite today, but a satisfactory solution has been missing for a long time.
Zyxel's WAC6103D-I is a high performance 3-stream 802.11ac Wi-Fi AP featuring ultra-fast speeds of up to 1.75 Gbps with ground-breaking "dualoptimized" antenna design. Via the innovative adjustable antenna setting, the WAC6103D-I provides the best signal coverage fitting for either ceiling-mount or wall-mount deployments. Even better, the stylish, ultra-slim industrial design perfectly blends into modern decorations. Choose WAC6103D-I for constant, no-compromise Wi-Fi performance.
Enterprise class 3x3 802.11ac AP supports combined data rates of up to 1.75 Gbps
"Dual-optimized antenna" allows pattern optimization adapting to wall- or ceilingmount installations
Dynamic Channel Selection, Load Balancing and Smart Client Steering ensure optimal wireless experience
Stylish, ultra-slim ID design as the 32 mm height blends perfectly into modern interior decorations
APFlex and Zyxel One Network utilities make deployment simple and fast
Feature Highlights
Dual-optimized antenna

Zyxel's innovative "Dual-optimized" antenna design is a ground-breaking technology for both wall- and ceilingmount installations. Instant antenna adjustment either by a hardware switch or software configuration, the signal pattern adjustment is completed in seconds without skillful experience for antenna accessory selection and installation. The WAC6103D-I embedded with a "Dualoptimized" antenna is able to deliver truly optimal Wi-Fi performance in a range of installation scenarios.

Zyxel APFlex

Zyxel APFlex includes Zero-touch AP mode changing and Automatic IP configuration functions. The Zero-touch AP mode setting detects if there is an existing Zyxel controller and to choose stand-alone or managed mode accordingly. The Automatic IP configuration removes manual configuration and allows the AP to set itself to fixed or dynamic IP address automatically. With these two intelligent features, IT administrators can skip the two critical settings that had to be handled manually on legacy products and focus to more critical configuration tasks instead.

Zyxel Wireless Optimizer

Zyxel Wireless Optimizer (ZWO) provides a powerful tool for centralized management covering initial planning, adjustment during deployment and after-sale maintenance of an AP network. Architects can simulate AP deployment on a map displaying the number of APs needed. During deployment, ZWO will also map actual signal coverage for architects to adjust their AP locations or configurations. After-sale, network administrators can access key performance details from ZWO, including channel in use, transmit retry rate and frame error rate, as well as the devices on the environment map. ZWO's user-friendly presentation saves time and facilitates quick response to the network problems.

WPA2 Enterprise Certified

Zyxel WAC6103D-I has been certified with industrial strength WPA2 enterprise protection and supports a wide range of Extensible Authentication Protocol (EAP) types. It can be seamlessly integrated with deployed corporate RADIUS servers.

Wireless Layer-2 Isolation

The Layer-2 isolation protects private networks among client users, allowing users to access their shared devices without entering the rest of a private network for enhanced security. In addition, the intraBSS blocking prevents different WiFi clients associated with the same AP from seeing each other and each other's data.

Zyxel One Network Utility

To streamline the management process, the WAC6103D-I comes with the Zyxel One Network (ZON) utility, allowing administrators to assign IP addresses to multiple APs through just one platform. Administrators can avoid the hassle logging into each AP to change the default IP addresses before physical installation.

ZyMesh

Wireless Mesh is an array of access points automatically forming dynamic wireless links. Built on this foundation of mesh networking, ZyMesh is Zyxel's proprietary protocol for creating wireless mesh links for easy configuration, optimized management and enhanced reliability.

Zyxel AP Configurator

While deploying a number of APs, repetitive configuration of each unit takes time and effort. Zyxel AP Configurator (ZAC) builds templates that allow users to copy one profile to several APs, allowing batch firmware upgrades and profile backups in three easy steps to significantly reduce configuration time and effort.
---
Pricing Notes:
Pricing and product availability subject to change without notice.
Zyxel Products
Zyxel Wireless
Zyxel 802.11ac Wi-Fi Access Point with Dual Optimized Antenna
#WAC6103D-I
List Price:
$179.99
Our Price: $129.99
Zyxel Accessories
Outdoor IPx5 rated enclosure for NAP102, NAP203, NWA1123-AC, NWA1123-AC Pro, NWA5123-AC, WAC6103D-I
#OUTDOORENC
List Price:
$64.99
Our Price: $44.99