Zyxel XGS1250-12

12-Port Gigabit Web-Managed Multi-Gig Switch
Zyxel Products
Zyxel XGS1250-12
XGS1250-12 - 8-Port Gigabit Web Managed Switch with 3-Port 10G Copper +1-Port SFP+
#XGS1250-12
List Price:
$339.99
Our Price: $239.99
More pricing below, click here!
Overview:
Double the 10G Capability!
XS1250-12 features with three Multi-Gigabit ports supporting up to 10G and one additional 10G fiber port on top of the two 10G copper ports provided by the other vendors. With our additional fiber port and 10G connectivity boost the flexibility to adopt more 10G devices in your daily work.

---
Multi-Speed Devices
2.5 Gbps
5 Gbps
10 Gbps
RJ-45
10 Gbps SFP+
Intel Z390 Motherboard
-
-
-
WiFi 6 AP (2x2)
-
-
-
WiFi 6 AP (4x4)
-
-
-
NAS
-
Why Multi-Gigabit?
Increasing new applications raise the demand for higher network speed requirement. The Multi-Gigabit RJ-45 ports provide more speed options for your network. Before upgrading the network, you should figure out network speed of motherboard, PC, or WiFi 6 AP, and you need to pick up the right network cable to achieve the maximum speed.
---
Using Your Current Cabling Is Fine!
The Multi-Gigabit support is able to leverage existing Cat 5e cable infrastructure to upgrade network speed up to 5 times for cost efficient network setup.
| Cable specs | 100 Mbps | 1 Gbps | 2.5 Gbps | 5 Gbps | 10 Gbps |
| --- | --- | --- | --- | --- | --- |
| Cat 5e | | | | | - |
| Cat 6 | | | | | Up to 55M |
| Cat 6a | | | | | |
Features:
Whisper-silent, Energy-saving at Work
The built-in smart fan is designed to automatically adjust speeds based on the device's temperature; you can barely hear the sound while the switch is in operation. Also, the Energy Efficient Ethernet function is able to detect network traffic and adjusts power consumption dynamically to reduce business operating expenses.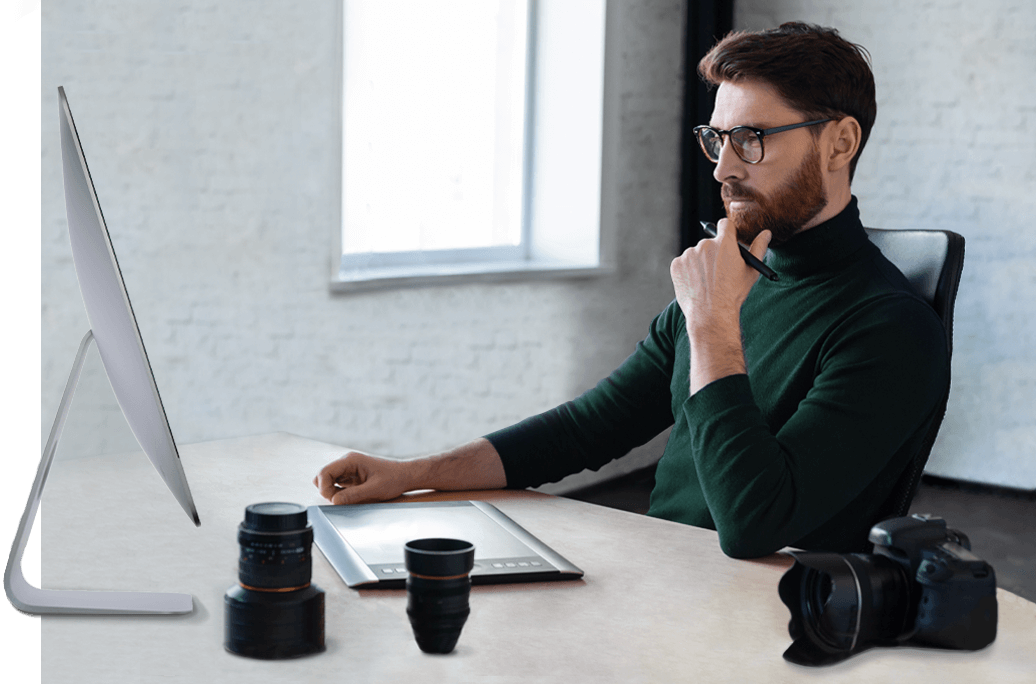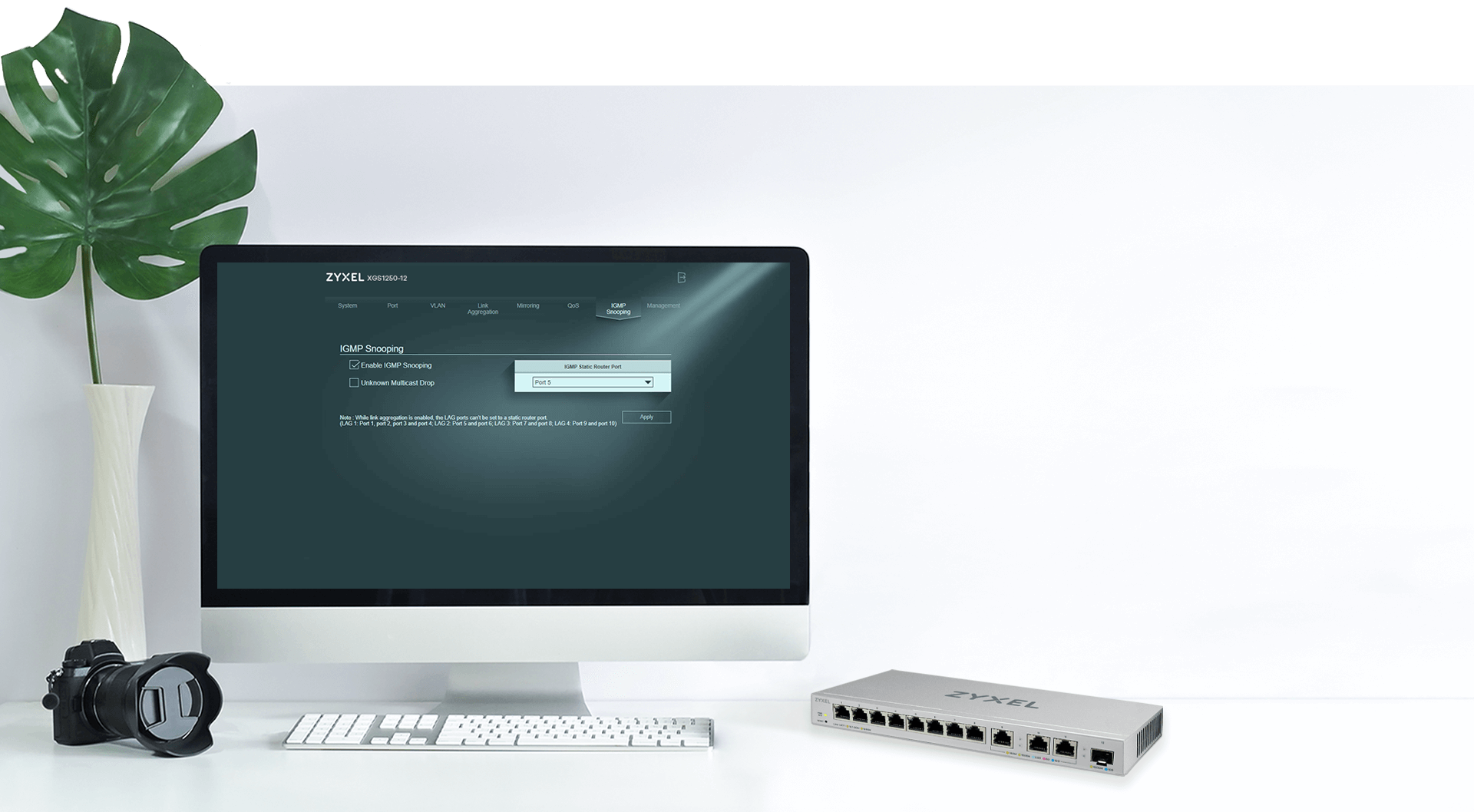 Easy Web Management
The XGS1250-12 comes with essential features including VLAN, QoS, IGMP snooping v1/v2 and v3 compatible, link aggregation, and port mirroring which are configurable through a user-friendly web-based interface. It's the most ideal solution to simplify networks for home and small office users.
Specifications:
System Specifications
Standard
IEEE 802.3 10BASE-T Ethernet
IEEE 802.3u 100BASE-TX Fast Ethernet
IEEE 802.3ab 1000BASE-T Gigabit Ethernet
IEEE 802.3an 10GBASE-T
IEEE 802.3ae 10 Gbit/s Ethernet over fiber
IEEE 802.3az Energy Efficient Ethernet
IEEE 802.3x full duplex operation and flow control
IEEE 802.1p QoS
Performance
Switching capacity: 96 Gbps
Switching forwarding rate: 71.42 Mpps
MAC address table: 16 K
Packet buffer: 1.5 MB
Jumbo frame support up to 12 KB
Features
Web-based management
Auto-MDI/MDIX in all ports
System password
VLAN (Port supported)
Port-based QoS
802.1p QoS
Broadcast storm control
Loop detection/prevention
DHCP client
Static Link aggregation
Port mirroring
Weighted Round Robin (WRR) priority QoS
IGMP snooping v1/v2/and v3 compatible
Supported multicast groups: 128
Support Zyxel One Network (ZON Utility)
Hardware Specifications
Interface
8 x RJ-45 10/100/1000 Mbps Ethernet port with metal shielding
2 x RJ-45 100/1000/2500 Mbps Ethernet port with metal shielding
2 x SFP+
Hardware reset button
8 x RJ-45 10/100/1000 Mbps Ethernet port with metal shielding
3 x RJ-45 100M/1G/2.5G/5G/10G Ethernet port with metal shielding
1 x SFP+
Hardware reset button
LED Indicator
PWR: Power
Port 1-8: Link/Activity

Green: 1000 Mbps
Amber: 10/100 Mbps

Port 9-11: Link/Activity

Blue : 10Gbps
Purple : 5Gbps
Sky Blue : 2.5Gbps
Green : 1Gbps
Amber: 100Mbps

Port 12: Link/Activity

Blue: 10Gbps
Green : 1Gbps
Power Supply
AC-to-DC external power adapter
Input: 100-240V~50-60Hz
Output: 12V DC/2A
Physical Specifications
Item dimensions (WxDxH): 250 x 104 x 27 mm (9.84" x 4.10" x 1.06")
Item weight: 783 g (1.73 lb.)
Packing dimensions (WxDxH): 306 x 225 x 64 mm (12.04" x 8.86" x 1.06")
Packing weight: 1350 g (2.98 lb.)
Environmental Specifications
Operating Environment
Temperature: 0°C to 40°C (32°F to 104°F)
Humidity: 10% to 90% (Non-condensing)
Storage Environment
Temperature: -40°C to 70°C (-32°F to 158°F)
Humidity: 10% to 90% (Non-condensing)
Package Contents
Switch
Power adapter
Quick Start Guide
Safety warning and DoC
Pricing Notes:
Pricing and product availability subject to change without notice.
Zyxel Products
Zyxel XGS1250-12
XGS1250-12 - 8-Port Gigabit Web Managed Switch with 3-Port 10G Copper +1-Port SFP+
#XGS1250-12
List Price:
$339.99
Our Price: $239.99