Zyxel XS1920-12

12-port 10GbE Smart Managed Switch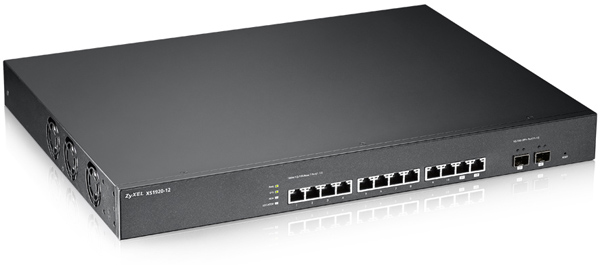 Sorry, this product is no longer available
Please contact us to explore replacement options or consider visiting our Legacy Products Licensing page, where you can purchase licenses for our discontinued products.
Overview:
10 Gigabit Smart Switch Simplifies SMB Network Upgrades
In today's rapidly changing world of cloud-based products and services, it can be difficult for large enterprises, as well as small and medium-sized businesses (SMBs) to decide how to best handle increased data and the demands of applications like VoIP, video streaming and IP surveillance. In this environment, networks need to be simultaneously faster and more reliable, as well as easy to set up and maintain. To help meet these challenges, Zyxel has introduced the XS1920-12, a 10GbE smart switch for SMB that economically upgrades any network to high-speed 10GbE bandwidth.
Upgrades your network to 10GbE connectivity easily and economically
Simplified configuration with user-friendly web-based management GUI
Flexible 10G connection to 10G servers and network storage through both copper and fiber
Zyxel One Network experience enables simple network management and maintenance
Dual firmware images and configuration ensure network availability
Future-proofed with IPv6 support
Limited life-time warranty*
Feature Highlights
10GbE Connectivity

When compared to Gigabit Ethernet switches, 10 Gigabit Ethernet switches offer increased scalability and efficiency for network infrastructure. The XS1920- 12 comes with both 10GbE RJ-45 and 10GbE combo (RJ-45/SFP) connectivity, which allows easy and flexible upgrades and deployment of 10GbE networks.

IPv6

With support for comprehensive IPv6 management features, the XS1920-12 helps businesses stay ahead of the competition and prepare for future IPv6 networks.
Full IPv6 support features that include auto configuration, duplicate address prevention, dual-stack and neighbor discovery ensure a business's network investment is protected.

Zyxel One Network Utility

The XS1920-12 features the ZON utility to streamline network management. Administrators can check locations, assign IPs, reboot and upgrade firmware for multiple switches through a single platform. This eliminates the need for administrators to use direct access or expensive and overly specific network management tools.

Dual Image

To provide a network with increased availability and reliability for SMBs, the XS1920-12 features dual image to reduce down time when firmware is being upgraded.

Neighbor Device Discovery

As part of the Zyxel One Network experience, the XS1920-12 is able to discover all connected Zyxel networking devices, as well as other devices supporting Link Layer Discovery Protocol (LLDP) so administrators can see what devices are connected, what ports are being used, device IPs and even firmware versions.

Web-Based Management

As with the entire smart switch series, there's no need for administrators to learn a complicated command line interface to manage the XS1920-12, which is able to act as a core switch in SMB networks. Administrators can easily manage the device through a handy Web-based tool.

Web GUI Redirection

Administrators occasionally need to update or reconfigure devices by looking up their IP address and logging in. Now, a simple click on the displayed devices brings administrators to the Web GUI for additional configuration. It is no longer necessary to look up the latest inventory list to confirm the IP address of a specific device.
* Warranty terms, service availability, and service response times may vary from country or region to country or region.
---
Sorry, this product is no longer available
Please contact us to explore replacement options or consider visiting our Legacy Products Licensing page, where you can purchase licenses for our discontinued products.