Zyxel GS1200-8HP

Fanless 8 Port GbE POE+ L2 Web Managed Switch (60W)

Zyxel Products
Zyxel GS1200-8HP
GS1200-8HPv2 - Fanless 8 Port GbE POE+ L2 Web Managed Switch (60W)
#GS1200-8HP
Our Price: $109.99
Overview:
5-Port Managed PoE Gigabit Switch
The Zyxel GS1200-8HP/GS1200-8HP Web Managed PoE Gigabit Switch is more than just a typical PoE switch. It comes with an easy-to-use Web configuration to prioritize, limit and/or protect network traffics. It has been designed specifically for customers who require simple control functions for office network management.
60 Watts of total output on 4 Gigabit PoE ports
Intuitive Web management
Quality of Service for better traffic control
Multicast IGMP snooping v1/v2 and v3 compatible for streaming applications
Virtual LAN for enhanced network security
Benefits:
Smart features
The Zyxel GS1200-8HP/GS1200-8HP Web Managed PoE Gigabit Switch provides simple control for better manageability. Unlike other advanced but complex managed switches, the Zyxel GS1200-8HP/GS1200-8HP is suitable for most users and provides an affordable solution with fundamental features including PoE, VLAN, QoS, IGMP snooping v1/v2 and v3 compatibility.
Easy configuration
The Zyxel GS1200-8HP/GS1200-8HP does not require any additional software. It is more visualized with an easy, friendly and intuitive Web GUI that helps configuration tasks to be completed in just simple clicks. It is much easier for small office users' network.
PoE support
The Zyxel GS1200-8HP and GS1200-8HP deliver PoE capabilities of IEEE 802.3at (30 watts/per port with total PoE power budget 60 watts) to supply power to PoEcapable network devices such as wireless APs, IP cameras and IP phones. Web GUI management enables you to monitor power status of each port and/or to reboot the network devices.
Energy saving for IEEE 802.3az
The Zyxel GS1200-8HP/GS1200-8HP built-in IEEE 802.3az Energy Efficient Ethernet (EEE) function automatically detects network traffics and adjusts power consumptions dynamically to reduce power consumption during the low link utilization periods.
Key Applications: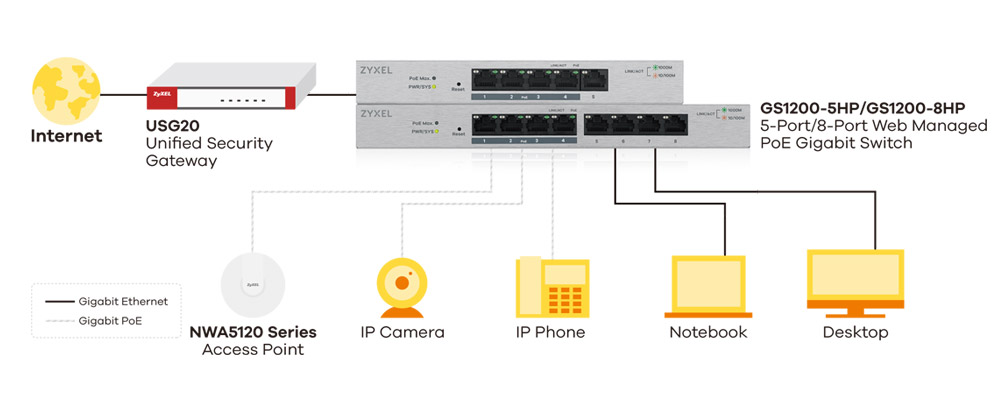 Specifications: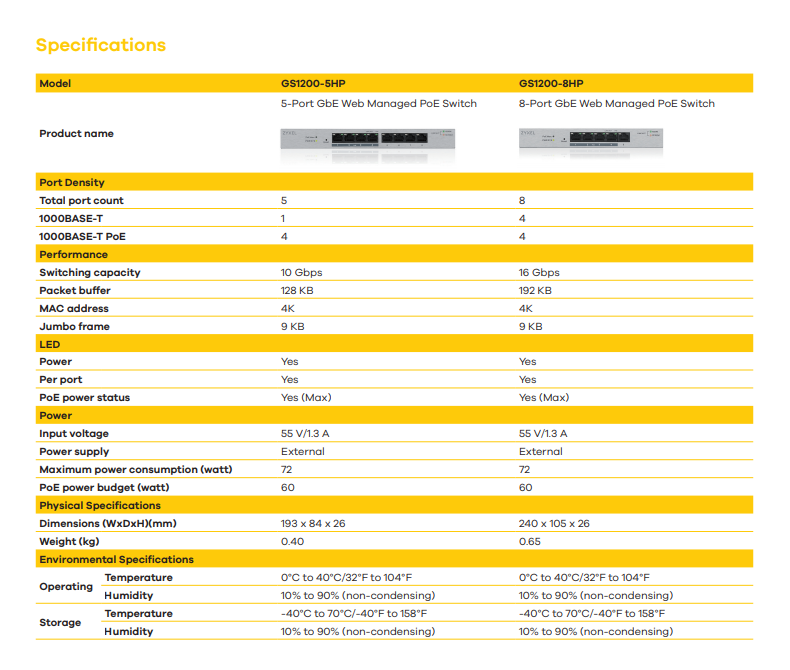 Features: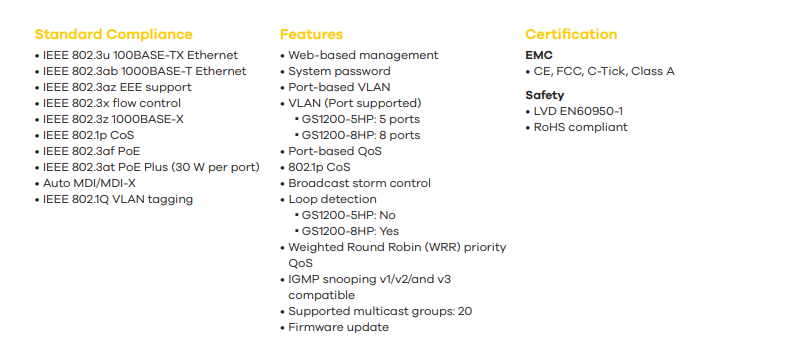 Pricing Notes:
Pricing and product availability subject to change without notice.
Zyxel Products
Zyxel GS1200-8HP
GS1200-8HPv2 - Fanless 8 Port GbE POE+ L2 Web Managed Switch (60W)
#GS1200-8HP
Our Price: $109.99