Zyxel NWA1123-ACHD

802.11ac Wave2 Dual-Radio PoE Access Point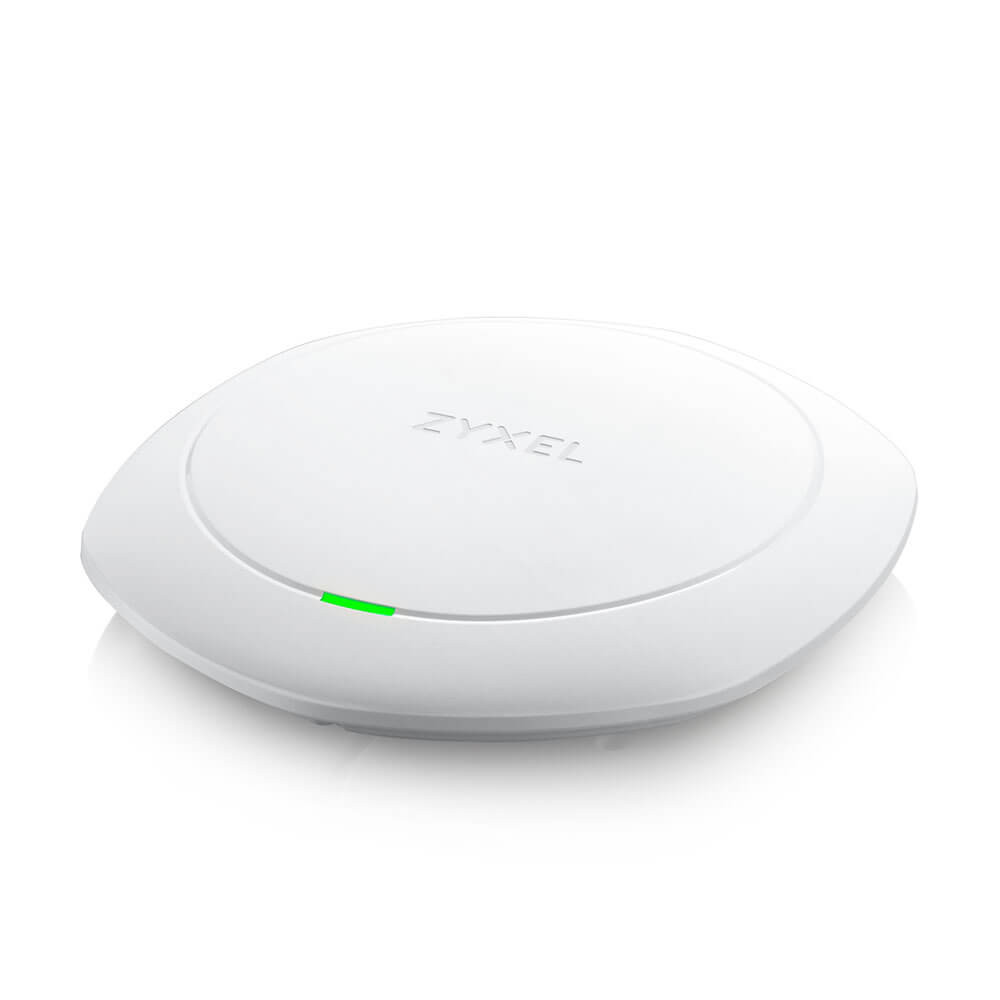 Final Buy, once this product is no long in stock it will no longer be sold, please contact us for a replacement.
See how Zyxel can help with the Remote Workforce
Sorry, this product is no longer available, please contact us for a replacement.
Click here to jump to more pricing!
Overview:
Introducing the new hybrid access point
The Zyxel Hybrid series allows devices like the NWA1123-AC HD to be used in two modes by utilizing Zyxel's NebulaFlex, you are able to easily switch between standalone and our License Free Nebula cloud management platform, anytime, with a few simple clicks. By allowing the two different modes, you are able to protect your investment in wireless technology by having the flexibility to benefit from the cloud in your own time, without the need to worry about additional ongoing licensing costs. When used with Nebula you are able to centrally manage, access real-time network information and gain effortless control over the NWA1123-AC HD and other Hybrid and Nebula devices, all under a single intuitive platform without the need to install any software or add additional equipment like a controller.
NebulaFlex gives you the flexibility to switch between standalone and our License Free Nebula cloud management
Nebula cloud management allows easy deployment, real-time configurations and access to all your access points anytime with
Achieve reliable connectivity, support for more connected clients and better wireless coverage with the latest Wave 2 WiFi standard
Up to 300% more performance from MU-MIMO technology
Robust build quality including solid-state capacitors and advanced heat dissipation design to ensure long life and operational reliability
Protect against 3G/4G cellular network interference with our advanced cellular mitigation design
Benefits:
RF First – high performance and reliable connections through design
With Zyxel's commitment to "RF First" for high performance and reliable connections through design, the NWA1123-AC HD delivers increased coverage and improved connection speeds for every client. Built on over 15 years of experience in innovating business class wireless solutions, our access points are designed and crafted by selecting high quality components. Every hardware design detail including the layout, the antenna and the ability to distinguish between numerous sources of noise all contribute in determining coverage and throughput. Zyxel examines sensitivity combined with the antenna (OTA sensitivity) as a whole wireless system to minimize the degradation in sensitivity (desense) at the receiver end. This combined with fine-tuning all the elements ensures that we always lead with user experience.
Gain a better overall networking experience with Wave 2
Progressing from the highly successful 802.11ac standard, the second-generation 802.11ac Wave 2 WiFi standard introduces Multi-User MIMO (MU-MIMO). This important development in WiFi enables an AP to communicate with multiple clients at the same time offering up to 300% improvement in performance when used with supported client devices.
Breakthrough in wireless connectivity
To achieve reliable connectivity with greater support for more connected clients, the NWA1123-AC HD uses 2nd Generation Transmit Beamforming (TxBF) technology. This gives the ability to increase overall data rates (Transmission rates), which benefits not only MU-MIMO client devices, but also all older generation client devices.
3G/4G cellular network coexistence
With gradually pervasive 3G infrastructure deployment at customer sites, users start to experience adverse effects on their wireless performance e.g. high latency or ping drops. To allow the co-existence of 3G/4G cellular network and minimize interference from 3G/4G antennas or signal boosters, the NWA1123-AC HD has been designed to include built-in 3G/4G interference filters to allow it continue operating with optimal performance when this type of interference exists.
Wireless built for user experience
The NWA1123-AC HD ensures an optimized wireless experience for users by combining wireless technologies like Dynamic Channel Selection (DCS), Load Balancing and Smart Client Steering. DCS minimizes the interference of co-channel and overlapping channels. Load Balancing enables administrators to set limits on the number of clients associated with each AP. Furthermore, Smart Client Steering features with Band Select, Signal Threshold and Band Balancing combined together deliver stable, reliable wireless connections. Band Select and Signal Threshold monitor the capabilities of each wireless client and steer them to the less-congested band and AP with better signals. Band Balancing detects dual-radio clients and distributes clients across 2.4 GHz and 5 GHz bands on AP. All of these deliver a smooth, consistent and uninterrupted wireless experience for users.
Application Diagram: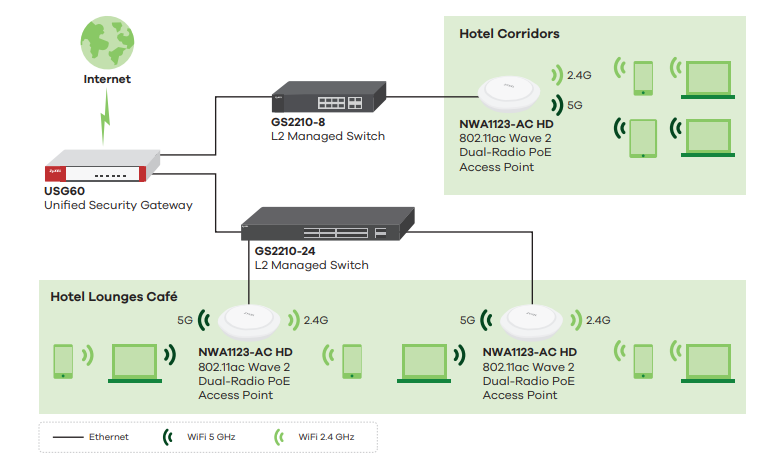 NWA1123-NI and NWA1123-ACHD with dual-radio offer 2.4 GHz or 5 GHz for different environments
NWA1123-NI, NWA1121-NI as a root AP and repeater extend the coverage with less effort for cabling
Specifications: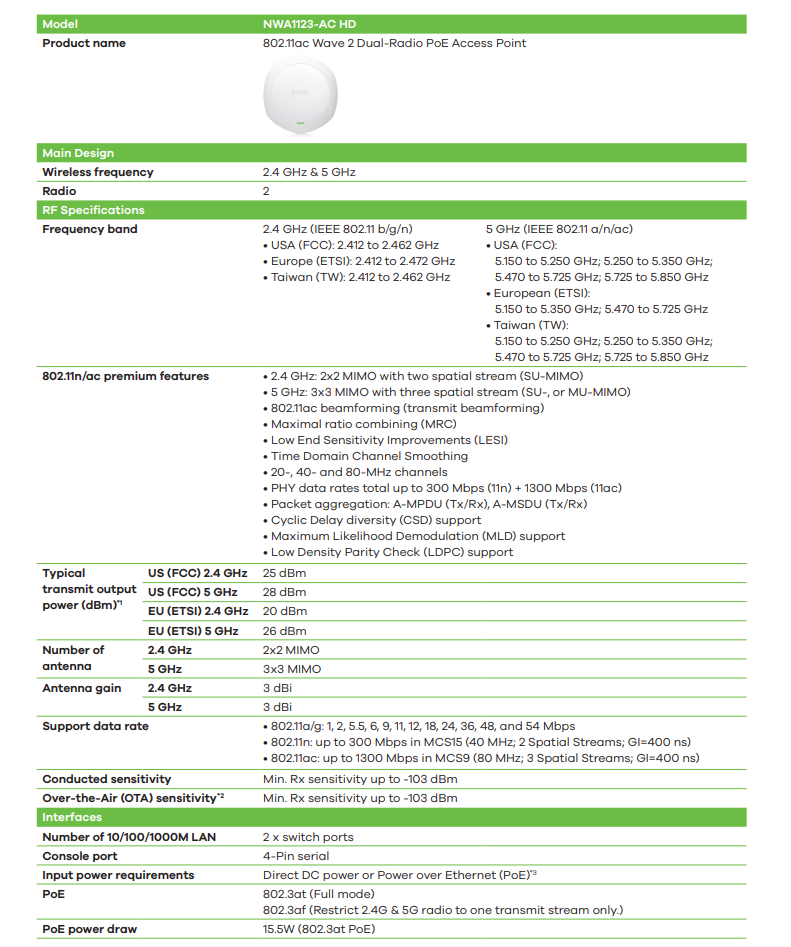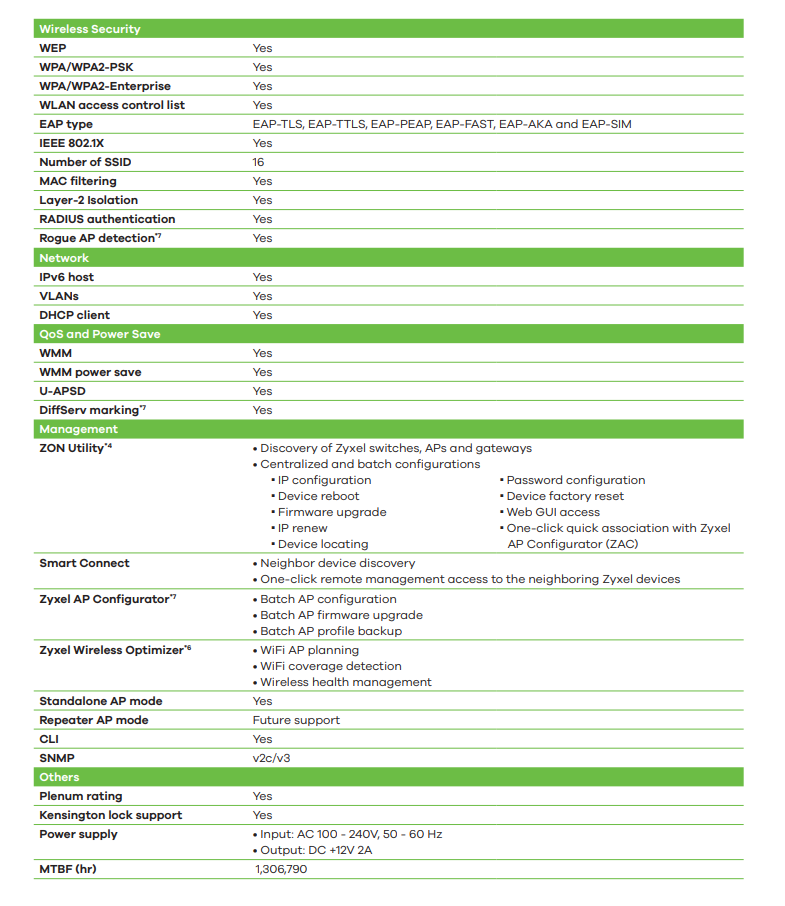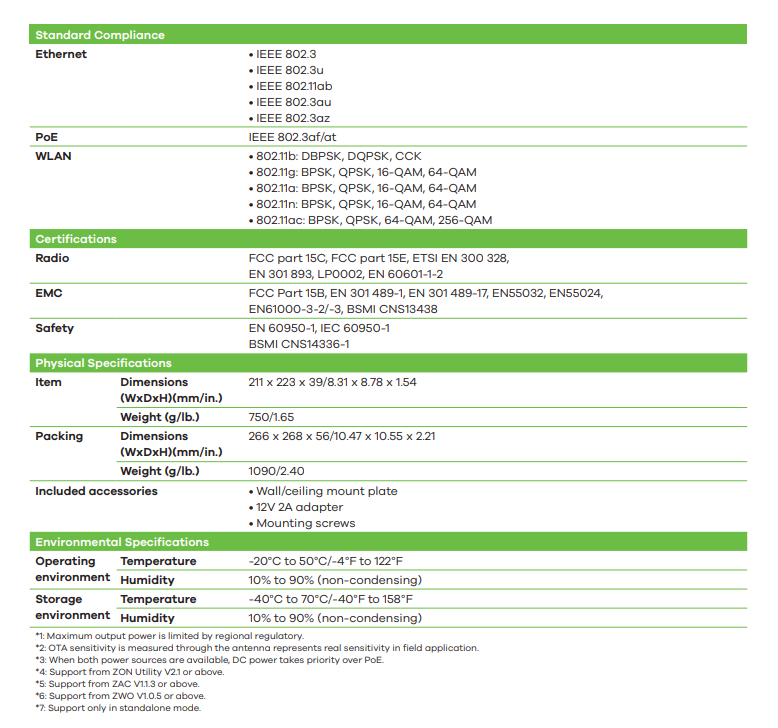 Pricing Notes:
Pricing and product availability subject to change without notice.
Zyxel Products
Zyxel MSP License
1 Year Nebula MSP License
#LICNCCMSP1YR
List Price:
$699.99
Our Price: $499.99
1 Month Nebula MSP License
#LICNCCMSP1MO
List Price:
$72.99
Our Price: $49.99
2 Year Nebula MSP License
#LICNCCMSP2YR
List Price:
$1,299.99
Our Price: $949.99
Zyxel Plus License
1 Month Nebula Plus Pack for 1 Device
#LICNCCPLUS1MO
List Price:
$4.99
Our Price: $1.49
1 Year Nebula Plus Pack for 1 Device
#LICNCCPLUS1YR
List Price:
$19.99
Our Price: $11.99
2 Year Nebula Plus Pack for 1 Device
#LICNCCPLUS2YR
List Price:
$34.99
Our Price: $22.99
Zyxel Pro License
1 Month Nebula Pro Pack for 1 Device
#LICNCCPRO1MO
List Price:
$7.99
Our Price: $2.99
1 Year Nebula Pro Pack for 1 Device
#LICNCCPRO1YR
List Price:
$44.99
Our Price: $29.99
2 Year Nebula Pro Pack for 1 Device
#LICNCCPRO2YR
List Price:
$79.99
Our Price: $56.99