Zyxel WAC6303D-S

802.11ac Wave 2 Dual-Radio Unified Pro Access Point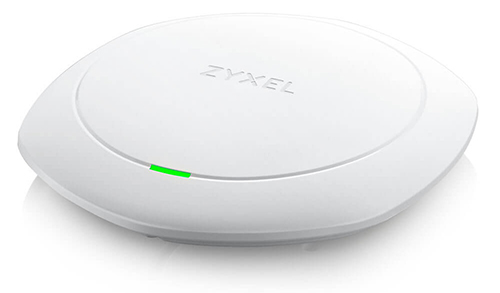 See how Zyxel can help with the Remote Workforce
Zyxel Products
Zyxel Wireless
3x3 802.11ac Wave 2 AP w/Smart Antenna (2x2 2.4Ghz)
#WAC6303D-S
List Price:
$494.99
Our Price: $349.99
Click here to jump to more pricing!
Overview:
Networking administrators managing busy venues such as airports, exhibition centers or shopping malls must understand how visitors longed for WiFi and how challenging it is to meet the demands within limited budgets. The Zyxel WAC6303D-S 802.11ac Wave 2 Dual-Radio Unified Pro Access Point delivers superior wireless experience in high-density areas at an affordable price. Powered by 3x3 MU-MIMO that provides tripled performance and Zyxel smart antenna technology with the proven ability to mitigate co-channel interferences, the WAC6303D-S not only resolves the challenge today but also guarantees future-proof scalability for the ever-growing mobility demands.
Excellent wireless coverage and performance with the latest 3x3 Wave 2 802.11ac technology
Smart antenna technology and next generation beamforming deliver maximum coverage
Innovative MU-MIMO technology increases downstream throughput by simultaneously talking to multiple devices at the same time
Simple installation with APFlexTM or Zyxel Utility makes installation and setup a breeze whether for just single or multiple units at once
Solid state capacitors and advanced heat dissipation ensure high reliability and long life—even in the toughest environments
Advanced Cellular Coexistence minimizes interference from 3G/4G cellular networks
Benefits:
Second Generation MU-MIMO — the true breakthrough in wireless connectivity
Stepping up from 802.11ac, the Wave 2 technology introduces Multi-User MIMO (MU-MIMO). This is an important WiFi development that enables an AP to communicate with multiple clients at a time offering up to 300% performance for a 3x3 AP. The benefits of Wave 2 technology are clear, but there are still two well-known technical challenges: the airtime cost when performing channel measurement, and the data rate being limited by the slowest client in the MU group.
To overcome those challenges, the WAC6303D-S uses next generation transmit beamforming technology incorporating Low End Sensitivity Improvements and Time Domain Channel Smoothing allowing data rates to increase for not only MU-MIMO clients, but for all existing ones as well. Additionally, the WAC6303D-S is built with Smart antenna, premium power amplifiers and low-noise elements delivering superior wireless performance over other Wave 2 access points on the market.
Unbeatable coverage
Maximizing wireless coverage is more than just a game of output power. Every hardware design details including the layout, the antenna and the ability to distinguish between numerous sources of noise all contribute in determining coverage and throughput. The Zyxel WAC6303D-S features Smart antenna technology with the proven ability to mitigate co-channel interference, and adaptively adjust antenna patterns to fit high-density applications. Unlike most products on the market that measure only conducted sensitivity without considering the effect of antennas, Zyxel examines sensitivity with antenna (a.k.a. OTA sensitivity) as a whole wireless system to minimize the degradation in sensitivity at receiver end. In short, Zyxel has optimized the design of the WAC6303D-S to boost sensitivity and maximize real world performance.
ThermoSense Adjustment Technology
Zyxel's ThermoSense Adjustment Technology is an innovative feature that extends the operating temperature range to as high as to 60°C. It does this by monitoring the temperature threshold intelligently and making adjustments to operating parameters. This ensures continued performance in extreme environments such as warehouses and factory floors.
3G/4G Cellular Network Coexistence
With gradually pervasive 3G infrastructure deployment at customer sites, users start to experience wireless performance degrade e.g. ping drops and high latency, however whenever users shutdown the 3G equipment, wireless service resumes working smooth. To enable 3G/4G cellular network coexistence and minimize interference from 3G/4G antennas or signal boosters, the WAC6303D-S has built-in 3G/4G interference filters. As a result, installation of the AP no longer needs to worry about the visible or invisible 3G/4G indoor antennas around.
BLE Beacons gain insight into your consumers
The Zyxel WAC6303D-S is an efficient WLAN solution for high-density deployments and it gives customers a futureproof BLE beacon-enabled network. It cooperates with third-party beacon management platforms to boost user engagement, especially for retailers who want to improve the in-store experience. With the most accurate indoor location technology, retailers can navigate customers to instore events or push in-time coupon to passersby carrying beacon-compatible devices.
Zyxel One Network experience
Aimed at minimizing the repetitive task of deploying and managing networks, Zyxel One Network (ZON) simplifies configuration, management and troubleshooting of multiple AP and switch deployments. This enables users to focus on their other key business priorities. The Zyxel One Network incorporates Zyxel One Network Utility (ZON Utility), an easy-to-use tool designed for instant network setup and Zyxel Smart Connect, which allows Zyxel networking equipment to find and recognize each other automatically. Zyxel One Network further facilitates remote network maintenance with one-click functions, and works across multiple networking products from Switch to Wireless to Gateway.
Optimized wireless experience with advanced features
The WAC6303D-S ensures an optimized wireless experience for users with a range of wireless features such as Dynamic Channel Selection (DCS), Load Balancing and Smart Client Steering. DCS minimizes the interference of co-channel and overlapping channels. Load Balancing enables administrators to set limits on the number of clients associated with each AP. Furthermore, Smart Client Steering features with Band Select, Signal Threshold and Band Balancing combine to deliver stable, reliable wireless connections. Band Select and Signal Threshold monitor the capabilities of each wireless client and steer them to the less-congested band and AP with better signals. Band Balancing detects dual-radio clients and distributes clients across 2.4 GHz and 5 GHz bands on AP. All of these deliver a smooth, consistent and uninterrupted wireless experience to its users.
Grow your business with a scalable wireless network
The WAC6303D-S can be configured as a fully functional standalone AP. However, it is also capable of working with a Wireless LAN Controller to form a robust controllerbased WLAN solution with centralized management as WiFi demand grows. Thanks to the innovative APFlexTM technology, no manually configuration is required to choose between standalone or controller mode; the WAC6303D-S will automatically put itself into managed mode if a compatible wireless controller is found on the network. Using industry standard CAPWAP technology ensures secure and reliable communication between the controller and AP, even if the controller is located off-site.
Application Diagram: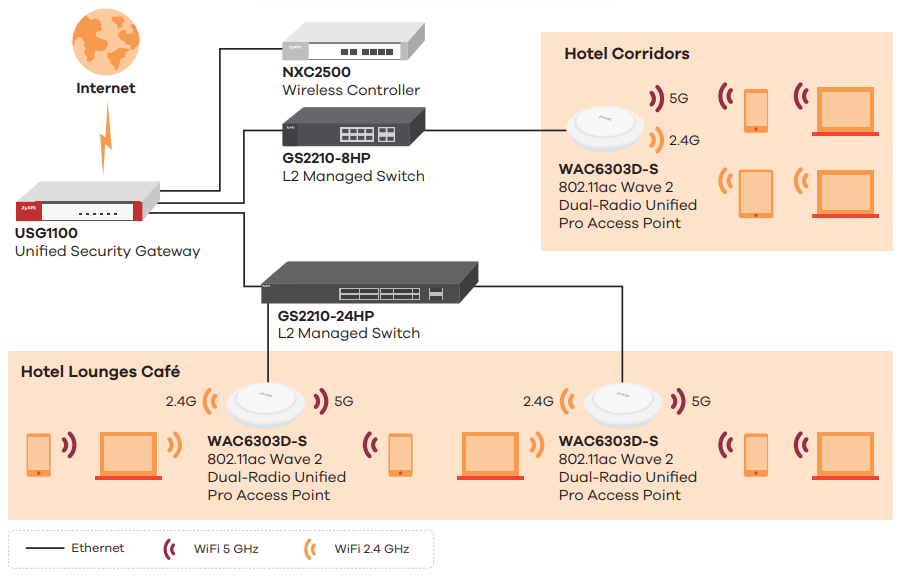 Specifications: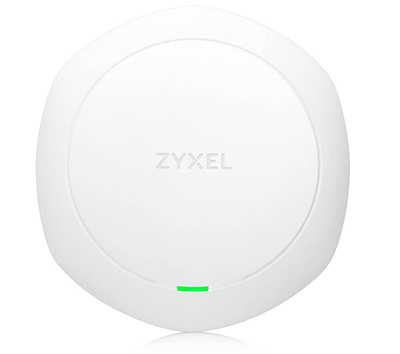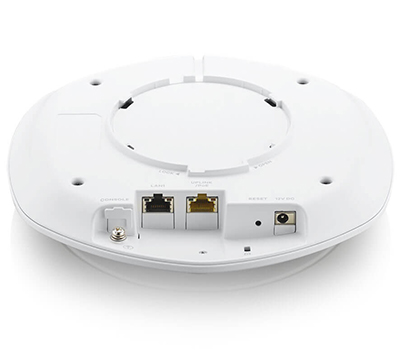 WAC6303D-S Specifications
Wireless
Standard
IEEE802.11 ac/n/g/b/a
MIMO
SU-MIMO and MU-MIMO
Wireless Speed

2.4 GHz: 300 Mbps
5 GHz: 1300 Mbps

Frequency band

2.4 GHz (IEEE 802.11 b/g/n)

USA (FCC): 2.412 to 2.462 GHz
Europe (ETSI): 2.412 to 2.472 GHz
Taiwan (TW): 2.412 to 2.462 GHz

5 GHz (IEEE 802.11 a/n/ac)

USA (FCC): 5.150 to 5.250 GHz; 5.250 to 5.350 GHz; 5.470 to 5.725 GHz; 5.725 to 5.850 GHz
European (ETSI): 5.150 to 5.350 GHz; 5.470 to 5.725 GHz
Taiwan (TW): 5.150 to 5.250 GHz; 5.250 to 5.350 GHz; 5.470 to 5.725 GHz; 5.725 to 5.850 GHz

Bandwidth

2x2 Multiple-Input Multiple-Output (MIMO) with two spatial streams
Maximal Ratio Combining (MRC)
20-, 40- and 80-MHz channels
PHY data rates up to 300 + 866 Mbps
Transmit Beamforming (TxBF) support
Packet aggregation: A-MPDU (Tx/Rx), A-MSDU (Tx/Rx)
Cyclic Delay Diversity (CSD) support

Transmission power*1

US (FCC) 2.4 GHz: 18 dBm, 2 antennas
US (FCC) 5 GHz: 19 dBm, 2 antennas
EU (ETSI) 2.4 GHz: 17 dBm, 2 antennas
EU (ETSI) 5 GHz: 19 dBm, 2 antennas

RF Design
Antenna type

2.4 GHz: 2x2 MIMO smart antenna
5 GHz: 3x3 MIMO smart antenna

Antenna gain

2.4 GHz: 3 dBi
5 GHz: 4 dBi

Minimum Receive sensitivity*2
Min. Rx sensitivity up to -103 dBm
WLAN Features
Band Steering
Yes
WDS
Yes
Mesh AP (By license)
Yes
Mesh AP for multiple SSID with VLAN
Yes
Fast roaming*3
Pre-authentication and PMK caching
Security
Encryption
WEP/ WPA/WPA2-PSK
Authentication
WPA/WPA2-Enterprise/ EAP (-TLS, -TTLS, -PEAP, -FAST, -AKA and -SIM)/ IEEE 802.1X/ RADIUS authentication
Access management
L2-isolation/ MAC filtering/ Rogue AP detection
Networking
IPv6 host
Yes
VLANs
Yes
WMM
Yes
U-APSD
Yes
DiffServ marking
Yes
Management
Operating mode
Controller-managed / Standalone
ZON Utility

Discovery of Zyxel switches, APs and gateways
Centralized and batch configurations

IP configuration
IP renew
Device reboot
Device locating
Web GUI access
Firmware upgrade
Password configuration
One-click quick association with Zyxel AP Configurator (ZAC)

ZAC

Batch AP configuration
Batch AP firmware upgrade
Batch AP profile backup

Zyxel Wireless Optimizer

WiFi AP planning
WiFi coverage detection*3
Wireless health management

Web UI/ CLI
Yes
SNMP
Yes
Physical Interfaces
Ethernet port
2x 10/100/1000 Mbps (switch port)
Power

12 V 2 A DC input
802.3at (Full mode; power draw 16.2 W)
802.3af (Restrict 2.4G & 5G radio to one transmit stream only.)

Physical Specifications
Item
Dimensions (WxDxH)(mm/in.)
211 x 223 x 39 / 8.31 x 8.78 x 1.54
Weight (kg/lb.)
800 / 1.76
Packing
Dimensions (WxDxH)(mm/in.)
251 x 247 x 55 / 9.88 x 9.72 x 2.17
Weight (kg/lb.)
1040 / 2.29
Included accessories

Wall/ceiling mount plate
Mounting screws

Environmental Specifications
Operating
Temperature
-20°C to 60°C/-4°F to 140°F
Humidity
10% to 90% (non-condensing)
Storage
Temperature
-40°C to 70°C/-40°F to 158°F
Humidity
10% to 90% (non-condensing)
MTBF (hr)
3,960,217
Certification
Radio
FCC part 15C, FCC part 15E, ETSI EN 300 328, EN 301 893, LP0002
EMC
FCC Part 15B, EN 301 489-1, EN 301 489-17, EN55032, EN55024, EN61000-3-2/-3, BSMI CNS13438
Safety
EN 60950-1, IEC 60950-1, BSMI CNS14336-1
*1: Max power varies by country setting, band, and MCS rate
*2: Rx sensitivity varies by band, channel width, and MCS rate
*3: Supports when working with Zyxel NXC controller
Hardware & Smart Antenna: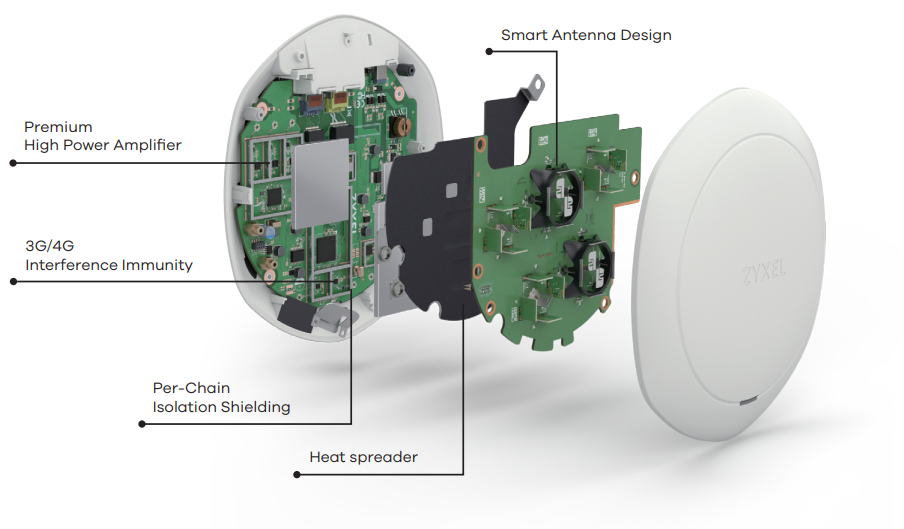 Pricing Notes:
Pricing and product availability subject to change without notice.
Zyxel Products
Zyxel Wireless
3x3 802.11ac Wave 2 AP w/Smart Antenna (2x2 2.4Ghz)
#WAC6303D-S
List Price:
$494.99
Our Price: $349.99
Zyxel MSP License
1 Year Nebula MSP License
#LICNCCMSP1YR
List Price:
$699.99
Our Price: $499.99
1 Month Nebula MSP License
#LICNCCMSP1MO
List Price:
$72.99
Our Price: $49.99
2 Year Nebula MSP License
#LICNCCMSP2YR
List Price:
$1,299.99
Our Price: $949.99
Zyxel Plus License
1 Month Nebula Plus Pack for 1 Device
#LICNCCPLUS1MO
List Price:
$4.99
Our Price: $1.49
1 Year Nebula Plus Pack for 1 Device
#LICNCCPLUS1YR
List Price:
$19.99
Our Price: $11.99
2 Year Nebula Plus Pack for 1 Device
#LICNCCPLUS2YR
List Price:
$34.99
Our Price: $22.99
Zyxel Pro License
1 Month Nebula Pro Pack for 1 Device
#LICNCCPRO1MO
List Price:
$7.99
Our Price: $2.99
1 Year Nebula Pro Pack for 1 Device
#LICNCCPRO1YR
List Price:
$44.99
Our Price: $29.99
2 Year Nebula Pro Pack for 1 Device
#LICNCCPRO2YR
List Price:
$79.99
Our Price: $56.99