Zyxel 802.11ax (WiFi 6) Dual-Radio Unified Pro Access Point

WAX650S
Zyxel Products
Zyxel WAX650S
Zyxel 802.11ax (WiFi 6) Dual-Radio Unified Pro Access Point
Overview:
The Zyxel WAX650S supports maximum data rate of 3550 Mbps (2400 Mbps in 5 Ghz and 1150 Mbps in 2.4 Ghz), boosted by Zyxel smart antenna technology, a proven technology that can mitigate co-channel interferences. The new WiFi 6 AP delivers faster and more consistent connections for every user – even in higher density environments, which means more users and devices can be connected without any degradation in performance or response time.
Schools and colleges, hotels and guest houses, stations and airports, cafes and bars, or any other organizations that need to accommodate a large number of devices can offer better services for everyone, every time they connect to WiFi.
The WAX650S with NebulaFlex Pro offers the full flexibility for users to switch among standalone, controller-managed and cloud-managed modes. In addition, it comes with a 1-year bundled Nebula Professional Pack license*1 that eliminates immediate licensing cost when migrating to full-featured cloud management.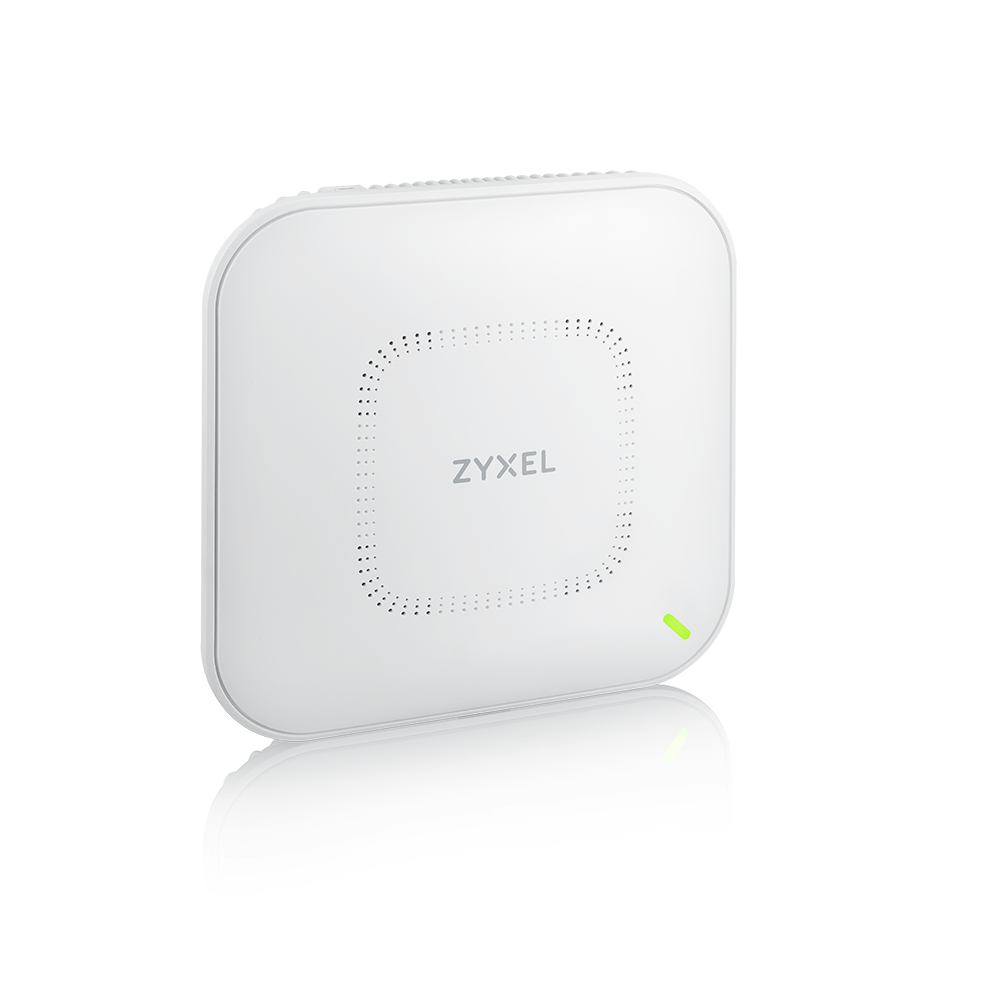 Dual-radio (dual 4x4 MIMO) 802.11ax AP provides maximum data rate of 3550 Mbps, and is equipped with the 3rd dedicated monitoring radio and BLE

OFDMA is arguably the best innovation of WiFi, delivering the highest performance and low latency for all scenarios

Smart antenna is the proven technology that can mitigate interference and boost WiFi 6 performance

NebulaFlex Pro allows users to switch among standalone, onpremises controller managed or intuitive Nebula cloud managed modes as needed

Advanced Cellular Coexistence minimizes interferences from 4G/5G cellular networks

Next generation beamforming technology delivers maximum coverage
Benefits:
Bringing next generation WiFi within reach
Zyxel's new WAX650S is a next-generation WiFi 6 access point that delivers faster performance and massive increased-capacity, which along with unique Zyxel technology, make the user experience even better.
Apart from running at 25% faster speed, the WAX650S can also accommodate more client devices without any fall-off in speed, allowing an easy scale-up capacity to support hundreds of connections without increased latency.
NebulaFlex Pro – simply manage it your way!
The NebulaFlex Pro provides extended flexibility, allowing users to easily switch among standalone, on-promises controller or our intuitive NCC (Nebula Control Center) modes any time according to your needs without additional cost while protecting wireless technology investments.
The privilege of one-year professional pack you can get once upon registration on Nebula includes wireless health, site-wide topology, 365-day statistics on the devices and clients monitoring along with more upcoming advanced features on NCC and its App.
Unparalleled high-density performance
Essentially, there are two technologies that make a real difference in WiFi 6 – orthogonal frequency-division multiple access (ODFMA), and spatial re-use, which is also referred to as Basic Service Set (BSS) coloring. These make WiFi 6 a much more efficient technology than 802.11ac. The BSS coloring allows multiple access points to be used in the same vicinity without fear of co-channelinterference. Zyxel smart antenna technology has elevated the effectiveness of spatial reuse even further by physically change the antenna pattern to avoid interference from other co-channel APs. This makes WAX650S really help in exceptionally very dense environments.
4G/5G cellular network coexistence
With the growing pervasiveness of mobile devices in the wireless network, users start to experience degraded performance, such as ping drops and high latency, however whenever user shutdown the mobile equipment, wireless service resumes working smooth. Thus, to enable 4G/5G cellular network coexistence and minimize interference from 4G/5G antennas or signal boosters, the WAX650S has built-in 4G/5G interference filters. As a result, the visible or invisible 4G/5G indoor antennas in the environment is no longer an issue when installing APs.
Optimized wireless experience with advanced features
The WAX650S ensures an optimized wireless experience for users with a range of wireless features such as Dynamic Channel Selection (DCS), Zero Wait DFS, Load Balancing beamforming technology and Smart Client Steering. WAX650S has a 3rd radio dedicated in scanning and monitor wireless environment. It reserves the main 2.4GHz and 5GHz radio focus on service and service only.
There are too many factors that can impact the WiFi performance such as interferences, channel-loading, the number of neighboring APs, etc. Zyxel Wireless Health*2 measures the MAC (Media access control) Layer errors and re-transmission which fairly presents the quality of connection factors in all possible causes. The Wireless Health optimizes connection quality automatically using heuristics machine learning and making the optimization possible in all environments. All of these advantages deliver a smooth, consistent, and uninterrupted wireless experience to its users.
BLE beacon integrated and IOT ready
The Zyxel WAX650S is an efficient WLAN solution for high-density deployments and it gives customers a BLE beacon-enabled network. It cooperates with third-party beacon management platforms to boost user engagement, especially for retailers who want to improve the in-store experience. And Target Wake Time (TWT) is another feature of 11ax that particularly important for the IoT. TWT enables devices to schedule when to wake up and send or receive data that effectively increase device sleep time and significantly conserve battery life.
*1 The licensing terms may vary depending on part numbers or regions Please contact your local sales representative.
*2 Support in cloud-managed mode only.
Application Diagram:
Powerful Hardware Design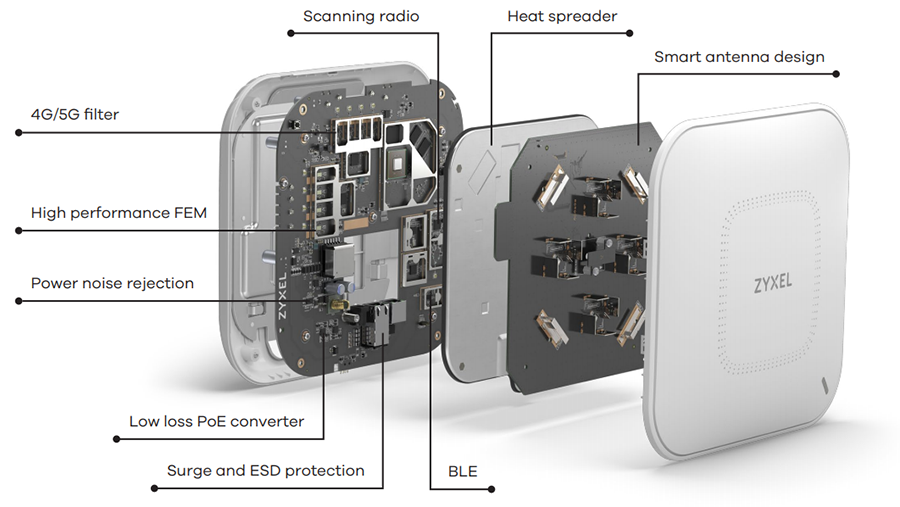 Switch Among Triple Modes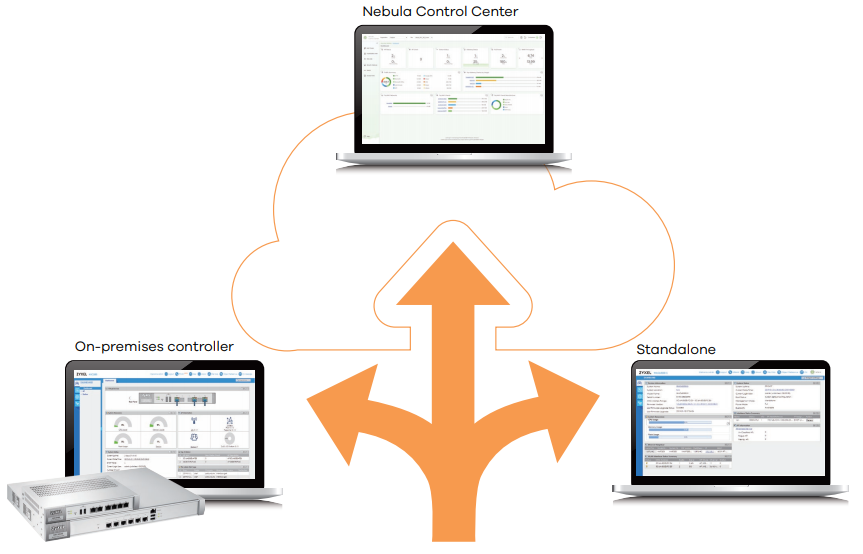 WAX650S Specifications:
Zyxel Products
Zyxel WAX650S
Zyxel 802.11ax (WiFi 6) Dual-Radio Unified Pro Access Point