Zyxel NWA1123-ACPro

802.11ac Dual-Radio Dual Mount PoE Access Point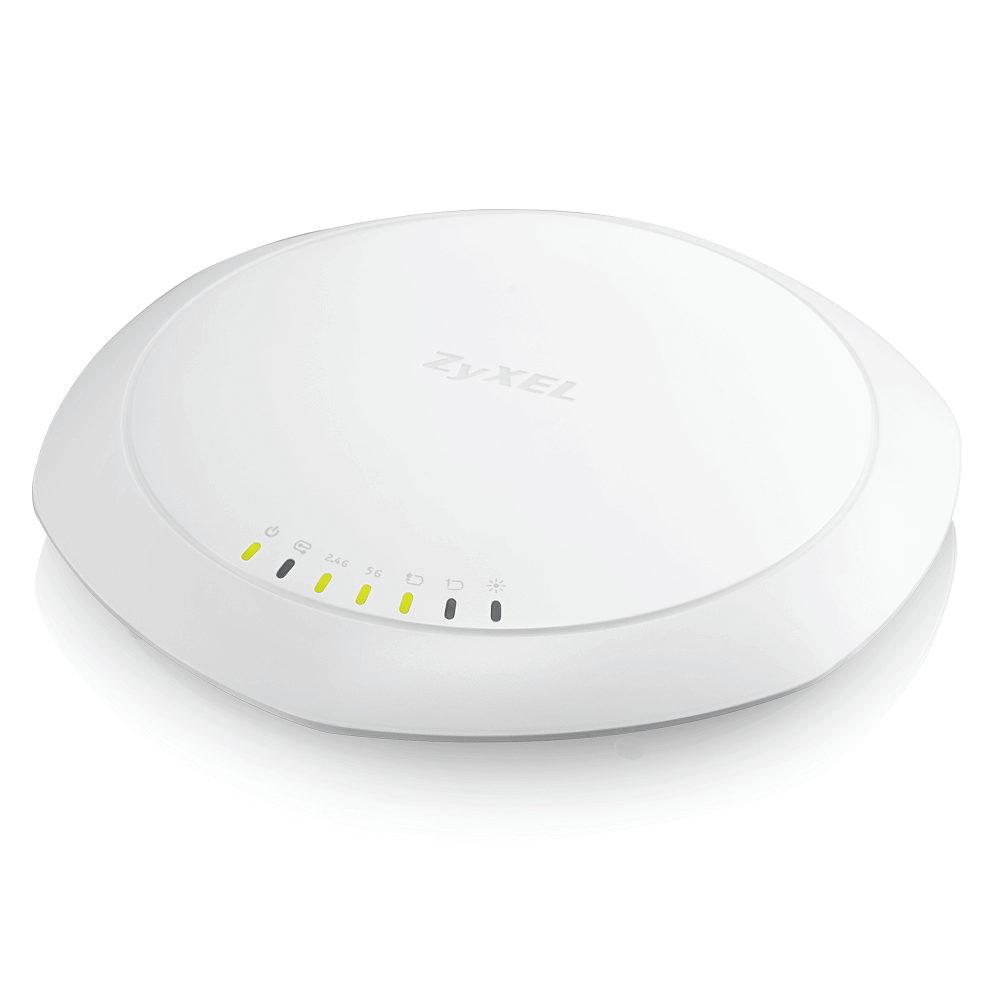 See how Zyxel can help with the Remote Workforce
Zyxel Products
Zyxel Wireless
3x3 802.11ac AP w/ Dual Optimized Antenna w/PoE Injector
#NWA1123-ACPRO
Our Price: $209.99
Click here to jump to more pricing!
Overview:
NWA1123-AC PRO stylish outlook and extraordinary throughput
Zyxel delivers speed and convenience with its NWA1123-AC PRO 802.11ac PoE access point (AP), which offers streamlined controller-less deployment for a trouble-free small business or home office wireless LAN experience. Building with innovative dual-optimized antenna design, the ultra-fast AP brings together remarkable performance and coverage enhancements, along with a user-friendly interface and robust components. The stylish exterior makes the AP ideal for not only in ceiling mount installation but also in wall-mount deployment without creating inter-floor interference, meanwhile the device provides smooth Wi-Fi services without detracting from interior design aesthetics. The NWA1123-AC PRO also supports repeater mode that makes it a flexible solution for small businesses, hotels and school environments.
Dual-optimized antenna for wall/ceiling-mount installations
Enterprise class 2x2 802.11ac AP supports combined data rates of up to 1200 Mbps
Better coverage with optimized antenna and RF design
Flexible operating modes (stand-alone, root-AP/ repeater mode)
Reliable software and robust hardware design
Set up and forget offers better-than-ever WLAN experience
Benefits:
Best interior Wi-Fi performance in style
Users no longer have to compromise between performance and environmental cohesion when deploying business wireless APs. With ultraslim stylish outlook the 3x3 dual-optimized antenna on NWA1123-AC PRO is capable of deliver two different patterns for ceiling- or wall-mount deployment. That frees the AP from being limited to ceiling fixture while maintaining reliable connectivity without causing extra interference. The Zyxel NWA1123-AC PRO is constructed with non-toxic casing materials, making it safe to install in plenum areas, as it doesn't release hazardous vapor emissions in case of fire. This is a life-critical issue – particularly when deploying in public venues such as offices, hotels and schools.
Zyxel One Network experience
Aiming for relieving our customers from repetitive operations of deploying and managing a network, Zyxel One Network is designed to simplify the configuration, management, and troubleshooting, allowing our customers to focus on the business priorities. Zyxel One Network presents an easy-to-use tool, Zyxel One Network Utility (ZON Utility), to realize speed network setup. Zyxel Smart Connect*1 allows Zyxel networking equipment to be aware and recognize each other and further facilitating the network maintenance via one-click remote functions such as factory reset or power cycling. Zyxel One Network redefines the network integration across multiple networking products from switch to Wi-Fi AP and to Gateway
Best-ever user experience
The biggest achievement with the NWA1123-ACPro is optimized antenna and RF design that create a thoroughly enhanced Wi-Fi experience via a combination of improved software and hardware. Additional improvements to the NWA1123-ACPro include dynamic channel selection (DCS) and load balancing. DCS avoids interference from co-channel and channel overlapping at initialization, while load balancing allows administrators to easily limit the number of clients associated with each AP. These advanced functions ensure that users can enjoy a stable wireless networking experience over the ideal Wi-Fi channel on the optimal AP.ga
Blending multi-operation flexibility with practical business features
Along with support for stand-alone operating mode, the Zyxel NWA1123-ACPro PoE access point also provides repeater/root-AP mode compatibility with Zyxel's Unified Pro Series and Unified Series APs.*2 By taking advantage of these features, users can extend wireless connectivity to challenging locations without the bother of troublesome cabling. The NWA1123-ACPro offers the ideal solution for small businesses through an array of useful features designed for business deployments, including multiple SSID and solid Wi-Fi security provided by WPA2 Enterprise and Layer-2 isolation. All of these practical enhancements coupled with high-performance RF design make the Zyxel NWA1123-ACPro the best solution for creating flexible Wi-Fi networks for smaller-scale enterprises.
Set up and forget streamlines controller-less deployment
The NWA1123-AC PRO introduces streamlined controllerless deployment with Zyxel Access Point Configurator (ZAC)*3. Just install the AP wherever desired out of the box and the device will automatically acquire its IP address. ZAC will take over the multiple-AP configuration and help to complete firmware upgrades and profile backups when needed in three easy steps, significantly reducing time and effort. Once the configuration has been completed, the NWA1123-AC PRO is able to operate autonomously without additional maintenance via computer or special management tool. The administrator can easily monitor status using any available SNMP tool, making management simple enough for even networking novices to handle.
Application Diagram: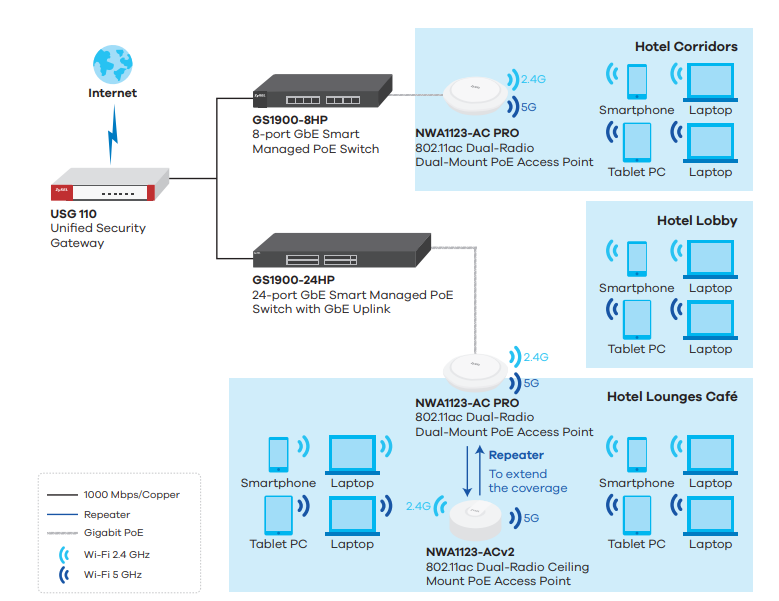 NWA1123-NI and NWA1123-ACPro with dual-radio offer 2.4 GHz or 5 GHz for different environments
NWA1123-NI, NWA1121-NI as a root AP and repeater extend the coverage with less effort for cabling
Specifications: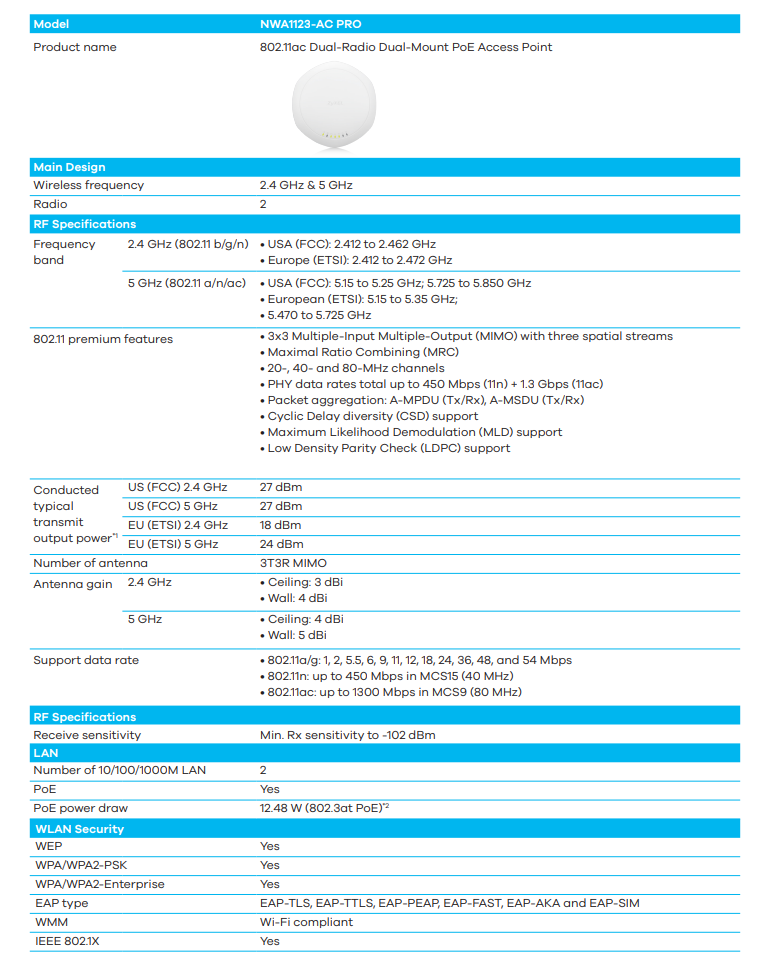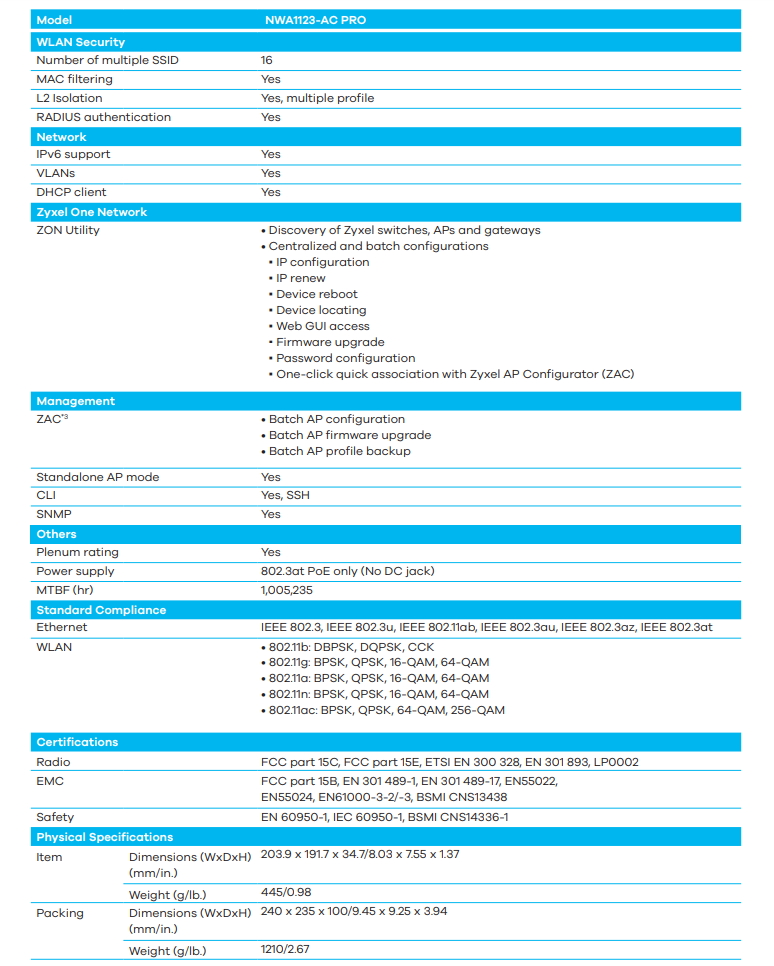 Pricing Notes:
Pricing and product availability subject to change without notice.
Zyxel Products
Zyxel Wireless
3x3 802.11ac AP w/ Dual Optimized Antenna w/PoE Injector
#NWA1123-ACPRO
Our Price: $209.99
Zyxel Accessories
Outdoor IPx5 rated enclosure for NAP102, NAP203, NWA1123-AC, NWA1123-AC Pro, NWA5123-AC, WAC6103D-I
#OUTDOORENC
List Price:
$64.99
Our Price: $44.99
Zyxel MSP License
1 Year Nebula MSP License
#LICNCCMSP1YR
List Price:
$699.99
Our Price: $499.99
1 Month Nebula MSP License
#LICNCCMSP1MO
List Price:
$72.99
Our Price: $49.99
2 Year Nebula MSP License
#LICNCCMSP2YR
List Price:
$1,299.99
Our Price: $949.99
Zyxel Plus License
1 Month Nebula Plus Pack for 1 Device
#LICNCCPLUS1MO
List Price:
$4.99
Our Price: $1.49
1 Year Nebula Plus Pack for 1 Device
#LICNCCPLUS1YR
List Price:
$19.99
Our Price: $11.99
2 Year Nebula Plus Pack for 1 Device
#LICNCCPLUS2YR
List Price:
$34.99
Our Price: $22.99
Zyxel Pro License
1 Month Nebula Pro Pack for 1 Device
#LICNCCPRO1MO
List Price:
$7.99
Our Price: $2.99
1 Year Nebula Pro Pack for 1 Device
#LICNCCPRO1YR
List Price:
$44.99
Our Price: $29.99
2 Year Nebula Pro Pack for 1 Device
#LICNCCPRO2YR
List Price:
$79.99
Our Price: $56.99