Zyxel NWA90AX

802.11ax (WiFi 6) Dual-Radio PoE Access Point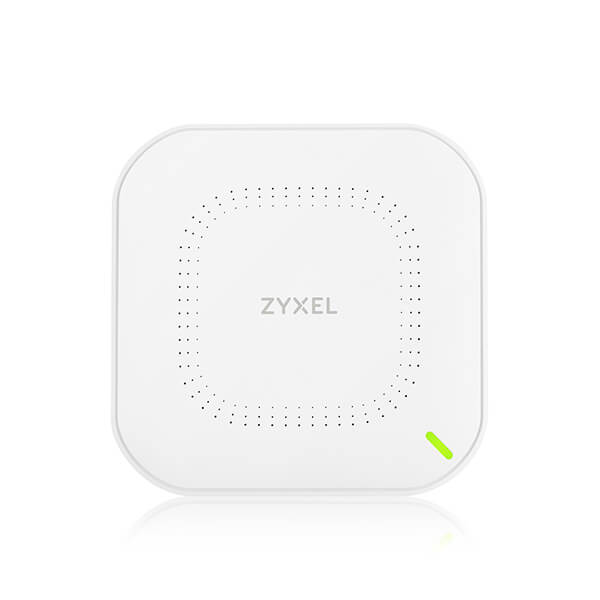 Zyxel Products
Zyxel NWA90AX
2x2 802.11ax WiFi 6 AP w/AC Adapter - NebulaFlex
#NWA90AX
Our Price: $169.99
More pricing below, click here!
Overview:
Your Simple Path to WiFi 6
The NWA90AX is truly the right choice for SMB users looking to upgrade to 11ax (WiFi 6) access points without an expensive price tag. It supports WiFi 6 in both 2.4 GHz and 5 GHz frequencies, which is aimed to empower you to enjoy all the best things WiFi 6 has to offer such as faster speeds even when congested or in high-density environments, expanded range in your wireless network, and increased capacity for IoT deployments.
---
In addition, with the support of captive portal and IEEE 802.1x authentication, the NWA90AX not only offers SMB users the enterprise-level security to protect their business networks, but also the flexible opportunity to customize wireless network usage login for marketing and business recognition.
---
The NWA90AX with NebulaFlex offers the flexible manageability for you to freely choose between the local GUI management or onboarding to our super easy Nebula cloud management interface that helps you set up your wireless network in minutes.
Features:
Bringing next generation WiFi within reach
WiFi 6 made tremendous improvement by introducing new technologies such as orthogonal frequency-division multiple access (ODFMA), and spatial re-use, which is also referred to as Basic Service Set (BSS) coloring. It aims to satisfy the all requirements from rapidly growing mobile users simultaneously. Zyxel's new NWA90AX is a true WiFi 6 access point which supports essential 11ax functions that delivers faster performance and massive increased-capacity make the user experience even better.
Apart from running at 25% faster speed, NWA90AX can also maximize the WiFi efficiency by allowing simultaneous data transmission for multiple clients; thus, the air time contention is no longer an issue here.
---
4G/5G cellular network coexistence
With the exponential growth of mobile devices in the wireless network, users start to experience degraded performance, such as ping drops and high latency; users have to reduce the use of their mobile devices in order to maintain a smooth, working wireless service. Thus, to enable 4G/5G cellular network coexistence and minimize interference from 4G/5G antennas or signal boosters, the NWA90AX has built-in 4G/5G interference filters. As a result, the visible or invisible 4G/5G indoor antennas in the environment is no longer an issue when installing APs.
NebulaFlex – simply manage it your way!
The NebulaFlex provides extended flexibility, allowing users to easily switch between standalone and our intuitive cloud-managed NCC (Nebula Control Center) mode any time according to your needs without additional cost while protecting wireless technology investments.
The Nebula cloud management platform provides centralized control and visibility over all Nebula networking devices. Simply you only need to register the device on NCC, and it will automatically join, auto provision and begin to give real-time information. The intuitive platform allows you to group your access points together, control centrally, gain access to diagnostics tools and additional features like captive portal all under a single platform.
Specifications:
Product name

Description
802.11ax (WiFi 6) Dual-Radio PoE Access Point

Wireless

Standard
IEEE 802.11 ax/ac/n/g/b/a
MIMO
MU-MIMO
Wireless speed
2.4GHz: 575 Mbps
5GHz: 1200 Mbps
Frequency band

2.4 GHz

USA (FCC): 2.412 to 2.462 GHz
Europe (ETSI): 2.412 to 2.472 GHz

5 GHz

USA (FCC): 5.15 to 5.35 GHz; 5.470 to 5.850 GHz
European (ETSI): 5.15 to 5.35 GHz; 5.470 to 5.725 GHz

Bandwidth
20-, 40-, 80-MHz
Conducted typical transmit output power
US (2.4GHz/5GHz): 23/26 dBm
EU (2.4GHz/5GHz): 20/25 dBm

RF Design

Antenna type
2x2 + 2x2 MIMO embedded antenna
Antenna gain
2.4GHz: 3 dBi
5GHz: 4 dBi
Minimum Receive sensitivity
Min. Rx sensitivity up to -99 dBm

WLAN feature

Band Steering
Yes
WDS/Mesh
Yes
Fast roaming
Yes
DCS
Yes
Load balancing
No

Security

Encryption

WPA Personal
WPA2 Personal
WPA2-PSK Personal
WPA3 Personal

Authentication

WPA
WPA2-Enterprise
EAP
IEEE 802.1X
RADIUS authentication

Access management

L2-isolation
MAC filtering
Rogue AP detection

Networking

IPv6
Yes
VLANs
Yes
WMM
Yes
U-APSD
Yes

Management

Operating mode

Nebula Cloud managed
Standalone

ZON Utility

Discovery of Zyxel switches, APs and gateways
Centralized and batch configurations

IP configuration
IP renew
Device factory reset
Device reboot
Device locating
Web GUI access
Firmware upgrade
Password configuration

Zyxel Wireless Optimizer
WiFi AP planning
Web UI/CLI
Yes
SNMP
NO

Physical Specifications

Item
Dimensions (WxDxH)(mm/in.)
140 x 140 x 37.5/5.51 x 5.51 x 1.48
Weight (g/lb.)
290/0.64
Packing
Dimensions (WxDxH)(mm/in.)
240 x 155 x 60/9.45 x 6.10 x 2.36
Weight (g/lb.)
600/1.32
Included accessories

Power adapter
Mount plate
Mounting screws

MTBF (hr)
1,010,980

Physical Interfaces

Ethernet port
1 x 10/100/1000M LAN
Power

Input: AC 100 - 240V - 50/60 Hz 0.3A; Output: DC +12V 1.5A
PoE (802.3at): power draw 16 W

Environmental Specifications

Operating
Temperature
0°C to 50°C/32°F to 122°F
Humidity
10% to 90% (non-condensing)
Storage
Temperature
-40°C to 70°C/-40°F to 158°F
Humidity
10% to 90% (non-condensing)

Certifications

Radio

FCC Part 15C
FCC Part 15E
ETSI EN 300 328
EN 301 893; LP0002
EN 60601-1-2

EMC

FCC Part 15B
EN 301 489-1
EN 301 489-17
EN55022
EN55024
EN61000-3-2/-3
BSMI CNS13438

Safety

EN 60950-1
IEC 60950-1
BSMI
CNS14336-1
Pricing Notes:
Pricing and product availability subject to change without notice.
Zyxel Products
Zyxel NWA90AX
2x2 802.11ax WiFi 6 AP w/AC Adapter - NebulaFlex
#NWA90AX
Our Price: $169.99