Zyxel USG 2200-VPN

Uncompromising Security and Performance for Next Generation Business Needs
Sorry, this product is no longer available, please contact us for a replacement.
Overview:
Powerful, Robust Anti-malware Protection for Medium- to Large-sized Businesses
Zyxel's USG2200-VPN has been built on a powerful multi-core platform to deliver high performance that helps growing businesses to overcome challenges during expansion. In order to satisfy the needs for always-online communications, USG2200-VPN features multi-WAN load balancing/failover and a comprehensive mobile broadband USB modem support list for WAN backup operations. In addition, USG2200-VPN supports IPSec load balancing and failover to provide additional resiliency for the most mission-critical VPN deployments.
Up to 25.0 Gbps Firewall Throughput
Up to 3,000 VPN tunnels capability
Robust hybrid VPN (IPSec/ SSL/L2TP over IPSec)
More secure VPN connections with SHA-2 cryptographic
Auto-provisioned client-tosite IPSec setup with Easy VPN
Device HA Pro ensures smart handover
Hotspot management supported
Facebook WiFi, Intelligence social media authentication
Powerful and Robust
Zyxel's USG Extreme Series is built on a powerful multi-core platform to deliver high performance that helps growing businesses to overcome challenges during the expansion. In order to satisfy the needs for always-online communications, the Series features multi-WAN load balancing/failover and a comprehensive mobile broadband USB modem support list for WAN backup operations. In addition, the Series supports IPSec load balancing and failover to provide additional resiliency for the most missioncritical VPN deployments.
Protection and optimization
The Zyxel USG Extreme Series provides extensive anti-malware protection and effective control of Web applications—like Facebook, Google Apps and Netflix—with industry-leading firewall, anti-virus, anti-spam, content filtering, IDP and application intelligence. These security measures are enhanced with SSL inspection, which helps block threats that are hidden in SSL encrypted connections and facilitates deeper policy enforcement.
Streamlined management
Unified security policy streamlines the configuration of firewall and every security feature to offer faster, easier and more consistent policy management. From a single interface, users can apply all policy criteria to every UTM feature with reduced complexity. The integrated WLAN controller also enables users to management up to 18 APs from a centralized user interface.
Best TCO for Wi-Fi Expansion
Addressing the connectivity needs in the BYOD trend, the Zyxel USG Extreme Series helps businesses deploying or expanding a managed Wi-Fi network with minimized efforts. Integrated with Zyxel AP Controller technology, the Series enables businesses to easily scale up the WLAN and to provide seamless Wi-Fi coverage in places like meeting rooms and guest reception areas.
Benefits:
Safer, more reliable VPN connections
Faster processors today have vastly boosted the capabilities of attackers to decrypt VPN tunnels. Legacy VPN cryptographic algorithms like Message Digest 5 (MD5) and Secure Hash Algorithm 1 (SHA-1) are no longer sufficient to guarantee secure outbound communications. With supports to the more advanced Secure Hash Algorithm 2 (SHA-2), the VPN Firewall provides the safest VPN connections in its class to ensure maximum security for business communications.
The complete range of Zyxel VPN Firewall delivers reliable, non-stop VPN services with dual-WAN failover and fallback support. With two WAN connections—one primary and one for redundancy—the Zyxel VPN Firewall automatically switches to the backup connection should the primary link fail, and automatically switches back to the primary connection once it is back online.
To support dynamic, mobile business operations in today's BYOD (bring your own device) business environments, the VPN Firewall offers unlimited business mobility with Layer-2 Tunneling Protocol (L2TP) VPN for mobile devices. The VPN Firewall supports L2TP/IPSec VPN on a wide variety of mobile Internet devices running the iOS, Android and Windows mobile platforms.
Best TCO for access expansion
People expect network access regardless of time or location. As a result, hotspots are in demand in an everexpanding assortment of locations. The USG2200-VPN integrated with Zyxel AP Controller technology enables users to manage APs from a centralized user interface. In addition, Zyxel Hotspot Management delivers a unified solution for business networks with user-friendly tools like Billing System, Walled Garden, Multiple Authentication, 3rd Party Social Login and User Agreement. With ZyWALL USG2200-VPN, businesses can now deploy or expand a managed WiFi network with minimal effort.
Swift and secure firmware upgrades
Locating firmware updates — not to mention identifying correct versions for your device and managing their installation — can be a complex and confusing ordeal. The ZyWALL VPN Firewall Series solves this with its new Cloud Helper service. Cloud Helper provides a simple step to look for up-to-date firmware information. New firmware is immediately made available upon release from our official database to ensure its authenticity and reliability.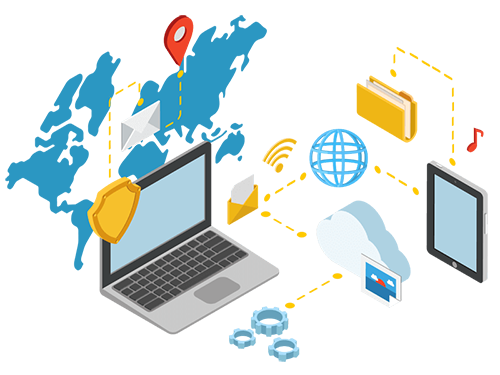 Stay secure and Up-to-Date with OneSecurity
Zyxel provides frequent and timely updates in response to the latest security threats and advisories through OneSecurity — our free online service portal. OneSecurity offers informative network security resources and the know-how to assist businesses and IT administrators in keeping their network operations safe in the digital age. Information and resources can be found with one click via the GUI of ZyWALL USG Series and VPN Series products. IT staff can quickly and easily catch up on the latest threats, and then proceed to walkthroughs and troubleshooting protocols with the help of easy-to-follow FAQs — all provided to help users secure their networks and simplify management of our UTM products.
Subscription Services
The ZyWALL VPN Series provides a complete feature set to perfectly fit different business requirements as well as to enable the maximum performance and security with an all-in-one appliance. Comprehensive network modularity also empowers IT professionals to customize the system to meet their individual needs.

Features:
Firewall
ICSA-certified corporate firewall
Routing and transparent (bridge) modes
Stateful packet inspection
User-aware policy enforcement
SIP/H.323 NAT traversal
ALG support for customized ports
Protocol anomaly detection and protection
Traffic anomaly detection and protection
Flooding detection and protection
DoS/DDoS protection
RPS-enabled for desirable performance in chaotic environments
IPv6 Support
Dual stack
IPv4 tunneling (6rd and 6to4 transition tunnel)
IPv6 addressing
DNS
DHCPv6
Bridge
VLAN
PPPoE
Static routing
Policy routing
Session control
Firewall and ADP
IPSec VPN
Content Filtering 2.0
Anti-Spam
IPSec VPN
Authentication: SHA-2 (512-bit), SHA-1 and MD5
Encryption: AES (256-bit), 3DES and DES
Supports generating SHA2 Certificate
Support route-based VPN Tunnel Interface (VTI)
Key management: manual key, IKEv1 and IKEv2 with EAP
Perfect forward secrecy (DH groups) support 1, 2, 5, 14
IPSec NAT traversal
Dead peer detection and relay detection
PKI (X.509) certificate
VPN concentrator
Simple wizard support
VPN auto-reconnection
VPN High Availability (HA): loadbalancing and failover
L2TP over IPSec
GRE and GRE over IPSec
NAT over IPSec
Zyxel VPN client provisioning
Support iOS L2TP/IKE/IKEv2 VPN Client provision
SSL VPN
HTTP, FTP, SMTP, POP3 and IMAP4 protocol support
Automatic signature updates
No file size limitation
Supports Windows and Mac OS X
Supports full tunnel mode
Supports 2-step authentication
Customizable user portal
SSL Inspection
Certificate Trust Chain validation
Support both inbound and outbound inspection
Support Content Filtering 2.0
Support TLS 1.0/1.1/1.2
Visible bypass list
Unified Security Policy
Unified policy management interface
Supported UTM features: Anti-Spam, Content Filtering 2.0, firewall (ACL)
3-tier configuration: object-based, profile-based, policy-based
Policy criteria: zone, source and destination IP address, user, time
WLAN Management
Support AP controller version 3.0
Supports auto AP FW update
Wireless L2 isolation
Scheduled WiFi service
Dynamic Channel Selection (DCS)
Client steering for 5GHz priority and sticky client prevention
Auto healing provides a stable and reliable coverage
IEEE 802.1x authentication
Captive portal Web authentication
Customizable captive
Multiple SSID with VLAN
Supports ZyMesh
Support AP Forward Compatibility
Hotspot Management
Integrated account generator, Webbased authentication portal and billing system
Supports external RADIUS servers
Per account bandwidth management
User agreement login
SP350E Service Gateway Printer enables oneclick account and billing generation
Built-in billing system

Time-to-finish accounting mode
Accumulation accounting mode

Supports PayPal online payment
Marketing tool

Advertisement link
Walled garden
Portal page

Billing Replenish
Networking
Routing mode, bridge mode and hybrid mode
Ethernet and PPPoE
NAT and PAT
VLAN tagging (802.1Q)
Virtual interface (alias interface)
Policy-based routing (user-aware)
Policy-based NAT (SNAT)
Dynamic routing (RIPv1/v2 and OSPF)
DHCP client/server/relay
Dynamic DNS support
WAN trunk for more than 2 ports
Per host session limit
Guaranteed bandwidth
Maximum bandwidth
Priority-bandwidth utilization
Bandwidth limit per user
Bandwidth limit per IP
GRE
BGP
Zyxel One Network
ZON Utility

IP configuration
Web GUI access
Firmware upgrade
Password configuration
Location and System support

Smart Connect

Discover neighboring devices
One-click remote management access to the neighboring Zyxel devices
Authentication
Local user database
Microsoft Windows Active Directory integration
External LDAP/RADIUS user database
XAUTH, IKEv2 with EAP VPN authentication
Web-based authentication
Forced user authentication (transparent authentication)
IP-MAC address binding
SSO (Single Sign-On) support
System Management
Supports generating SHA2 Certificate
Role-based administration
Multiple administrator logins
Multi-lingual Web GUI (HTTPS and HTTP)
Command line interface (console, Web console, SSH and telnet)
Cloud CNM SecuManager*
SNMP v1, v2c, v3
System configuration rollback
Firmware upgrade via FTP, FTP-TLS and Web GUI
Dual firmware images
Supports Cloud Helper portal page
RADIUS authentication
WiFi Multimedia (WMM) wireless QoS
CAPWAP discovery protocol
Mobile Broadband
WAN connection failover via 3G and 4G** USB modems
Auto fallback when primary WAN recovers
Device High Availability Pro (HA Pro)
Device failure detection and notification
Supports ICMP and TCP ping check
Link monitoring
Configuration auto-sync
Dedicated Heartbeat Link
Instant handover
NAT/Firewall/VPN Sessions synchronization
Subscriptional Services
Content Filtering 2.0
Anti-Spam
Logging/Monitoring
Comprehensive local logging
Syslog (to up to 4 servers)
Email alerts (to up to 2 servers)
Real-time traffic monitoring
Built-in daily report
Advanced reporting with Vantage Report
* Cloud CNM SecuManager management service requires license purchase. For more details please refer to web site
** For specific models supporting the 3G and 4G dongles on the list, please refer to the Zyxel product page at 3G dongle document.
Application Diagram:
VPN Application
High-speed, high-security communications between local servers, remote devices and cloud-hosted applications with deployments of the ZyWALL VPN 50/100/300.
Secure, reliable VPN connectivity with IPSec VPN load balancing and failover features delivers high-availability services for exceptional uptime.
Easy-to-use, secure remote access via SSL, IPSec and L2TP over IPSec VPN.
The headquarter ZyWALL Series can also establish an IPSec VPN connection with Amazon VPC for secured access to leverage the benefits of cloud-base and to expend on premise networks that extend into the cloud center.
Hotspot Management
High speed internet access.
Tier of service
Log record for regulatory compliance
Premium security control
Various Network access control ( free or paid access, social login) 
*: Hotspot Management supports for ZyWALL 110, USG110, or above in firmware ZLD4.25 or later.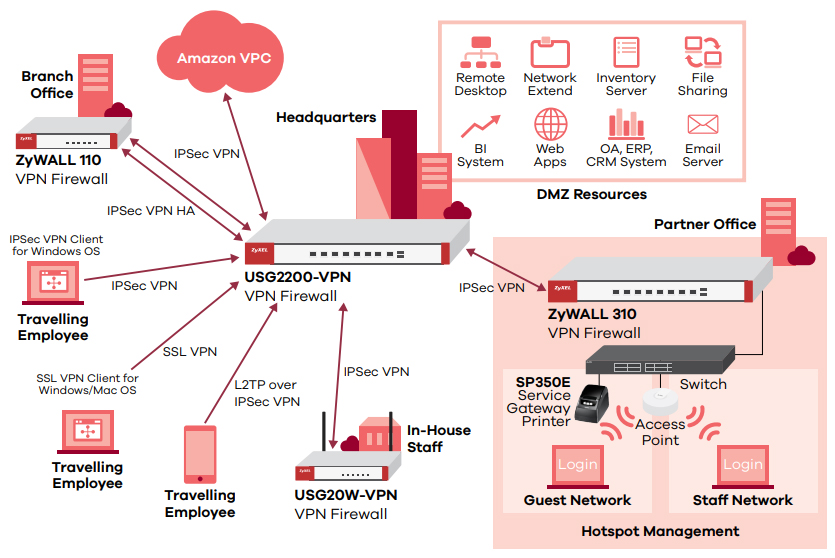 Specifications:


USG2200-VPN Specifications
Hardware Specifications
Interfaces
12x GbE (configurable), 4x SFP (configurable), 2x 10G Combo
USB ports
2
Console port
Yes (DB9)
Rack-mountable
Yes
Fanless
-
System Capacity & Performance*1
SPI firewall throughput (Mbps)*2
25,000
VPN throughput (Mbps)*3
2,500
Max. TCP concurrent sessions*4
1,500,000
Max. concurrent IPSec VPN tunnels*5
3000
Concurrent SSL VPN users (default/max.)*6
250 / 1,000
VLAN interface
128
Concurrent devices logins (default/max.)*6, 7
2,000 / 5,000
WLAN Management
Managed AP number (default/max.)*6
2 / 1026
Security Service
Anti-Spam*6
Yes
Content Filtering (CF 2.0)*6, 8
Yes
Key Software Features
Virtual Private Network (VPN)
IKEv2, IPSec, SSL, L2TP/IPSec
SSL (HTTPS) inspection
Yes
EZ Mode
-
Hotspot Management*6
Yes
Ticket printer support*9 / Support Q'ty (max.)
Yes (SP350E) / 10
Amazon VPC
Yes
Facebook WiFi
Yes
Device HA Pro
Yes (Activate once registered)
Link Aggregation (LAG)
-
Power Requirements
Power input
2 x AC-DC redundant power supply
110-240V AC, 50/60 Hz, 2.5 A max.
Max. power consumption (watt)
119
Heat dissipation (BTU/hr)
406.045
Physical Specifications
Item
Dimensions (WxDxH)(mm/in.)
438.5 x 500 x 89 / 17.26 x 19.69 x 3.50
Weight (kg/lb.)
3.3 / 7.28
Packing
Dimensions (WxDxH)(mm/in.)
795 x 600 x 215 / 31.3 x 2362 x 8.46
Weight (kg/lb.)
18.12 (with DUT) / 39.95
Included accessories

Power cord x 2
Rack mounting (slide) kit

Environmental Specifications
Operating
Temperature
0°C to 40°C (32°F to 104°F)
Humidity
10% to 90% (non-condensing)
Storage
Temperature
-30°C to 70°C (-22°F to 158°F)
Humidity
10% to 90% (non-condensing)
MTBF (hr)
280,490
Certifications
EMC
FCC Part 15 (Class A), IC, CE EMC(Class A), RCM, BSMI
Safety
LVD (EN60950-1), BSMI
Note:
*: This matrix with firmware ZLD4.31 or later.
*1: Actual performance may vary depending on network conditions and activated applications
*2: Maximum throughput based on RFC 2544 (1,518-byte UDP packets).
*3: VPN throughput measured based on RFC 2544 (1,424-byte UDP packets).
*4: Maximum sessions measured using the industry standard IXIA IxLoad testing tool.
*5: Including Gateway-to-Gateway and Client-to-Gateway.
*6: With Zyxel service license to enable or extend the feature capacity.
*7: This is the recommend maximum number of concurrent logged-in devices.
*8: SafeSearch function in CF2.0 need to enable SSL inspection firstly and not for small business models.
*9: With Hotspot Management license support.
Model Comparison:
Model Name
USG20(W)-VPN
ZyWALL 110
ZyWALL 310
ZyWA LL 1100
USG2200-VPN
Product Images
Description
SB
SMB
MB
Firewall throughput (Mbps)
350
1,600
5,000
6,000
25,000
Max. concurrent sessions
20,000
150,000
500,000
1,000,000
1,500,000
VPN throughput (Mbps)
90
400
650
800
2,500
Max. concurrent IPSec VPN tunnels
10
100
300
1,000
3,000
Content filtering (CF 2.0)*1
Yes
Yes
Yes
Yes
Yes
Amazon VPC*2
Yes
Yes
Yes
Yes
Yes
Device HA Pro
-
Yes*1
Yes*1
Activate once registered
Activate once registered
Hotspot Management*1
-
Yes
Yes
Yes
Yes
Facebook WiFi
Yes
Yes
Yes
Yes
Yes
*1: With Zyxel service license to enable or extend the feature capacity
*2: ZyWALL/USG still be able to support by CLIs
Pricing Notes:
Pricing and product availability subject to change without notice.
Zyxel Products
iCard Subscriptions
USG2200 iCard Content Filtering 1 Year for USG2200
#ICCF1YUSG2200C
List Price:
$1,400.00
Our Price: $1,000.00
Upgrade AP Controller
USG / ZyWALL / UAG iCard AP Controller Upgrade Add 4 APs for USG / ZyWALL / UAG Series
#ICAP4USGZW
List Price:
$227.99
Our Price: $160.00