Zyxel WAC5302D-S

802.11ac Wall-Plate Unified Access Point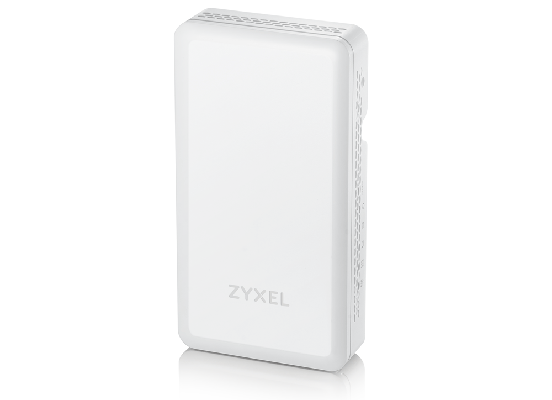 Final Buy, once this product is no long in stock it will no longer be sold, please contact us for a replacement.
Sorry, this product is no longer available, please contact us for a replacement.
Click here to jump to more pricing!
Overview:
Clever Design for Hotel Guest Room
Today's business and leisure travelers expect to connect high-speed Wi-Fi when stepping into a hotel and would consider internet connectivity the top amenity. Most travelers won't hesitate to report bad Wi-Fi experience and bother to come back again. So do you want a breakout rating in TripAdvisor? The Zyxel WAC5302D-S 802.11ac Wall-Plate Unified Access Point is an adaptive Wi-Fi and Switch for hotels. It features smart antenna and beamforming to optimize RF as well as three downlink Gigabit Ethernet ports – one of which has PoE function to power up in-room services such as smart TV and VoIP. More importantly, the WAC5302D-S can be easily mounted on outlet boxes, wall or desk without the need for any additional mounting kit.
Clever wired and wireless network solution for individual hotel guest rooms
The world's first wall-plate AP design that can be mounted on wall plates or directly in anywhere
Equipped with smart antenna which is proven able to mitigate interference from neighboring APs
Enterprise-class 2x2 802.11ac AP supporting combined data rates of up to 1.2 Gbps
Three downlink Gigabit Ethernet ports, including one with PoE to power for VoIP phones or other devices
Benefits:
Versatile mounting options in hotel guest rooms
The Zyxel WAC5302D-S' low profile and versatile mounting design make it a perfect choice for hotel guest rooms. It easily blends into tasteful decorations and can be mounted directly on an outlet box or any obscure locations, even simply on desktop. For the best aesthetics, the Ethernet cable and coaxial cable can run out from the cable channel that keeps WAC5302D-S slim and fit in a limited space.
Welcome your guest with high-speed Wi-Fi
Greet every guest with easy log-in and flicker-free Wi-Fi is as important as warm smiles. Designed for hotel guest rooms, the Zyxel WAC5302D-S features smart antenna and beamforming to dynamically change the signal direction to provide superb performance for each individual client. Zyxel smart antenna has been proven the best solution to mitigate interference from neighboring APs next door wherever it is mounted. The WAC5302D-S promises hotel guests with enjoyable, ubiquitous HD streaming experience on their mobile devices.
Extending modern in-room services with a box
Nowadays, hotels provide guests with a range of in-room services including smart TV, VoIP and network for homelike comfort. To achieve this, each room has many cables and switches that require more investment and are difficult to maintain. Let's keep the budget and cabling effort to the minimum. More than just a Wi-Fi AP serving high-speed networks, the Zyxel WAC5302D-S has three local Gigabit Ethernet ports to securely attach wired devices while one of these ports supplies PoE power to the attached devices without the need for electric outlets and power cables.
Zyxel one network experience
Aiming for relieving our customers from repetitive operations of deploying and managing a network, Zyxel one network is designed to simplify the configuration, management, and troubleshooting, allowing our customers to focus on the business priorities. Zyxel one network presents an easy-to-use tool, Zyxel one network Utility (ZON Utility), to realize speed network setup. Zyxel Smart Connect* allows Zyxel networking equipment to be aware and recognize each other and further facilitating the network maintenance via one-click remote functions such as factory reset or power cycling. Zyxel One Network redefines the network integration across multiple networking products from switch to Wi-Fi AP and to Gateway.
* Zyxel Smart Connect is supported on selected models. Please refer to the specifications for more details.
Application Diagram: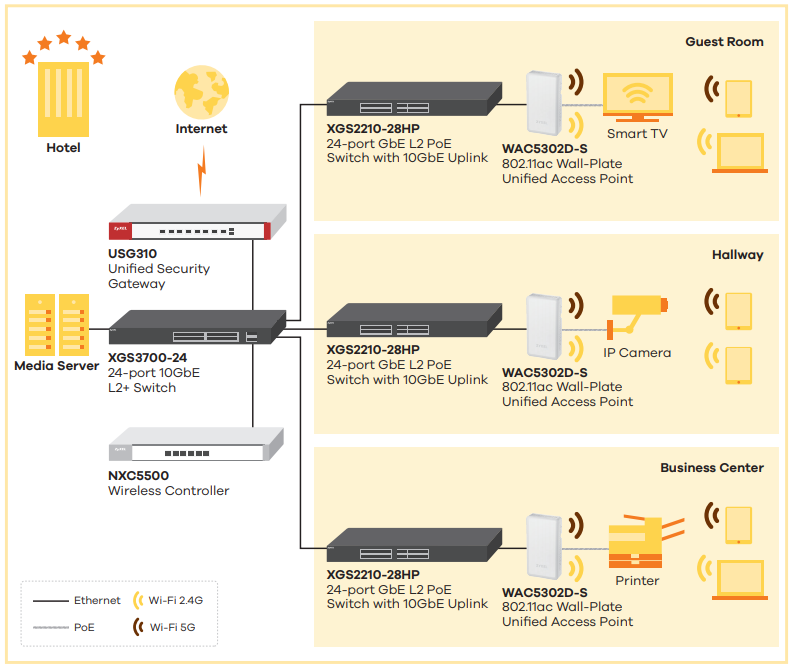 Specifications:

WAC5302D-S Specifications
Main Design
Wireless frequency
2.4 GHz & 5 GHz
Radio
2
Antenna
Embedded 2x2
RF Specifications
Frequency band

2.4 GHz (IEEE 802.11 b/g/n)

USA (FCC): 2.412 to 2.462 GHz
Europe (ETSI): 2.412 to 2.472 GHz

5 GHz (IEEE 802.11 a/n/ac)

USA (FCC): 5.15 to 5.35 GHz; 5.725 to 5.850 GHz
Europe (ETSI): 5.15 to 5.35 GHz; 5.470 to 5.725 GHz
Taiwan (TW): 5.15 to 5.35 GHz; 5.725 to 5.850 GHz

802.11n/ac premium features

2x2 Multiple-Input Multiple-Output (MIMO) with two spatial streams
Maximal Ratio Combining (MRC)
20-, 40- and 80-MHz channels
PHY data rates up to 300 + 866 Mbps
Transmit Beamforming (TxBF) support
Packet aggregation: A-MPDU (Tx/Rx), A-MSDU (Tx/Rx)
Cyclic Delay Diversity (CSD) support

Conducted typical transmit output power

US (FCC) 2.4 GHz: 18 dBm, 2 antennas
US (FCC) 5 GHz: 19 dBm, 2 antennas
EU (ETSI) 2.4 GHz: 17 dBm, 2 antennas
EU (ETSI) 5 GHz: 19 dBm, 2 antennas

Antenna gain
5 dBi/5 dBi
Support data rate

802.11 a/g: 1, 2, 5.5, 6, 9, 11, 12, 18, 24, 36, 48, and 54 Mbps
802.11n: up to 300 Mbps in MCS15 (40 MHz; GI = 400 ns)
802.11ac: up to 866 Mbps in MCS9 (80 MHz; 2 spatial streams; GI = 400 ns)

Receive sensitivity
Min. Rx sensitivity to -98 dBm
LAN
Number of LAN ports

Uplink: 1 x 100/1000 Mbps POE port (PD)
Downlink: 3 x 100/1000 Mbps RJ-45 (including one PoE PSE)

PoE
Yes
PoE power draw

802.3at PoE: 20W (include 7W for PoE PSE)
802.3af PoE: 12W (PoE PSE disabled)

WLAN Features
WEP
Yes
WPA/WPA2-PSK
Yes
WPA2
Yes
WPA/WPA2-Enterprise
Yes
Fast roaming
Pre-authentication and PMK caching
EAP types
TLS, TTLS, PEAP, FAST, AKA and SIM
Number of multiple SSID
16
IEEE 802.1x
Yes
MAC filtering
Yes
Layer-2 isolation
Yes, multiple profiles
RADIUS authentication
Yes
Network
VLANs
Yes
DHCP client
Yes
QoS
WMM
Yes
WMM power saving
Yes
Heat dissipation (BTU/hr)
81.9
Zyxel One Network
ZON Utility

Discovery of Zyxel switches, APs and gateways
Centralized and batch configurations

IP configuration
IP renew
Device reboot
Device locating
Web GUI access
Firmware upgrade
Password configuration
One-click quick association with Zyxel AP Configurator (ZAC)

Smart Connect

Discover neighboring devices
One-click remote management access to the neighboring Zyxel devices

Zyxel One Network
ZAC*

Batch AP configuration
Batch AP firmware upgrade
Batch AP profile backup

Standalone AP Mode
Yes
Managed AP Mode
Yes
CLI
Yes
Web GUI
Yes
SNMP
Yes
Physical Specifications
Item
Dimensions (WxDxH)(mm/in.)
90 x 170 x 29 / 3.54 x 6.69 x 1.14
Weight (kg/lb.)
0.32 / 0.71
Packing
Dimensions (WxDxH)(mm/in.)
190 x 110 x 55 / 7.48 x 4.33 x 2.16
Weight (kg/lb.)
0.54 / 1.19
Included accessories
Multi-purpose mounting bracket with screws
Environmental Specifications
Operating
Temperature
0°C to 50°C/32°F to 122°F
Humidity
10% to 95% (non-condensing)
Storage
Temperature
-30°C to 70°C/-22°F to 158°F
Humidity
10% to 90% (non-condensing)
MTBF (hr)
809,263
Certification
Radio
ETSI EN 300 328, FCC Part 15C, LP0002, EN 60601-1-2
EMC
EN 301 489-1, EN 301 489-17, EN55022, EN55024, EN61000-3-2/-3, FCC Part B, BSMI CNS13438
Safety
EN 60950-1, IEC 60950-1, BSMI CNS14336-1
* Work with ZAC v.1.1.2 or later
Hardware & Smart Antenna: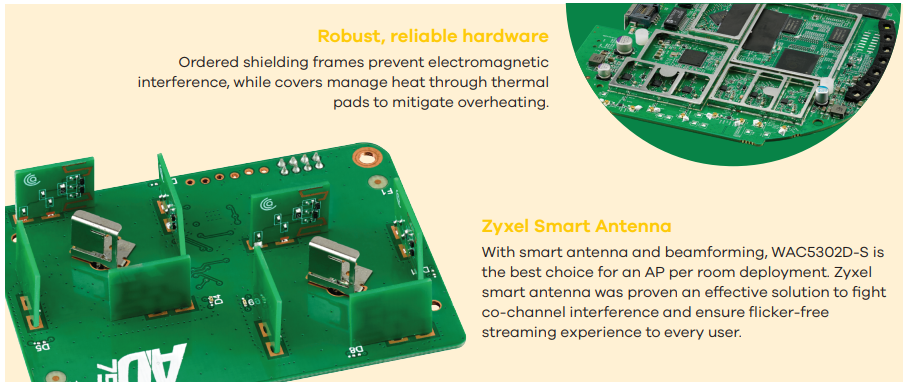 Pricing Notes:
Pricing and product availability subject to change without notice.