Zyxel NWA90AX Pro

802.11ax (WiFi 6) Dual-Radio PoE Access Point
Zyxel Products
Zyxel Wireless Access Points
Zyxel AX3000 802.11ax (WiFi 6) Dual-Radio PoE Access Point with AC Adapter, includes NebulaFlex
#NWA90AXPRO
List Price:
$129.99
Our Price: $99.99
Click here to jump to more pricing!
Overview:
Delivering AX3000 WiFi speed with 2.5G Ethernet uplink port, the Zyxel NWA90AX Pro provides the powerful and fastest WiFi 6 speed for small businesses, SoHo, and home offices. Small business owners looking for an affordable WiFi 6 access point with multi-gig connectivity, Zyxel NWA90AX Pro is no doubt the ideal choice for them to support more connected devices and applications with the fastest speeds.
To better leverage the faster speeds in 5 GHz band, Zyxel NWA90AX Pro equips with 3x high-gain antennas to boost WiFi signals and extend coverage, especially to previously hard-to-reach areas. The AP also supports the use of 160MHz channels, doubling the throughput compared to 80MHz channels for faster network speeds. In addition to the WiFi boost, NWA90AX Pro also comes with the premium multi-gig Ethernet connections. As it can run on the common-type Cat5e cabling, a 2.5G uplink port breaks through the 1.0G bottleneck without re-cabling, making it easy to create an affordable high-speed network environment for your business or home.
In addition, with the support of captive portal and IEEE 802.1x authentication, the NWA90AX Pro not only offers SMB users the enterprise-level security to protect their business networks, but also the flexible opportunity to customize wireless network usage login for marketing and business recognition.
The NWA90AX Pro with NebulaFlex offers the flexible manageability for you to freely choose between the local GUI management or onboarding to our super easy Nebula cloud management interface that you never need to worry about forgetting the IP address or lost account and password as you can manage everything on cloud.
AX3000 (3x3:2 in 5 GHz; 2x2:2 in 2.4 GHz) AP provides maximum data rate of 3000 Mbps
The 2.5G uplink port enables multi-gig connectivity for small biz networks, making it easy to upgrade to high-speed networks without re-cabling
Captive portal and IEEE 802.1X authentication support provides enterprise-level security
The Multi-gig Connection Stabilization Pad secures the connection between the Cat 5E cable and the RJ45 connector to ensure the 2.5G speed is linked for maximum throughput
NebulaFlex allows users to switch between standalone or intuitive Nebula cloud managed modes as needed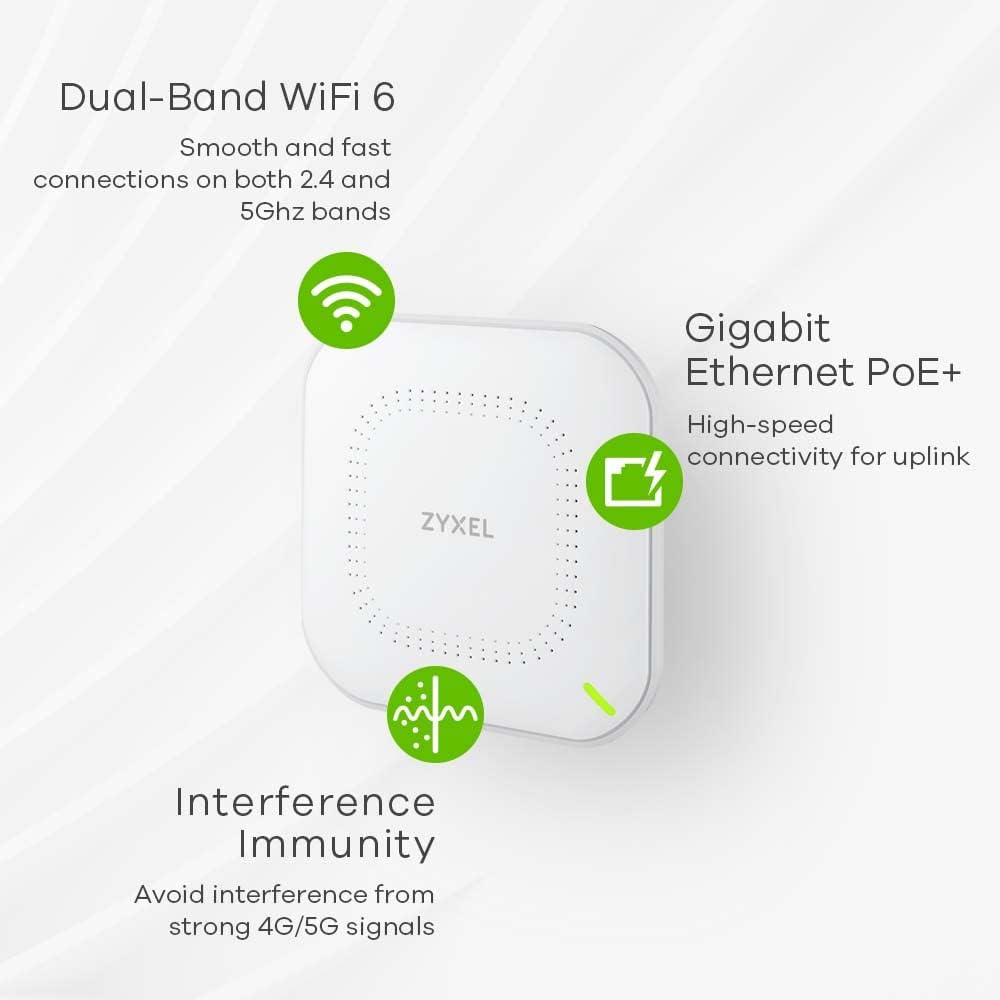 ---
Pricing Notes:
Pricing and product availability subject to change without notice.
Zyxel Products
Zyxel Wireless Access Points
Zyxel AX3000 802.11ax (WiFi 6) Dual-Radio PoE Access Point with AC Adapter, includes NebulaFlex
#NWA90AXPRO
List Price:
$129.99
Our Price: $99.99