Zyxel NXC5500

Wireless LAN Controller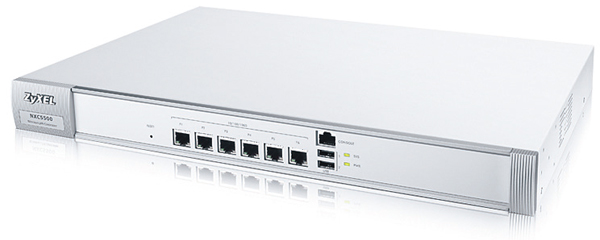 Sorry, this product is no longer available, please contact us for a replacement.
Click here to jump to more pricing!
Overview:


Deploy and Manage a Highly Scalable, Worry-Free WLAN
With demand for Internet connection of mobile devices growing rapidly, high scalability WLAN and centralized management become necessary for wireless device deployments. Zyxel's next-generation WLAN controller, the NXC5500, is capable of extending networks flexibly and fulfilling different deploy requirements with excellent AP compatibility; and the NXC5500 can centralize WLAN management to reduce extra efforts. The NXC5500 is easy to use and scalable for hotels, education institutions, chain stores as well as small- to medium-size enterprises to configure network solutions that meet their specific needs.
Centralized WLAN management and auto provisioning
Manages up to 512 APs with granular access control
ZyMESH simplifies complex,inconvenient cabling Wi-Fi deployments
Client Steering enhances efficiency of wireless spectrum utilization
Auto Healing maximizes Wi-Fi service availability
Comprehensive guest network management features
Benefits:


Ultimate scalability, instant provisioning

The great scalability allows Zyxel NXC5500 to manage up to 512 access points centrally, and the NXC5500 also helps administrators to make auto provision without exhaustive configuration for each AP within few minutes.

Unmatched performance and capacity

The next-generation WLAN controller NXC5500 is equipped with 6 Gigabit Ethernet ports, enabling both high bandwidth and flexible deployments. It can support up to 16,000 concurrent devices without compromising performance.With high performance and scalability, the NXC5500 ensures robust networking for modern networks where one person is equipped with multiple devices.

Non-stop Wi-Fi services

The large demand of wireless connection increases unpredictable changes in WLAN environments. To reduce the impact of these unpredictable changes, NXC5500 has Auto Healing feature that detects status of neighbor APs and adjust AP power automatically to provide enduring network services. If an AP is not functional, the nearby APs will increase output power to cover the void area. Once the AP outage recovers, the nearby APs decrease output power automatically.

Adaptive and resilient Wi-Fi deployments

The ZyMESH features of NXC5500 help extending Wi-Fi coverage to places where cable deployment is diffcult. In addition, each repeater APs has multiple route selections to provide high resilience for non-stop Wi-Fi services. In the past, administrators had to assign a channel and MAC addresses in each AP while setting up a WDS link to extend Wi-Fi service; now they can make auto provision and manage easily and centrally with ZyMESH along with the NXC5500 controllers.

WLAN optimization and enhanced RF management

All wireless networks face a major challenge: ensuring Wi-Fi clients get service levels they'd need. The diffculty to resolve is that different kinds of Wi-Fi clients exist on the network, and these users tend to make their own connectivity and roaming decisions. Client Steering enables the NXC5500 to provide network with max performance through band segmentation and signal threshold for clients. With more mobile devices in use, Wi-Fi requirement becomes more critical. Client Steering has functions that match every Wi-Fi client to the better radio band with the better AP, while band select sets 5 GHz as priority for dual-band devices to overcome heavy loading on 2.4 GHz. Clientsignal threshold transfer devices to APs with stronger signal. With these two functions, users can rest assured that the Wi-Fi performance is optimized.

Comprehensive access management

The NXC5500 offers versatile wireless user authentication methods for different users. For example, to reduce inconvenient login for keyboard-less mobile devices in schools, MAC authentication can be adopted to provide smooth access. In hotels, the reception staff can generate dynamic accounts for clients to log into a customized HTML portal page for flexible uploads and for the users to log into a secure network with correct resource.

NAT traversal unblocks multi-site deployments

Most Wi-Fi deployments are new, or belong to extension programs on top of the existing networks. The Zyxel NXC controller utilizes the IEFT CAPWAP protocol to minimize this issue. In addition, the connections between AP and controllers are usually established in different subnets or even across the Internet; the advanced technologies employed by Zyxel's NXC controller can facilitate the connections traversing NAT gateways to ensure the highest robustness of WLAN networks.

Secured wireless edge blocks threats from mobile devices

The Zyxel NXC5500 Wireless LAN Controller and Managed APs can help enterprises and businesses address the wireless security issues that arise with BYOD. They can guard company networks and resources against incoming threats from mobile Internet devices with industry-standard WPA/WPA2-Enterprise authentication and a variety of Extensible Authentication Protocol (EAP) frameworks. The monitoring mode of rogue AP includes both detection and containment to ensure blocking malicious AP. The built-in -firewall of the NXC5500 can perform stateful inspection of data streams to reject illegitimate packets coming from mobile Internet devices. With multiple network security, the NXC5500 can provide the most robust protection for the wireless network edge.

Elaborate Wi-Fi site survey and location tracking

In large scale or campus Wi-Fi deployments, it is essential to locate the best spots to install APs for optimized service. The NXC5500 partners with Ekahau to provide site survey and Real-Time Location Tracking (RTLS) to best assist site selection and expedite the deployment.
Application Diagram: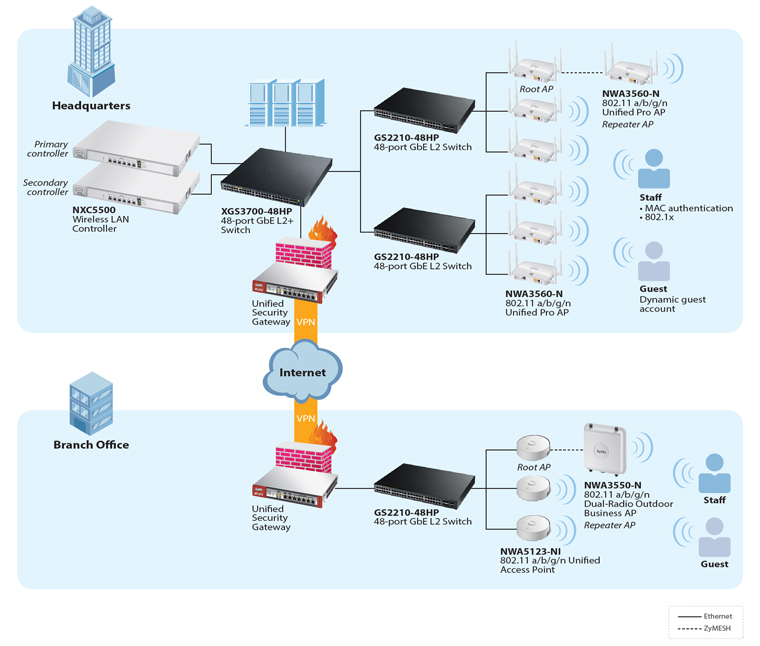 Specifications:

NXC5500 Specifications
Port Density
10/100/1000 Mbps LAN ports
6
USB Port
2
Performance
Throughput (Gbps)
6
Managed AP number (default/max.)
64/512
WLAN Features
Wireless security (WPA/WPA2-PSK, Enterprise)
Yes
Dynamic channel selection
Yes
Wireless multicast setting
Yes
AP load balancing
Yes
AP planning and site-survey
Yes (AP planning and coverage detection)
ZyMESH
Licensed service
Band select
Yes
Client signal threshold
Yes
Auto healing
Yes
Security Features
IEEE 802.1X
Yes
Layer-2 isolation
Yes
Web authentication
Yes
Stateful firewall
Yes
MAC filtering
Yes
RADIUS authentication
Yes
Microsoft AD authentication
Yes
LDAP authentication
Yes
Embedded RADIUS server
Yes (4096 user)
Identity-based user security management
Yes
Wireless intrusion detection
Rogue AP detection and containment
Control and Provisioning
Managed AP discovery
Broadcast/DHCP option/DNS/Manual
CAPWAP
Yes
AP data forwarding mode
Distributed (local bridge) and Centralized (data tunnel)
Management interface
HTTP/HTTPS/Telnet/SSH/SNMP
Output power control
Yes
Dynamic channel assignment
Yes
Network
VLANs
Yes
DHCP client
Yes
DHCP relay, server
Yes
NAT
Yes
Static routing
1024
Policy routing
1024
Access Control
MAC access control list
Yes
MAC authentication
Yes, internal and external RADIUS
Guest account generator
Yes (2048 user)
Customizable web login portal
Yes
QoS
WMM/power save
Yes
DiffServ marking
Yes
AP load balancing
Yes
Management Features
CLI with SSH
Yes
Web UI with SSL
Yes
SNMP
v1, v2c, v3
Multi-level administration roles
Admin, guest operator
User/Application management
Authentication
RADIUS/Microsoft AD/LDAP/Local
Local user database
Yes (4096)
User/group policy
Yes
Captive portal
Yes
External portal page
Yes
Page upload
Yes
Other
System diagnostic tool
Yes
Certifications
EMC
EMI and susceptibility (Class A)
FCC Part 15.107 and 15.109
CE EN55022, EN55024
ERP Lot 6
BSMI CNS13438
Safety
LVD EN60950-1:A12
BSMI CNS14336
Physical Specifications
Item
Dimensions (mm/in.)
438 x 302.7 x 44 / 17.24 x 11.92 x 1.73
Weight (kg/lb.)
4.750 / 10.47
Packing
Dimensions (WxDxH)
680 x 425 x 190 / 26.77 x 16.73 x 7.48
Weight (kg/lb.)
8.525 / 18.79
Environmental Specifications
Operating
Temperature
0ºC to 60ºC (32ºF to 140ºF)
Humidity
10% to 90% (non-condensing)
Storage
Temperature
-30ºC to 70ºC (-22ºF to 158ºF) 
Humidity
10% to 90% (non-condensing)
MTBF (hrs)
43,800
* Max. total channel
** Gateway supports of the ZON utility will be available on the second half 2014.
Pricing Notes:
Pricing and product availability subject to change without notice.
Zyxel Products
Zyxel iCard AP License Upgrade
8 AP License for NXC5500
#ICAP8NXC5500
List Price:
$339.99
Our Price: $239.99
64 AP License for NXC5500
#ICAP64NXC5500
List Price:
$2,549.99
Our Price: $1,799.99
Zyxel Mesh Licenses
Mesh license for NXC5500
#ICAPMXC5500
List Price:
$372.99
Our Price: $264.99