Zyxel VMG4005-B50B

Zyxel VDSL2 17a Bonding and 35b Single Line Bridge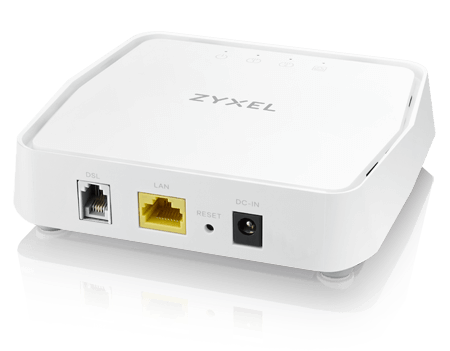 Sorry, this product is no longer available, please contact us for a replacement.
Overview:
Bonded VDSL2 with G.vector
The VMG4005-B50B supports VDSL2 bonding with vectoring of up to profile 17a and 35b. The vectoring support reduces cross-talk to increase performance and range by up to 150% for operators.

Comprehensive Routing with IPv6, QoS and Firewall
Zyxel offers excellent routing capabilities designed to meet service provider needs. The Zyxel VMG4005-B50B VDSL2 17a Bonding and 35b Single Line Bridge continues this legacy with full IPv4 support, IPv6/IPv4 Dual Stack and IPv6 Rapid Deployment (RD) for a strong foundation to implement advanced features including quality of service (QoS) functionality to categorize incoming and outgoing traffics in addition to a stateful packet inspection (SPI) firewall for end-user security.
---
TR-069 remote management
With TR-098/TR-181 data model for TR-069 standard management specifications, service providers are able to manage, configure and diagnose the client devices remotely without manual intervention of subscriber. This unique feature offers a true "plug-and-play" experience and reduces the complexity of deployment, therefore saving operation and maintenance costs for service providers.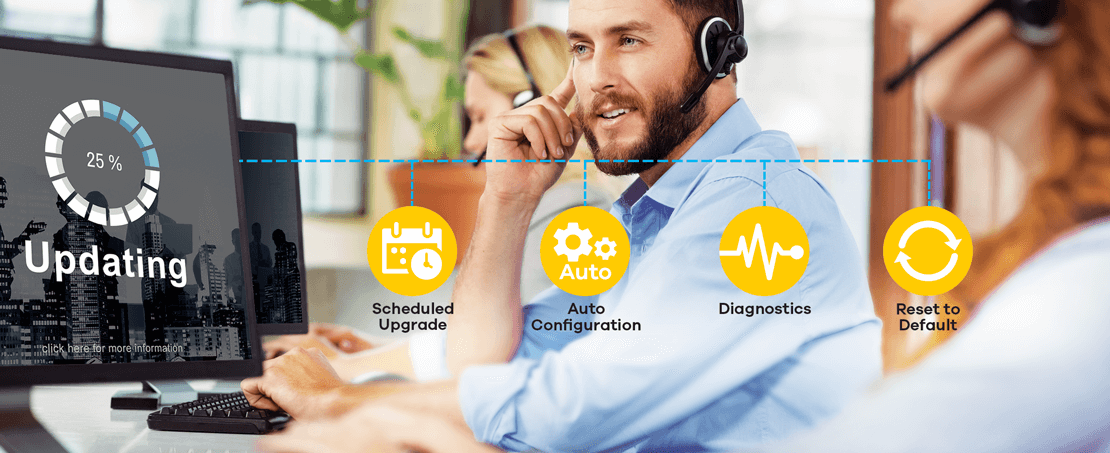 Specifications:
Bridge Features
IEEE 802.1D transparent bridge & basic spanning tree
PPPoE (RFC 2516)
PPPoA (RFC 2364)
Management
Web/HTTP: 3 level log-in
CLI (Command Line Interpreter) via SSH or Telnet
Firmware upgrade via Web/TFTP/FTP/TR069 RPC method
Text based configuration (XML based)
Configuration backup/update/restore default via Web
Configurable access control for remote management (Interface and / port number)
Trust Domain(support trust domain list)
NTP (Internet Time automatically synchronize)
DSL Forum TR-069, TR-098, TR181
SNMP v1, v2
Rom-D support
Session login.(for multiple user configuration with login privilege.)
Configuration filter by login privileges
Hardware Specifications
VDSL
G.993.2 VDSL2, Band 997, 998, over POTS
Support VDSL profiles: 8a/b/c/d, 12a/b, 17a, and 35b
G.vector
ADSL
G.992.1 (G.dmt)
G.992.2 (G.lite)
ANSI T1.413 compliant
G.992.3 (ADSL2)
G.992.5 (ADSL2+)
G.INP support
LAN
One 10/100/1000 Mbps Ethernet RJ-45 ports
LED indicators
Button
Power Consumption
Physical Specifications
Item dimensions (WxDxH): 130 x 120 x 32 mm (5.11" x 4.72" x 1.25")
Item weight: 173 g (0.38 lb.)
Packing dimensions (WxDxH): 234 x 140 x 38.5mm (9.21" x 5.51" x 1.51")
Packing weight: 492 g (1.08 lb.)
Environmental Specifications
Operating Environment
Temperature: 0ºC to 40ºC (32ºF to 104ºF)
Humidity: 10% to 90% (Non-Condensing)
Storage Environment
Temperature: -30ºC to 70ºC (-22ºF to 158ºF)
Humidity: 10% to 95% (Non-Condensing)
Certification
Package Contents
VMG4005-B50B
Power adapter
Ethernet cable
Phone cable
Quick start guide
Application Diagram: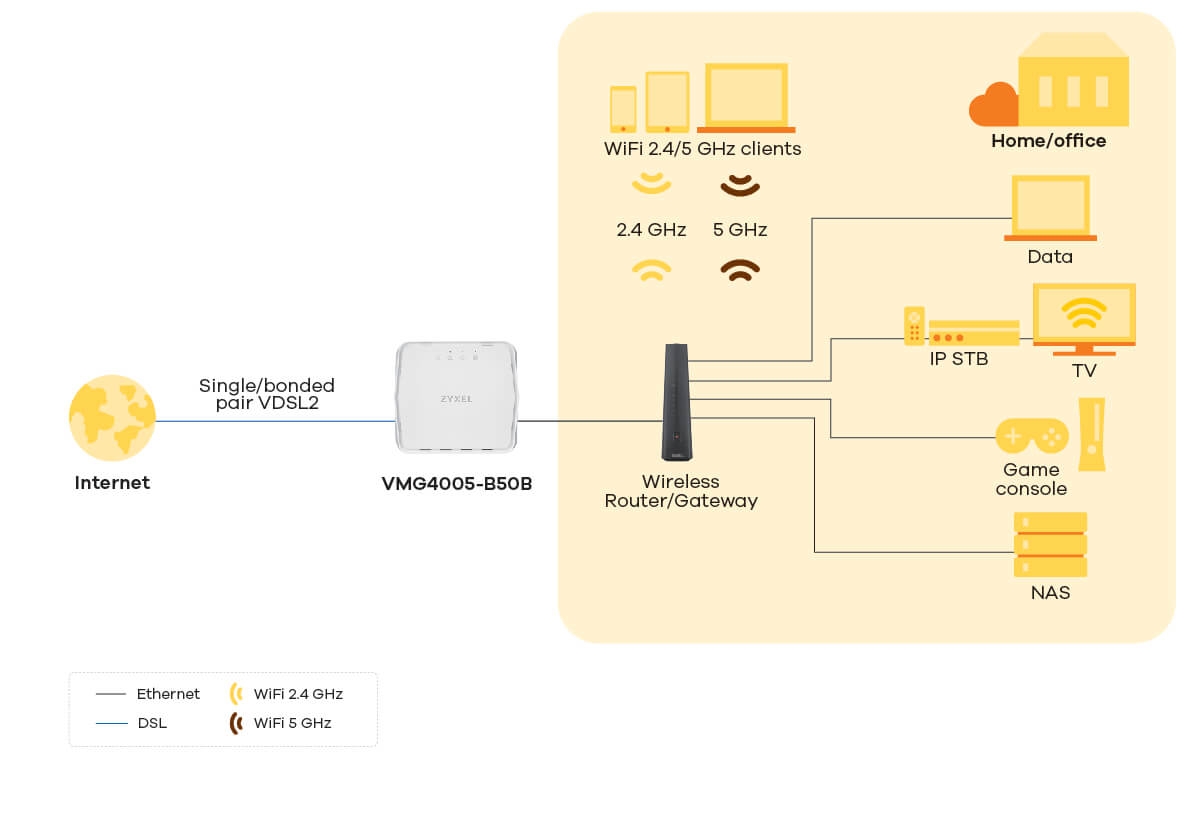 Pricing Notes:
Pricing and product availability subject to change without notice.