Zyxel VPN Client Software

SecuExtender Software
All VPN Client licenses can be found on their own individual product pages or purchase them below, more options can be found on individual product pages. Can't find the part you are looking for? Contact us today!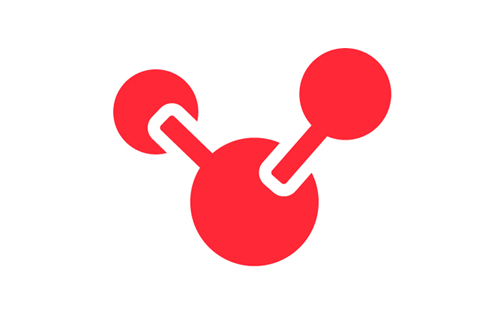 Overview:
Simple, Secure Access Anywhere
Businesses from small to large all need to get ready for the growing demands of an increasingly mobile workforce and expanding distributed work sites, to compete in today's global market place. Secure remote access has become an imperative to business success.
Zyxel VPN Clients offer a flexibly easy-to-use, easy-to-manage Virtual Private Network (VPN) solution that provides mobile and distributed users with secure, speed and reliable remote access back to corporate resources. Zyxel offers both SSL VPN and IPSec VPN connectivity options for remote client-to-site access. For SSL VPN, Zyxel SecuExtender provides auto-client connectivity for Windows and easy client connectivity for Mac systems. For IPSec VPN, Zyxel IPSec VPN client enables fast 3-step connection wizard that highly improve the user experience and let VPN connection is no longer a daunting task.
Zyxel VPN Client works with Zyxel security appliances using powerful deep packet inspection technology to scan VPN traffic for malicious threats, worms, Trojans and spyware from remote company employees.
Software Download
Application Diagram:
VPN Application
Branch offices, partners and home users can deploy Zyxel USGs for site-to-site IPSec VPN connections
Branch offices can additionally deploy IPSec VPN HA (load balancing and failover) for always online VPN connectivity
Remote users can securely access company resources with their computers or smartphones via SSL,IPSec and L2TP over IPSec VPN
The headquarter USG can also establish an IPSec VPN connection with Microsoft Azure for secured access to a variety of cloud-based applications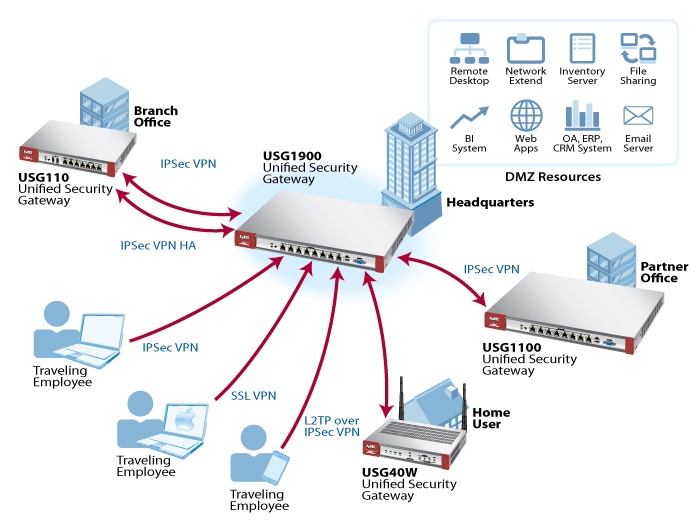 SSL VPN:
SecuExtender, the Zyxel SSL VPN technology, works on both Windows and Mac operating systems. For Windows users, SecuExtender is free from pre-installation of a fat VPN client. Zyxel security appliances will push VPN client and launch auto-installation while user logs in web-based authentication portal. For Mac users, a lite VPN software is provided to set up secured VPN connection.
System requirements
Zyxel security appliance

Next-Gen USG series
ZyWALL VPN Firewall series

Firmware

Requires firmware version ZLD V4.10 or higher

Client operating system

Windows XP
Windows 7 (32/64-bit)
Windows 8/8.1 (32/64-bit)
Windows 10 (32/64-bit)
MAC OS 10.7 or later
Software Download
IPSec VPN:
The Zyxel IPSec VPN Client is designed an easy 3-step configuration wizard to help remote employees to create VPN connections quicker than ever. The user-friendly interface makes it easy to install, configure and use. With Zyxel IPSec VPN Client, setting up a VPN connection is no longer a daunting task. The Zyxel IPSec VPN client also ensures easy scale-up by storing a unique duplicable file of configuration and parameters. Moreover, VPN configurations and security elements (certificates and pre-shared key, etc.) can be saved on a USB disk in order to remove authentication information from the computer. It's very easy for administrators to control and manage the deployment and security options.
System Specifications
Windows XP 32-bit
Windows Server 2003 32-bit
Windows Server 2008 32/64-bit
Windows Vista 32/64-bit
Windows 7 32/64-bit
Windows 8 32/64-bit
Hardware Specifications
Product Specifications
Hash Algorithms

MD5-HMAC 128 bit authentication
SHA1-HMAC 160-bit authentication
SHA2-HMAC 256-bit authentication

Encryption

DES-CBC 56 bit encryption
3DES-CBC 168 bit encryption
AES 128, 192, 256 bit encryption

Diffie Hellman Group Support

Group 1 : MODP 768
Group 2 : MODP 1024
Group 5 : MODP 1536
Group 14 : MODP 2048

Authentication Mechanism

Preshared Key
X509 Certificate support
X-Auth
SmartCard & Token (Aladdin, ..)

Certificate
Key Management

ISAKMP (RFC2408)
IKE (RFC2409)

IKE & IPSec Mode

ISAKMP (RFC2408), IKE (RFC2409)
ESP, tunnel, transport
Main, aggressive, quick
Hybrid authentication method

Networking

NAT traversal (Draft1, 2 & 3)
Dead Peer Detection (DPD)
Redundant gateway

Peer to Peer

Peer to peer connections
Accepts incoming IPSec tunnels

Connection Technologies

Dial-up modem
GPRS
Ethernet
Wi-Fi
3G
Software Download
Pricing Notes:
Pricing and product availability subject to change without notice.
Zyxel Products
Zyxel SSL VPN Client
ZyWALL SSL VPN Client for Mac OS X - Mac OS X Based SSL VPN Client License - 1 Client
#SSLVPNOSX1
List Price:
$39.99
Our Price: $25.00
ZyWALL SSL VPN Client for Mac OS X - Mac OS X Based SSL VPN Client License - 5 Clients
#SSLVPNOSX5
List Price:
$149.99
Our Price: $105.00
ZyWALL SSL VPN Client for Mac OS X - Mac OS X Based SSL VPN Client License - 10 Clients
#SSLVPNOSX10
List Price:
$262.99
Our Price: $185.00